Found April 05, 2013 on Blue Seat Blogs:
PLAYERS:
Ryane Clowe
,
Marian Gaborik
,
Derick Brassard
,
Derek Dorsett
,
John Moore
,
Brandon Prust
,
Anton Stralman
,
Steve Eminger
,
Dylan McIlrath
,
Brian Boyle
,
Brad Richards
TEAMS:
New York Rangers
,
Columbus Blue Jackets
,
Montreal Canadiens
  Bruce Bennett/Getty Images Wednesday was a big day in Rangerland.  As we all know by now, the Blueshirts acquired Ryane Clowe for three draft picks and traded oft-maligned sniper Marian Gaborik to the Blue Jackets for Derick Brassard, Derek Dorsett, and John Moore (with misc. non-prospects and a late draft pick thrown in).  Yesterday, Chris did a fantastic job adding some perspective in the musings. Suit broke it down on Twitter.  I don't think it's fair they get to have all the fun with the new acquisitions, so I'm going to throw my two cents in.  Think of it as a supplemental trade musings. I'm going to do my best not to retread on already discussed ground… Obviously, having some time to digest the trade scenario for a day or two in addition to the beat down the Rangers threw Pittsburgh on the eve of the trade makes it look pretty good.  I'll be interested to see how the team looks tonight. It's my feeling that this trade was all about flexibility.  After the Nash trade and the departures of Brandon Prust, John Mitchell and Ruslan Fedetenko, the Rangers constructed a roster with a very defined top and bottom six.  At the time, I thought this was a good thing.  No more mid-level players masquerading as goal scorers and grinders on the power play.  However, what ended up happening was a complete loss of versatility when purported top-six players underperformed.  Ryane Clowe and Derek Brassard can play in multiple situations, sliding pretty seamlessly from top to bottom six duty depending on performance, situation, etc. Man, can that John Moore skate.  He adds some nice depth to the blue line, and if Staal makes it back this year, he could play on a third pairing with Anton Stralman and Steve Eminger can be used in a 7th defenseman role, where he belongs.  If Dylan McIlrath can make an impact next season, that is a seriously enviable, versatile and young defensive core. What I saw in that Pittsburgh game on Wednesday, for the first time in a long time, was seriously physical hockey.  When guys went into the corners, they hit someone.  It created space and havoc in the offensive zone, and kept the Pens defense on their heels.  Guys like Brian Boyle aren't skilled enough to open up space on their own, but if you give them some extra room with an aggressive and physical forecheck, wonderful things can happen. Previous point stands for Brad Richards.  While Boyle got credit for the goal on Richards' shot, the amount of open space at the point (same for Moore and McDonagh's goals) was essential to the offensive game plan. This brings to me Torts.  What we witnessed against the Penguins was the proper execution of the Tortorella system at both ends of the ice.  They scored three powerplay goals, and offensive creativity and chances abound.  That game could have been 10-1 if Fleury didn't make some terrific saves.  It's all about execution. Losing Gabby is going to hurt.  It's never easy to remove a 40 goal scorer from your lineup.  He will probably torch us several times next season (Columbus will be in our division next year, something no one is really talking about) and his production will be difficult to replace.  However, this was essentially the Nash trade in reverse.  It was basically trading Gaborik, Dubinsky, Anisimov and Erixon for Nash, Brassard, Dorsett and Moore, plus saving like $4 million in cap space.  I know Dubie and Arty were fan favorites, but I'll take the Rangers end of that deal any day. I'll be honest, I've never seen Derek Dorsett play.  From everything I have heard, he is a heart-on-his-sleeve, Prust type player.  I remember when Prust was a throw in from the Ollie Jokinen deal and he was a major cog in the culture change on Broadway.  Not saying Dorsett will have anywhere near that impact, but he could end up being a nice little player. There are rumors circulating around that Ryane Clowe is looking for 8yr/$34m on an extension.  Let's just be clear: that is insanity.  If someone else wants to give him that, by all means.  I would like to see a reasonable extension, though.  Nothing more than 3yr/$9m-4yr/$12m, max. The deal obviously helps with re-signing our key restricted free agents this offseason.  It also opens up some spots for the younger guys to seize meaningful roles next year.  The aforementioned positional flexibility is a good thing for Kreider, Miller and even Fast and Lindberg.  When guys can be slotted up or down in the lineup, its easier to assign the appropriate roles for the younger guys. Lots of pundits are admonishing the Rangers for the skill they lost, and the lack of skill they brought in.  I think Nash, Cally, Step, Hags, and Richards can handle the heavy lifting now that a bottom six that can chip in some secondary scoring has been put in place.  Especially if Brassard can grab a top-6 role, the depth down the middle is better than it has been in years. This may be poking the bear a little bit, but this struck me as something of a mini-'94 deadline.  A team that was too soft to take the long run into the playoffs transformed with some extra toughness and snarl for the long haul.  It'll be interesting to see how the results compare. That's about it for me, overall my head liked the trades a lot more than my heart.  Gabby will be missed, but I think the Rangers are a better, and tougher team that they were 72 hours ago.  Let's hope they can keep this hard nosed style up for the last twelve games and ride it into the playoffs. Tweet
Original Story:
http://www.blueseatblogs.com/2013/04/...
THE BACKYARD
BEST OF MAXIM
RELATED ARTICLES
… Ryane Clowe said he always wanted to wear this hat after seeing it on 24/7.  Well Ryane, in only your first game as a New York Ranger your wish has come true! Amazing game from Clowe last night. 
The New York Rangers got immediate results for their late-season overhaul.Newcomers Derick Brassard, Ryane Clowe and John Moore combined to score four goals and four assists as the Rangers blasted the Pittsburgh Penguins 6-1.Those fellows had no time to get acclimated to coach John Tortorella or his system. They just went out and tore up the first-place Penguins on the ice."Throws...
Andrew Gross at the Bergen Record says JT Miller was recalled back to the Rangers after being assigned to the Whale this morning. Gross adds that Miller will NOT be in the line-up tonight vs. the Penguins. Meanwhile, Katie Strang at ESPN reports that Derick Brassard is en route to New York and could be here before game time. ...what an absolutely wacky day. ...would love...
Ryan Clowe had THE perfect impact. It's hard to call the Rangers 6-1 demolition of the Penguins last night anything other than an incredible first impact from the new guys. Wherever you looked, players were making a difference and it's intriguing the momentum and impetus incoming players give the current roster. On to the musings; dedicated to the trade deadline You just know...
Ryane Clowe and Derek Brassard: Welcome to New York. Brian Boyle: Welcome back. These three led the Rangers in the complete dismantling of the Penguins tonight, scoring a powerplay goal and at least three points each, and four of the Rangers first five goals en route to a 6-1 win. Boyle and Brassard had a goal and three assists each, and Clowe scored two (his first two of the season...
Earlier today, Greg Wyshynski at Puck Daddy retweeted this regarding the battle between the Rangers and the Canucks for Ryane Clowe's services... Canucks considered Clowe's salary demands which were 8 years 34 mill according to Botch. #wow — Taj (@taj1944) April 4, 2013 "Botch" is Jason Botchford who is the Canucks beat writer at the Vancouver...
The trade deadline is today at 3pm, and the Rangers have already been active. They've acquired Ryane Clowe for draft picks, and are rumored to be in on Ryan O'Byrne, a right handed defenseman form Colorado. Jamie McBain was a name rumored to be available, but with Joni Pitkanen getting hurt, it's unlikely the Canes move him. Use this as your open thread to discuss the deadline...
Nik Zherdev. Nikita Filatov. Gilbert Brule. These are just a few of the first round draft picks who were supposed to come to Columbus and turn the team into a competitive force in the Western Conference. Those three, along with many others, failed to match the expectations and succeed with the Blue Jackets. We can now also add Derick Brassard to that list.  Drafted sixth overall...
When it comes to this part of the season, every single point matters to NHL teams that are either in a playoff spot or on the outside looking in. This is exactly the case when it comes to the New York Rangers. With six total points up for grabs between Monday and Friday, the Blueshirts probably surprised many by picking up five. The Blueshirts picked-up their fifth point tonight...
After trading Ryane Clowe to the New York Rangers yesterday, the Sharks have bolstered their strength by adding Raffi torres for a 2013 third rounder. On July 1, 2011, Torres signed a two-year contract worth $3.5 million with the Phoenix Coyotes. He recorded his first goal nearly a month into the 2011–12 season, in a 3–2 shootout loss [...]
We're huge fans of the Pens looking like ass right now. It was bound to happen when the streak ended. This is all happening at the best time possible, too. The Pens will be playing the 7 or 8 seed in the first round. Those two seeds will have hit some kind of stride by that time in order to battle through the logjam at the bottom of the East. So, let the Pens figure some ***...
NHL News

Delivered to your inbox

You'll also receive Yardbarker's daily Top 10, featuring the best sports stories from around the web. Customize your newsletter to get articles on your favorite sports and teams. And the best part? It's free!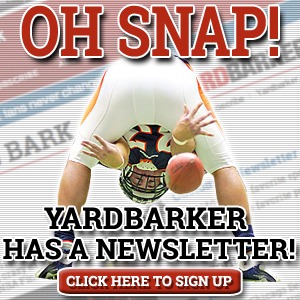 Latest Rumors
Best of Yardbarker

Today's Best Stuff

For Bloggers

Join the Yardbarker Network for more promotion, traffic, and money.

Company Info

Help

What is Yardbarker?

Yardbarker is the largest network of sports blogs and pro athlete blogs on the web. This site is the hub of the Yardbarker Network, where our editors and algorithms curate the best sports content from our network and beyond.