Found July 01, 2012 on PredsOnTheGlass:
PLAYERS:
Paul Gaustad
,
Brian McGrattan
,
Chris Mason
,
Kevin Henderson
,
Ryan Suter
,
David Poile
,
Nick Spaling
,
Matt Halischuk
TEAMS:
Nashville Predators
,
Winnipeg Jets
,
Los Angeles Kings
,
San Jose Sharks
In the last 24 hours, the Nashville Predators continued to piece together the puzzle that will be the final product that will hit the ice in October.
Since Hal Gil signed last week, the Predators have added Paul Gaustad, Brian McGrattan, Chris Mason, and minor leaguer, Kevin Henderson.
The one piece that remains an unknown is that of Ryan Suter. David Poile met with the media late Sunday and sounded like he was becoming increasingly impatient with Suter's indecision. A video of the discussion can be found here.
The re-signing of Gaustad is significant as it brings back the game's best face-off specialist and adds stability to the penalty kill team that was the leagues best last season.
The retutn of Chris Mason will make every Predator fan smile. Chris played parts of six seasons in Nashville and was a favorite among fans, coaches and teammates and will be the perfect complement to Prkka Rinne in goal. He had his best years under goalie coach Mitch Korn and he should returtn to that form again.
McGrattan's re-signing insures that the smash will remain in Smashville. His play down the stretch last year was limited due to injury and the competitiveness of the playoff race. The big guy is the best enforcer that the Preds have ever had and fans will be thrilled to see him in action once again.
Make the jump for all of the releases from the Predators on the signings...
NASHVILLE PREDATORS SIGN PAUL GAUSTAD TO A FOUR-YEAR CONTRACT
Nashville, Tenn. (July 1, 2012) – Nashville Predators President of Hockey Operations/General Manager David Poile announced today that the club has signed forward Paul Gaustad to a four-year, $13 million contract.
Gaustad, 30 (2/3/82), has finished no lower than seventh in the NHL in face-off efficiency in each of the past three seasons, and ranked ninth among League forwards in average shorthanded time on ice in 2011-12 (2:45). Acquired from Buffalo along with a fourth-round pick in the 2013 Entry Draft from Buffalo for a first-round pick in the 2012 Entry Draft on Feb. 27, 2012, the 6-5, 212-pound center posted four assists in 14 regular-season games for the Predators, completing his seventh NHL campaign with 21 points (7g-14a) and 76 penalty minutes in 70 regular-season games between Buffalo and Nashville. The Portland, Ore., native also appeared in all 10 of Nashville's postseason games, posting a pair of points (1g-1a) – including its first goal of the postseason – in addition to ranking seventh in postseason face-off efficiency (60.1 percent).
Buffalo's sixth selection, 220th overall (seventh round) in the 2000 Entry Draft has appeared in 493 career regular-season games, amassing 185 points (71g-114a) and 591 penalty minutes and 48 playoff contests, posting 10 points (1g-9a) and 42 penalty minutes.
NASHVILLE PREDATORS AGREE TO TERMS WITH CHRIS MASON ON A ONE-YEAR CONTRACT
- Inaugural season Predator returns to Nashville -
Nashville, Tenn. (July 1, 2012) – Nashville Predators President of Hockey Operations/General Manager David Poile announced today that the club has agreed to terms with goaltender Chris Mason on a one-year contract worth $1.25 million and $250,000 in potential bonuses for a cap hit of $1.5 million.
Mason, 36 (4/20/76), returns to Predators' organization where he spent eight seasons from 1998-2002 and 2003-08. The Red Dear, Alta., native posted a 58-43-12 record with a 2.61 goals-against average a .913 save percentage in 135 games with the Predators in addition to playing 173 games for the team's primary developmental affiliate, the Milwaukee Admirals. Since his most recent departure from Nashville, he has played two seasons for St. Louis (2008-10) and two seasons for Atlanta/Winnipeg (2010-12), most recently posting an 8-7-1 mark with a 2.59 goals-against average and a .898 save percentage and a pair of shutouts in 20 games for the Jets in 2011-12.
New Jersey's seventh selection, 122nd overall (fifth round), in the 1995 Entry Draft has appeared in 306 career NHL games notching a 136-106-31 record, a 2.63 goals-against average, a .910 save percentage and 23 shutouts.
NASHVILLE PREDATORS AGREE TO TERMS WITH BRIAN MCGRATTAN
NASHVILLE, Tenn. (July 1, 2012) – Nashville Predators President of Hockey Operations/General Manager David Poile announced today that the club has agreed to terms with forward Brian McGrattan on a one-year contract worth $600,000.
McGrattan, 30 (9/2/81), appeared in 30 games with the Predators in 2011-12, posting two assists and 61 penalty minutes. Claimed on waivers from Anaheim on Oct. 11, 2011, the 6-4, 235-pound winger has 13 points (3g-13a) and 456 penalty minutes in 212 NHL contests with Ottawa, Phoenix, Calgary and Nashville since 2005-06.
McGrattan was selected 104th overall (fourth round) by the Los Angeles Kings in the 1999 NHL Entry Draft.
NASHVILLE PREDATORS SIGN HENDERSON TO A ONE-YEAR CONTRACT
Nashville, Tenn. (July 1, 2012) – Nashville Predators President of Hockey Operations/General Manager David Poile announced today that the club has signed free agent forward Kevin Henderson to a one-year, two-way contract worth $550,000 at the NHL level and $50,000 at the AHL level.
Henderson, 25 (12/3/86), signed with the Predators' ECHL affiliate, the Cincinnati Cyclones, on Feb. 1, 2012, but played just two games with the Cyclones before being loaned to Milwaukee (AHL) for the remainder of the 2011-12 season where he posted 11 points (4g-7a) in 30 regular-season games and dressed for all three of the Admirals 2012 Calder Cup Playoff contests. The 6-3, 210-pound left wing began his professional career – and played the 2009-10 and 2010-11 seasons – in the San Jose Sharks organization.
A native of Toronto, Henderson helped the University of New Brunswick win the 2009 CIS National Championship and received 2008-09 CIS All-Canadian Honorable Mention after tying for fifth in the nation in points (19g-31a-50pts) and goals, and ranked fourth in assists and plus/minus (+31).  He was teammates with current Predators Nick Spaling (2005-07) and Matt Halischuk (2006-07) with the Kitchener Rangers, tying Halischuk for the Rangers goal lead in 2006-07 (33).
More Later...
Buddy Oakes for PredsOnTheGlass
Original Story:
http://www.predsontheglass.com/2012/0...
THE BACKYARD
BEST OF MAXIM
RELATED ARTICLES
Ryan Suter's agent says the Nashville Predators defenseman will be hitting the NHL's free agent market. Neil Sheehy told The Associated Press on Saturday that he doesn't know where Suter will sign, but added the player will keep the Predators ''in the mix.'' Free agency opens at noon Sunday with Suter heading a short list of marquee players expected...
With NHL free agency underway, several teams will be salivating at the opportunity to sign Ryan Suter to a long-term deal. Suter is the best free agent defenseman and was often overshadowed by fellow Predator Shea Weber. Expect Suter to finally get the recognition he deserves and earn quite the paycheck. Here are his top four landing spots: 4. Minnesota Wild: The Wild have made it...
According to Ryan Suter's agent, Neil Sheehy, there will be no decision tonight. The waiting game continues...
MLIVE.COM Looks like Ryan Suter 's agent Neil Sheehy has seen and heard enough – Neil does have a point – if we were in the same situation we wouldn't be rushing through these decisions. NHL.COM --- Ryan Suter and Zach Parise are in Day 3 of NHL free agency with some wondering why they haven't made a decision on where to play. Suter's agent, Neil Sheehy...
Neil Sheehy on Ryan Suter: There will be no decision tonight and there is no timetable for his contract signing at this time (cond) #mnwild— Michael Russo (@Russostrib) July 2, 2012 (cond Sheehy): "Ryan is considering his opportunities and is taking the necessary time to give each proper consideration." #mnwild— Michael Russo (@Russostrib) July 2, 2012
He was one of the final players moved at the trade deadline in February and, last night, he became one of the final players signed before free agency opened.The Nashville Predators have re-signed center Paul Gaustad.Gaustad, 30, is now locked up through the 2015-16 season and is set to make $3.25 million per year.If you're thinking that four years at $13 million is a little steep...
Well, the Wings are done for the day. Safe to say I'm surprised by a couple of the guys we got. Not too surprised about the Gustavsson signing. Happy about all of them in a way. I guess. I wonder what it must have been like to be in the Red Wings front office today. I imagine it was a bit crazy. Actually, I imagine it was a lot crazy. So crazy I decided to make a story about...
The Nashville Predators and Paul Gaustad agreed to a four-year, $13 million deal Saturday, keeping the 6-foot-5 American center from becoming a free agent. The 30-year-old Gaustad joined the Predators in February in a deal that sent a first-round pick this year to Buffalo. The Sabres also received a fourth-round pick in 2013. Gaustad had seven goals and 10 assists in 56 games last...
No, the Nashville Predators have no re-signed Ryan Suter. And no, they have not inked Zach Parise. They have, however, done as expected. They've signed a veteran goaltender to back-up Pekka Rinne.Kevin Allen of USA Today is reporting that Chris Mason is returning to Music City.Terms have been reported as a one-year contract paying $1.25 million.The 36-year old Red Deer, Alberta...
The Nashville Predators announced Saturday night that center, Paul Gaustad was re-signed to a four year deal worth $13 million. That is an average is $3,250,000 per year. Gaustad was given the money that he longed for and not only benefited himself, but also the organization to get closer to the cap floor.Read opinion and the press release after the jump. The signing of Hal Gill...
More July 1 drama has occurred since the signing of Chris Mason. David Poile held a press conference Sunday afternoon to talk about the signing of Mason, the Ryan Suter situation, the Shea Weber situation and Zach Parise.After the press conference, news broke out that fan favorite, Jordin Tootoo signed with the much hated Detroit Red Wings. The contract is three years and worth ...
NHL News

Delivered to your inbox

You'll also receive Yardbarker's daily Top 10, featuring the best sports stories from around the web. Customize your newsletter to get articles on your favorite sports and teams. And the best part? It's free!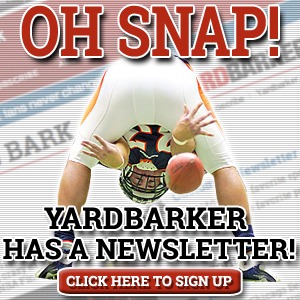 Latest Rumors
Best of Yardbarker

Today's Best Stuff

For Bloggers

Join the Yardbarker Network for more promotion, traffic, and money.

Company Info

Help

What is Yardbarker?

Yardbarker is the largest network of sports blogs and pro athlete blogs on the web. This site is the hub of the Yardbarker Network, where our editors and algorithms curate the best sports content from our network and beyond.