Found May 21, 2012 on The Rangers Tribune:
PLAYERS:
John Tortorella
,
Henrik Lundqvist
,
Dan Girardi
,
Ryan McDonagh
,
Chris Kreider
,
Brandon Prust
,
Anton Volchenkov
,
Stu Bickel
,
Brandon Dubinsky
,
Steve Eminger
TEAMS:
New York Rangers
,
Washington Capitals
,
New Jersey Devils
,
Los Angeles Kings
The display put on by the New York Rangers in Saturday's Game 3 at the Prudential Center was less than satisfactory. Mentally, the team did not arrive until very late in the second period when head coach John Tortorella was forced to call a timeout in order to get his squad in line before they fell into a hole they would be unable to climb out of. Yet, because of the superhuman efforts from goaltender Henrik Lundqvist, and two back-to-back goals in the third period, the lackluster Rangers still managed to win the game and take a two games to one advantage in the series. This win ranks up there with the 6.6 second comeback victory against the Washington Capitals in the prior round in terms of miraculous wins. 
So now, thanks to a little luck being on their side, the Blueshirts have the opportunity, once again, to accomplish a feat they have not yet accomplished in the postseason; take a 3-1 lead in a series. Seeing that New York has now been outplayed in two of the three games so far in this series against New Jersey, taking a two-game lead would be gargantuan, especially with the Los Angeles Kings' run to the Cup being postponed with a loss to the Coyotes on Sunday afternoon. Since the beginning of Game 2, the Devils have been the faster and stronger team, so the Rangers would be foolish not to put their rival at a 3-1 disadvantage going back to Madison Square Garden for Game 5. 
But even so, John Tortorella's Rangers must establish an attack of their own and end this approach of simply surviving two out of three periods every night. Their effort in the third period on Saturday was perfect, as it was in the second period of Game 2. As for the rest? The team sat on its heels and allowed the Devils to walk all over them, relying on their goaltender and special teams to save the day. Henrik Lundqvist was outstanding last game, but he simply cannot play at such a level every night; he'd quickly get exhausted being the only player to show up to the rink. 
Few times in this series have the Rangers developed and maintained a respectable forecheck in the offensive zone, but when they have it's been effective in scoring them goals. Just look to the two scoring plays on Saturday for prime examples. Dan Girardi receives a faceoff win and quickly throws it at the net for the first tally, and then Ryan McDonagh does something similar on the following goal, and his shot ended up being perfectly deflected by Chris Kreider cutting through the slot. Marty Brodeur's been good, but not great, and if the Rangers can test him, the results will obviously sway in their favor as we saw in that game.
But fatigue may and should be a major question being raised right now, because fatigue may be the only thing stopping the Rangers. They have beaten themselves more than the Devils have in this series, and at some point you have to wonder if that's a result of a force that is out of their control. Maybe it is and maybe it isn't, but tired or not, the Rangers need to play better hockey if they want to even make it to the Stanley Cup Finals, let alone win the trophy upon getting there. 
As far as the lineup goes, Brandon Prust will obviously be out after being suspended yesterday for his high hit to the head of Anton Volchenkov in the second period on Saturday. Now based on this morning's team skate, it looks as if Stu Bickel will be moved up to forward to fill Prust's spot for the time being. Mats Zuccarello did not skate with the team today, so that rules him out, and Brandon Dubinsky (ankle) says he is not ready to jump in just yet, either. 
This means Steve Eminger stays in on defense for the second straight game.
New York Rangers (Expected) Lineup
Original Story:
http://www.rangerstribune.com/the-ran...
THE BACKYARD
BEST OF MAXIM
RELATED ARTICLES
With the hockey playoffs on going, and BMR's coverage admittedly faltering a bit, I decided we needed a big get. And I got one! I got an interview with New York Rangers' coach John Tortarella before tonight's game! The full transcrips are below:BMR: Coach, it seems as though you get stressed out during the post season. Would you say that the post season is more challenging...
LEADERS OF MEN
Rangers tough guy (and one time New Jersey Devils' hero) Mike Rupp (6'5", 230 lbs) punches Marty Brodeur in the pec/shoulder/facemask after running and jumping into Devils defenseman Peter Harrold... Full story at Bob's Blitz ~ http://www.bobsblitz.com
The question posed to John Tortorella at his Monday morning press briefing at Madison Square Garden was about which skater would replace the suspended Brandon Prust in the lineup for Game 4 of the Eastern Conference finals. Tortorella's answer? He had no answer. "I don't know what my lineup is," Tortorella said when asked if Stu Bickel could play forward. Bickel...
Is Henrik Lundqvist taking residence inside the Devils' heads? The New York Rangers' MVP and Vezina candidate goaltender has made 81 saves on 84 shots in the first three games, including shutout victories in Games 1 and 3 of the Eastern Conference Finals. "We just have to do what we were doing all three games," insisted Devils forward Ilya Kovalchuk. "We...
Dan Rosen at NHL.com was able to speak with Henrik Lundqvist about the Rangers lack of offense during the postseason..."Honestly, it's not a concern for me at all how many goals we score. I just try to focus on my game. My approach to the game and my mindset doesn't change no matter how many goals we score. A lot of times two or three goals have been enough. I try to...
The Eastern Conference Final began last Monday night. The war of words commenced Sunday. John Tortorella ripped Devils coach Pete DeBoer's "head-hunting, plain and simple" comment about Brandon Prust's elbow to the back of Anton Volchenkov's head in the second period of the New York Rangers' 3-0 win in Game 3 at the Prudential Center Saturday afternoon...
To watch at NHL.com, click here.Meanwhile, Ken Daneyko, Dave Maloney, Billy Jaffe and Al Trautwig give their thoughts on what John Tortorella and Peter DeBoer have to impart on to their teams heading into the pivotal Game 4... To view video of Henrik Lundqvist discussing tonight's Game 4 as well as Brandon Dubinsky on his injury and Brandon Prust on his suspension...
One of the characteristics that has defined this edition of the New York Rangers has been their collective buoyancy. With the Eastern Conference Final now a best-of-3, Rangers coach John Tortorella believes mental toughness will once again come to the forefront. "We're one of four teams still playing," Tortorella said Tuesday afternoon following the Rangers' practice...
Ilya Kovalchuk wound up for a hard one-timer in the third period, only to see it gobbled up again by Henrik Lundqvist. The New Jersey Devils' biggest scoring threat shoved his stick back into his hand like he was jamming it into a holster and skated away with more frustration etched on his face. It was that kind of a day again for the Devils against the New York Rangers'...
After yesterday's game John Tortorella addressed why he scratched Stu Bickel in favor of Steve Eminger (via Bergen Record)..."I don't want to put Bick in a bad spot, because it's certainly not why we lost the last game. We put Emmy in because we just wanted to get to pucks quicker. We thought he may be able to get to pucks quicker. We've had a few struggles...
Just a few things that caught my eye ... King Conn -- Henrik Lundqvist is an absolute beast. This series should be 3-0 based on the performance of the Devils. Instead, it's 2-1 Rangers. Chris Keider is a special player. Not only did he set an NHL record for most playoff goals (five) before even suiting up in a regular-season tilt, but he was humble and...
Pekka Rinne of the Nashville Predators is battling with Henrik Lundqvist of the New York Rangers. Yes, they're both nominated for the Vezina Trophy as the league's best goaltender but they're up against each other for another "trophy" as well. Rinne and Lundqvist are trying to become the first goaltender to grace the cover of the EA Sports NHL video game franchise since John...
NHL News

Delivered to your inbox

You'll also receive Yardbarker's daily Top 10, featuring the best sports stories from around the web. Customize your newsletter to get articles on your favorite sports and teams. And the best part? It's free!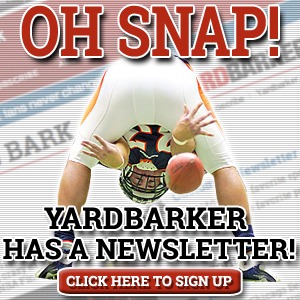 Latest Rumors
Best of Yardbarker

Today's Best Stuff

For Bloggers

Join the Yardbarker Network for more promotion, traffic, and money.

Company Info

Help

What is Yardbarker?

Yardbarker is the largest network of sports blogs and pro athlete blogs on the web. This site is the hub of the Yardbarker Network, where our editors and algorithms curate the best sports content from our network and beyond.