Found March 21, 2012 on Goon's World:
The Rangers and the Devils started out their game the other night and the war of words has continued. I hope these two teams play each other in the playoffs, they are going to beat the crap out of each other, that what a rivalry is. Nice to see a player like Stu Bickel who has little talent but to fight; can actually win a face off...
Personally, I don't have a problem with visiting coach handing in a line up card like that, it sends a message to the other team that your team is not going to be pushed around and be bullied.
Ranger Rants --- DeBoer handed in a starting lineup with pugilists Eric Boulton, Ryan Carter and Cam Janssen, to which Tortorella said he felt compelled to counter with a starting line of Stu Bickel, Mike Rupp and Brandon Prust. That, of course, turned into a staged, three-on-three line brawl that resulted in 40 penalty minutes with the game just three seconds old. After the game, DeBoer said of Tortorella, "I guess in John's world you can come into our building and start your tough guys but we can't do the same in here. He's either got short-term memory loss or he's a hypocrite."

"I read it," Tortorella said of DeBoer's comment. "I think Peter needs to jog his memory as far as the starting lineups that I've put in over in their building and really, basically, just shut up. And I need to also. I think the situation last night is disrespectful to players and I think we took a backwards step. I get put in a position when he puts a lineup like that out - and I'm not sure what's going to happen if I put my top players out - so I have to answer the way I need to answer. Really, just look at the two lineups and some of the things he's done through the games here, again, I don't want to coach his team, but just shut up.

"Fighting's part of the game, that's a big part of the game," Tortorellla said. "But it doesn't need to be manufactured. In that type of game, Jersey and the Rangers, there were going to be fights. But it's really gotten old for me, the staged fights, it doesn't need to be manufactured. Nowadays in our league, if a guy gets hit hard, clean, everybody's looking to fight. Where hard checking and hard hitting is part of the game. And that crap at the beginning of the game, to try to manipulate it into it, I just don't think it's right for the game. I think there's enough of it, and there always will be and there should be. I'm certainly not one of the pacifists that think fighting should be out of the game, that's a big part of our game. But let the players decide. I just don't think coaches should be putting players in situations that basically dictates fighting."
Related articles
Original Story:
http://feedproxy.google.com/~r/blogsp...
THE BACKYARD
BEST OF MAXIM
RELATED ARTICLES
With Dan Girardi tiring in the last few games (not a criticism) and Marc Staal clearly still struggling for consistency following his return, has Ryan McDonagh emerged as the Rangers best defenseman? It's a valid question and perhaps just another way of heaping praise on McDonagh for the way he has developed since his call up midway in to last year. A lot of people don't pay...
Two little tidbits hit the news waves this morning. First, as said here on Monday, Rangers prospects Andrew Yogan and Peter Ceresnak have officially joined the Connecticut Whale. Both are on ATO's, which means that Ceresnak can return to the OHL next year. Yogan is playing for his Rangers career, and will need to earn an entry level contract. The other news is that Dan Girardi...
Rangers chapter of the Professional Hockey Writers' Association announces Dan Girardi is Rangers' nominee for Bill Masterton Trophy.— Andrew Gross (@AGrossRecord) March 21, 2012 Per Wikipedia, the Bill Masterton Memorial Trophy is awarded annually to the National Hockey League player who best exemplifies the qualities of perseverance, sportsmanship, and dedication to...
While the first three seconds of the hockey game between the New York Rangers and New Jersey Devils provided a lot of theatrics, it all ended up meaning very little for the rest of the game as the Rangers went onto to clinch a playoff spot by beating the Devils by a score of 4-2. For the first since the 2005-06 season, the Blueshirts managed to clinch a playoff spot with a few weeks...
With a playoff spot clinched, we are running a new series about turning points in the season. These posts will focus on moves the Rangers made that effectively turned their season from mediocre to great. On November 24, the Rangers had lost two games in a row to the Montreal Canadiens and Florida Panthers. It wasn't so much that the Rangers lost the games, it was that they were...
HARTFORD, March 21, 2012: Connecticut Whale general manager Jim Schoenfeld announced today that the team has signed forward Andrew Yogan and defenseman Peter Ceresnak to Amateur Tryout (ATO) agreements. Both Yogan, a fourth-round (100th overall) draft pick of the parent New York Rangers in 2010, and Ceresnak, who was selected in the sixth round (172nd overall) of the 2011 draft...
After the puck dropped between the Rangers and Devils the other night, the gloves soon followed. Stu Bickel, Mike Rupp and Brandon Prust went toe-to-toe against Cam Janssen, Ryan Carter and Eric Boulton. Even more entertaining then the planned fights was the trash talking by both coaches that ensued after the game. "I guess in John's world you can come into our building and...
Tonight HBO Real Sports will have a feature on Henrik Lundqvist at 10 p.m. Here's a sneak preview... Remember to follow me on Twitter & Facebook or e-mail me at nyrfan94@yahoo.com.
The New York Rangers got perhaps the spark they needed to break free from their recent struggles. Their next opponent is still looking for one. The Rangers will try to build on a contentious victory Wednesday night when they face the injury-plagued Detroit Red Wings, who are slumping but will look to continue their domination in the series. New York (45-20-7) had dropped five of...
Due to having a men's league hockey game last night, I was not able to catch any of the New York Rangers 2-1 overtime win over the Detroit Red Wings last night at Madison Square Garden.. Based on the highlights I did manage to see, I know that Rangers' forward Brad Richards scored a nice first period goal and that team captain Ryan Callahan scored his 27th goal of the season...
DET (44-25-4) are at the Big Apple tonight to play the Eastern Conference leading NYR (45-20-7).  NYR goalie Henrik Lundqvist is posting Vezina numbers this season, 33-15-5,  1.89 GAA (3),  0.934 Save% (2), #2 inWins, and #1 in Shutouts with 8.  No worries though, the Wings will counter with goalie Ty Conklin or Jordan Pearce (in what would be his NHL debut). In their past...
00:03 NY Rangers Stu Bickel: 5 minutes, fighting 00:03 New Jersey Ryan Carter: 5 minutes, fighting 00:03 NY Rangers Brandon Prust: 5 minutes, fighting 00:03 New Jersey Cam Janssen: 5 minutes, fighting 00:03 NY Rangers Mike Rupp: 5 minutes, fighting 00:03 New Jersey Eric Boulton: 5 minutes, fighting 00:03 New Jersey Bryce Salvador: 10 minutes, misconduct
NHL News

Delivered to your inbox

You'll also receive Yardbarker's daily Top 10, featuring the best sports stories from around the web. Customize your newsletter to get articles on your favorite sports and teams. And the best part? It's free!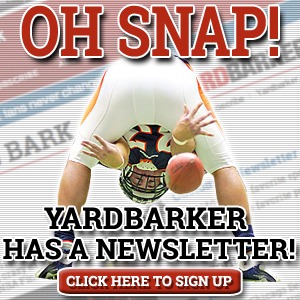 Latest Rumors
Best of Yardbarker

Today's Best Stuff

For Bloggers

Join the Yardbarker Network for more promotion, traffic, and money.

Company Info

Help

What is Yardbarker?

Yardbarker is the largest network of sports blogs and pro athlete blogs on the web. This site is the hub of the Yardbarker Network, where our editors and algorithms curate the best sports content from our network and beyond.