Found July 30, 2012 on Kukla's Korner:
I absolutely despise doing this, but as a follow-up to the overnight report's take on "Hockeyinsiderr's" belief that the Wings are seriously bidding for Yandle, here's your okay, folks, it's official, this guy's nuts—and the Wings would be nuts, too, to offer this kind of package for one player: BREAKING NEWS: The #RedWings have offer on the table for #Coyotes Yandle: Filppula+Nyquist+2013 1st. #WOW Ball in PHX court. That's just ridiculous. Go vote for your favorite alumni bobblehead on the Wings' official website instead, because those personnel "moves" are more likely to happen. As Fox Sports Detroit's Art Regner notes, however, despite fans' displeasure with the Wings' inability to land a top-name free agent or allow themselves to sell the barn to buy a horse… Continue reading "Red Wings evening news: on stupid Yandle rumors, an annoying wait and Kocur's charity softball game"
Original Story:
http://www.kuklaskorner.com/index.php...
THE BACKYARD
BEST OF MAXIM
RELATED ARTICLES
A deal between the Red Wings and RFA forward Justin Abdelkader may not be too far away. According to the Detroit Free Press, GM Ken Holland plans to meet with the 25-year old forward (as well as Tomas Holmstrom) when he makes his way back to Detroit in the coming week. Both sides have shown a mutual interest in getting a deal done while Abdelkader has decided not to file for...
The Red Wings announced via Twitter that the team's signed 2011 second-round pick Martin Frk to a 3-year, entry-level contract, and DetroitRedWings.com's Bill Roose spoke to Wings GM Ken Holland about the team's decision to sign a player who's been a member of the organization for all of five weeks: "He came to camp and our guys liked him in Traverse City," Red Wings...
Paul already posted Red Wings GM Ken Holland's take on collective bargaining agreement negotiations in a conversation Holland had with the Vernon Morning Star's Kevin Mitchell , and here's his take on helping the Wings navigate a difficult transition period (sorry for the sloppy cutting and pasting of text—I'm writing this from my phone): Continue reading "Ken Holland...
In theory, anyway, I'm supposed to be on vacation, but after a day spent mostly doing what one does after a long trip preceded by a longer couple of weeks—sleeping—I woke up and found that Alex Kovalevich wanted me to check out some rumors he'd found and posted on Red Wings Grinder, his blog. So I looked immediately to something I have limited access to this week in Twitter...
Believe it or not, back on Feb. 21 the Detroit Red Wings sat atop the NHL standings, which was business as usual. Since that time, it has been anything but business as usual for one of the leagues premier franchises. Injuries during the second half of season, another playoff disappointment, a game-changing retirement and a summer of being jilted by big-name free agents have left...
Well that was fast, per the Red Wings' Twitter account: UPDATE: The Red Wings have signed forward Martin Frk to a three-year, entry-level contract. twitter.com/DetroitRedWing…— Detroit Red Wings (@DetroitRedWings) July 31, 2012
Certain things have reminded me that I'm in the middle of an all-too-short vacation, including having to buy half a gazillion 12-packs of Diet Coke to last the mom for two days, my Uncle Joey proving that there's no wood wet enough that a quart of lighter fluid can't turn into a fire, staying up far too late at said fire, and having to tell the boss that this Tweet from RedWingsFeed...
Need another reason to believe in your Detroit Red Wings?   Well, here you go, thanks to my local paper, the Columbus Dispatch:  A list, by team, of NHL players who have scored 20 goals in an NHL season, compiled to accompany the story that appeared in today's editions of The Dispatch: #1 BOS (10): Bergeron, Kelly, Krejci, Peverly, Savard, Seguin, Milan, Marchand, Rolston...
While Rangers fans will always vote Dan Cloutier vs. Tommy Salo as the greatest goaltender fight of all time, The Hockey News only has it at #4... 4. Dan Cloutier (Rangers) vs. Tommy Salo (Islanders) Cloutier's fight with Tommy Salo came April 4, 1998. P.J. Stock tangled with Mariusz Czerkawski, ripped his helmet and jersey off and in came Salo. When Salo joined, Cloutier couldn't...
Paul for George who is sunning in the great UP. Detroit, MI… For the second consecutive year the Detroit Red Wings will be asking fans to help determine which players will be featured in their season-long bobblehead giveaway promotion in 2012-13. Following the success of last summer's Operation: Bobblehead voting campaign, which saw nearly two millions ballots cast in selecting...
I'm not going to lie and say that I have it all together when it comes to being a Red Wings fan. In fact, my fandom has gone on a roller coaster ride ever since the Wings lost in the 1st round back in April. Free agency (or lack of) hasn't helped. I have been slacking on writing lately partly because my hockey emotions have left me pretty numb. I care about this team just...
"I think everybody is cautiously optimistic. What provides optimism right now is they're meeting on a regular basis. They're meeting two or three times a week. There are a lot of people involved and hopefully they can find a solution that works for everybody." -Ken Holland, GM of the Detroit Red Wings on the on-going CBA negotiations.  More on the Red Wings from Kevin Mitchell...
Red Wings News

Delivered to your inbox

You'll also receive Yardbarker's daily Top 10, featuring the best sports stories from around the web. Customize your newsletter to get articles on your favorite sports and teams. And the best part? It's free!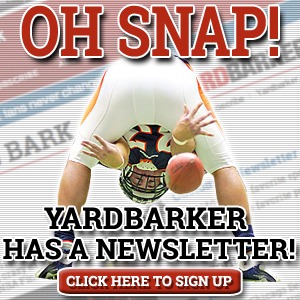 Latest Rumors
Best of Yardbarker

Today's Best Stuff

For Bloggers

Join the Yardbarker Network for more promotion, traffic, and money.

Company Info

Help

What is Yardbarker?

Yardbarker is the largest network of sports blogs and pro athlete blogs on the web. This site is the hub of the Yardbarker Network, where our editors and algorithms curate the best sports content from our network and beyond.