Found January 31, 2013 on Kukla's Korner:
Even I will admit that, until Tuesday night's game against Dallas, anyway, I was scratching my head a bit about Jordin Tootoo. For somebody who supposedly came to Detroit to play more regularly and to register points, Tootoo had been playing anywhere between 7-10 minutes over the Wings' first five games, and he was registering a couple of hits and a shot here and there, but wasn't doing much else. While Damien Brunner's dazzled us all on the scoresheet and aesthetically speaking--and again, I have to offer the, "It's early yet" caveat--I had begun to think, "Geez, here's another physical player brought into Detroit to be physical, and here he is being used in an extremely limited role, penalty parade included, and he can't seem to get his checking timed right or really get on the forecheck with the time he's getting. Are we seeing another Mike Commodore situation in the making here?" Apparently not! Tootoo is being paid the 48-...
Original Story:
http://kuklaskorner.com/tmr/comments/...
THE BACKYARD
BEST OF MAXIM
RELATED ARTICLES
Tuesday night Jordin Tootoo, one of the Wings' newest players from the offseason engaged in two separate fights within the span of 20 minutes as Detroit went on to beat the Stars 4-1. The first Tootoo fight came just three seconds into the opening period when he dropped the gloves with Eric Nystrom sending the JLA crowd into a frenzy. WATCH TOOTOO'S TWO FIGHTS FROM TUESDAY Now...
Red Wings forward Jordin Tootoo dropped the gloves twice Tuesday night in a 4-1 win over the Dallas Stars from the Joe. Tootoo's first fight on the night came just three seconds into the game as he sparred with Eric Nystrom right off the opening face off. Tootoo's second fight came later in the period as he and Brenden Dillon went at it after bumping into each other at about...
Recently I wrote that it is Niklas Kronwall's time to shine now that Nick Lidstrom has hung up the skates, but a long with Kronwall, a younger Red Wings blue liner is coming into his own a little quicker than expected. Brendan Smith, the highly touted Wisconsin Badger star, got his feet wet briefly last season with the Red Wings, but were not able to see a lot. Back in college...
The Detroit Red Wings are starting to look like the Red Wings gain. Since opening with a 6-0 loss at St. Louis, they have gone 3-1-1 in their last five games."We weren't very competitive," Red Wings coach Mike Babcock said of that season opener. "Now we have an opportunity to evaluate ourselves six games later and see where we're at."The Red Wings are 2-0-1 in their...
Homer! Demolition Man. The Angry Chipmunk. Whatever we use to describe him, it is out of pure admiration. How can you not love the guy who spent his entire career with one team being one of the biggest pains in the neck for opposing goalies/defensemen simply through the art of non-violent resistance? Which is the same art I managed growing up, playing the victim so my 3 older brothers...
Last week I introduced player TOI usage charts and one use I thought they had was to look at how a players usage changed during the downside of their careers. Today I will do just that by looking at Nicklas Lidstrom's TOI charts over the last 5 seasons. Consider this an extension to my earlier [...]The post Nicklas Lidstrom's TOI Charts over last 5 seasons appeared first on HockeyAnalysis.com.
As stated in the quick take, the Red Wings did not resolve any of their statistical issues on Tuesday night. They took 5 penalties, were out-shot in two of three periods, they still have yet to score a first-period goal, their power play is now a woeful 3-for-35, and they gave up the game's first goal yet again. Statistics matter a little less when you win, however, and the...
Pavel Datsyuk stickhandled around a defender and sent a perfect pass across the front of the goal. All Valtteri Filppula had to do was shoot into an open net, and he had no problem scoring his second goal of the game. ''Whenever he has the puck, you can always expect it's going to come your way,'' Filppula said. ''I've obviously played with him for...
Updated at 2:01 PM: The Red Wings are enjoying a welcome and what will become an increasingly rare day off after their 4-1 victory over the Dallas Stars last night, so today's crop of Red Wings-related stories, barring any injury news, will be pretty spartan. As I was wrapping up last night's overnight report, however, a story from Russia Today appeared around 4 AM EST, and...
Updated with good news about Ian White at 11:25 AM: The Detroit Red Wings face a stiff test tonight in the St. Louis Blues (7:30 PM, FSD/FS Midwest/NHL Network--again, that means Center Ice and GameCenter Live subscribers who don't get the NHL Network are blacked out tonight/WXYT AM), but there is good news in the player personnel department, per MLive's Ansar Khan... ...
DETROIT (AP) -- Valtteri Filppula scored two goals -- both off nifty passes from Pavel Datsyuk -- and the Detroit Red Wings beat the Dallas Stars 4-1 on Tuesday night. Henrik Zetterberg scored on a two-man advantage in the final minute of the second period to give the Red Wings a 2-1 lead, and Damien Brunner and Filppula scored 23 seconds apart in the third. The Red Wings rallied...
After getting taken to the whipping post by the Blues on opening night, 6-0, DET will be looking for a much better effort.  The Wings aren't alone though, STL are crushing it right now, and it is easy to see why:  3.86 G/G (3),  2.00 GA/G (3), 2.33 5-5 F/A (2),  34.6%PP (2), and 20.3 SA/G (1).   Babcock said of the opening game:  "We weren't very competitive...
NHL News

Delivered to your inbox

You'll also receive Yardbarker's daily Top 10, featuring the best sports stories from around the web. Customize your newsletter to get articles on your favorite sports and teams. And the best part? It's free!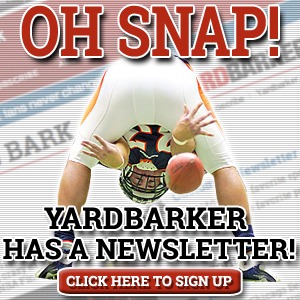 Latest Rumors
Best of Yardbarker

Today's Best Stuff

For Bloggers

Join the Yardbarker Network for more promotion, traffic, and money.

Company Info

Help

What is Yardbarker?

Yardbarker is the largest network of sports blogs and pro athlete blogs on the web. This site is the hub of the Yardbarker Network, where our editors and algorithms curate the best sports content from our network and beyond.