Found April 08, 2012 on Fang Faction:
PLAYERS:
David Legwand
,
Jordin Tootoo
,
Shea Weber
,
Henrik Zetterberg
,
Valtteri Filppula
,
Pavel Datsyuk
,
Pekka Rinne
,
Jimmy Howard
,
Joey MacDonald
,
Alexander Radulov
,
Sergei Kostitsyn
,
Martin Erat
,
Mike Fisher
,
Jiri Hudler
,
Hal Gill
,
Roman Josi
,
Nicklas Lidstrom
,
Niklas Kronwall
,
Anders Lindback
,
Johan Franzen
,
Darren Helm
,
Patric Hornqvist
,
Ryan Suter
TEAMS:
Detroit Red Wings
,
Nashville Predators
,
Vancouver Canucks
First Round: #5 Detroit Red Wings (48-28-6) vs. #4 Nashville Predators (48-26-8)
The Nashville Predators will be playing the Detroit Red Wings in the First Round of the 2012 NHL Stanley Cup Playoffs. The Predators and Red Wings will be playing each other in the First Round for the third time all-time. Nashville has finished the season off ahead of Detroit for the first time ever. 
Read your First Round Preview, after the jump.
Here is your Schedule. Game Date Away Home Time (CT) TV Network Game 1 Wed. April 11 Red Wings Predators 7:00 PM CNBC, CBC Game 2 Fri. April 13 Red Wings Predators 6:30 PM CNBC, CBC Game 3 Sun. April 15 Predators Red Wings 11:00 AM NBC, CBC Game 4 Tue. April 17 Predators Red Wings 6:30 PM NBC Sports Network, CBC *Game 5 Fri. April 20 Red Wings Predators 7:00 PM CNBC, CBC *Game 6 TBD Predators Red Wings TBD TBD *Game 7 TBD Red Wings Predators TBD TBD * - If Necessary TBD - To Be Determined
Before we get into the First Round Preview, let's take a look at the six meetings during the regular season. Highlights occur in order as season series.
Season Series
Date Away Home Result November 26 Predators Red Wings 1-4 Detroit December 15 Red Wings Predators 3-4 Nashville December 26 Red Wings Predators 4-1 Detroit February 17 Predators Red Wings 1-2 Detroit March 10 Red Wings Predators 2-3 Nashville March 30 Predators Red Wings 4-1 Nashville
Top 3 Predators Forwards vs Red Wings in Points Name GP G A +/- #11 David Legwand 6 1 4 1 #22 Jordin Tootoo 6 1 4 1 #6 Shea Weber 5 3 0 -4 Top 3 Red Wings Forwards vs Predators in Points Name GP G A +/- #40 Henrik Zetterberg 6 2 4 3 #51 Valtteri Filppula 6 4 1 3 #13 Pavel Datsyuk 5 2 3 4 Predators Goalies Stats vs Red Wings Name GP W L OT GAA SV % #35 Pekka Rinne 6 3 3 0 2.67 .920 Red Wings Goalies Stats vs Predators Name GP W L OT GAA SV % #35 Jimmy Howard 4 2 2 0 2.26 .908 #31 Joey MacDonald 2 1 1 0 2.02 .902   Who is better offensively? Even
The Nashville Predators have a lot of depth and all four lines can score. Alexander Radulov, Andrei and Sergei Kostitsyn, Martin Erat and Mike Fisher are going to have to score. Although, the Detroit Red Wings have star forwards like Pavel Datsyuk, Henrik Zetterberg, Valtteri Filppula and Jiri Hudler that will be big threats.
Who is better defensively? Nashville Predators
The Predators have the edge in the defensive department because of their depth as well. With the acquisition of Hal Gill and the return of Roman Josi, the Predators have never looked better at defense this season. 
The Detroit Red Wings have "playoff-style" Nicklas Lidstrom at defense. Yes this could be his final season, so that means he will play the remaining games with tons of heart. Niklas Kronwall is the biggest worry right now. I really hope he doesn't hit someone in open ice. Kronwall's perfect hits have been named "Kronwalled." Look at this collaboration of videos of Niklas Kronwall, "Kronwalling" players.
Who is better in net? Nashville Predators
No doubt it is the Predators who are better between the pipes. Pekka Rinne is the man. With Anders Lindback playing well as of late, the Predators are now solid at goaltending.
Jimmy Howard and Joey MacDonald are the goalies for Detroit. The Predators can beat MacDonald. Jimmy Howard has been solid all season, even though he had an injury a month ago. 
Who is better on Special Teams? Nashville Predators
The Predators are better than the Red Wings on special teams, stat wise. On the power play, Nashville is ranked 1st with a 21.6% conversion, while Detroit is ranked 22nd with a 16.1% conversion.
The Red Wings have a really good power play though. They just couldn't succeed on their chances. When Coach Babcock puts his stars on the power play, it usually works. I'm talking about Pavel Datsyuk, Nicklas Lidstrom, Valtteri Filppula, Johan Franzen and Henrik Zetterberg. That is one hell of a power play unit.
Nashville is better than Detroit in penalty killing. Mainly because their key penalty killer, Darren Helm, is out for at least the first two games of the series. The Predators are ranked 10th with a 83.6% PK. The Red Wings are ranked 18th with a 81.8% PK.
The Key Players
Nashville Predators
The key players in victory for Nashville is Pekka Rinne, Patric Hornqvist and Alexander Radulov. Pekka Rinne has to have a great series like last year against the Vancouver Canucks. In some instances, Rinne will have to stand on his head. 
Patric Hornqvist is a key player because he is the toughest guy on the team. Hornqvist needs to have a better playoff performance than his past seasons. If he plays the same way as the regular season, he will be fine. Hornqvist just needs to be consistent this series.
Alexander Radulov is here for a reason. To win the Cup. If he is here to win the Stanley Cup, watch for him to be the most dangerous player in the series. More dangerous than Datsyuk or Zetterberg. Radulov has won championships in the KHL, so now he plans on winning championships in the NHL. 
Detroit Red Wings
The key players in victory for the Red Wings is Jimmy Howard, Pavel Datsyuk and Niklas Kronwall.
As everyone knows, goaltending is the most important position during the playoffs. Jimmy Howard is going to have to play better if he wants the series. Howard has a 2-2-0 record against the Predators, this season. Time to come up big after the injury Howard!
Pavel Datsyuk is a complete monster offensively. Datsyuk has stick skills that no other player has. He is going to have to try to break down Shea Weber and Ryan Suter, if he wants to succeed. That is a pretty tough task to mount.
Niklas Kronwall has the power to transform games with his huge hits. If Kronwall was to hit a Predators while they were down, the momentum would go to Detroit and spark a comeback. Kronwall, in a way, has the keys to every game. The Predators will have to keep their heads up and not look down.
Original Story:
http://www.fangfaction.com/2012-artic...
THE BACKYARD
BEST OF MAXIM
RELATED ARTICLES
The 20 players that make the score card for the Nashville Predators that will take the ice for the puck drop on Wednesday night at the Bridgestone will look far different than the ones on opening night of the 2011-2012 season.In the preseason, the one thing that Predators' GM David Poile repeatedly stressed was that the Predators would be much better in the season's second half...
It wasn't long ago that the Detroit Red Wings had lost six straight games and looked like a confused, beaten team.  The Wings have looked better since then, but have still showed signs of shakiness that was not present during the team's 23-game home winning streak. I'm here to tell you to throw all that out the window. Now, it's playoff time, a time where the Detroit Red...
Nashville Predators goalie Anders Lindback left Saturday night's game against the Colorado Avalanche late in the third period because of an undisclosed injury. Lindback was hurt with 2:14 left in the third. The Nashville backup landed on the back of his head after Colorado left winger Cody McLeod collided with him in the crease. Lindback had 34 saves when he left the game....
The Nashville Predators finally have finished ahead of Detroit for the first time as a franchise. Now the Predators' challenge is doing something with home-ice advantage. The Predators finished fourth in the Western Conference for the third time in seven playoff berths. They open the postseason Wednesday night against the Red Wings - the Central Division foe they've measured...
This 'How to Beat the Goalie' story will be going over Joey MacDonald, the backup goalie to Jimmy Howard going into the First Round series. If you want to see Jimmy Howard's 'How to Beat the Goalie' story is, scroll on down the page. How to Beat the Goalie: Joey MacDonald Joey MacDonald is going to be the backup goalie to Jimmy Howard in Game 1. MacDonald...
The Nashville Predators went into Saturday night's contest knowing they had already secured fourth spot in the Western Conference standings and home ice in the first round of the Stanley Cup playoffs. While the game had no meaning in terms of the standings, the Predators came out strong offensively and beat the Colorado Avalanche by a 6-1 score, despite allowing 45 shots on goal...
The Predators finished off their slate of games in the 2011-12 regular season with a strong offensive victory, 6-1 over the Colorado Avalanche. But it was tough to gauge the Predators following the win. They won by a lot, but they were without their usual first line of Martin Erat, Sergei Kostitsyn and Mike Fisher -- who were given the night off. They didn't have Hal Gill or...
from David Climer of The Tennessean, Trotz believes the key to managing a comparative wealth of riches is to remain true to yourself. A more talented roster does not mean you quit playing a style of hockey that he calls "the Predators' way." "Just because we added people in the lineup doesn't mean we change our game," he said. "There are certain foundations in your...
Paul for George… from Helene St. James of the Detroit Free Press, When the Red Wings open their series against the Nashville Predators on Wednesday, they face one of the game's biggest goaltenders—Rinne is 6-feet-5. What's a moderately size team to do? "He really big, and he really kind of tall when he is in net, and he kind of really fast, too," Pavel Datsyuk said...
Photo by: Ronald Martinez/Getty Images Hal Gill has been possibly the most notable pick-up at the trade deadline for the Nashville Predators. He has size and strength, can out poke check any forward by a good foot and a half of stick and has been the difference maker on the Predators penalty kill that has risen to 10th in the NHL. Although he lacks speed due to his lumbering huge...
Paul for George. 12 NHL Experts at ESPN, 10 pick the Nashville Predators to win the series. All the other series are predicted too.
Photo Credit: AP Photo/David Zalubowski With the regular season winding down and Nashville visiting Colorado for game 82, most were unsure what to expect with the line-up changes being handed down after the Predators secured the 4th seed in the Western Conference when Detroit lost in a shootout to Chicago. However, with Nashville's top line taking a rest for the night, it wouldn't...
NHL News

Delivered to your inbox

You'll also receive Yardbarker's daily Top 10, featuring the best sports stories from around the web. Customize your newsletter to get articles on your favorite sports and teams. And the best part? It's free!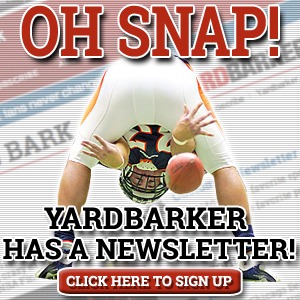 Latest Rumors
Best of Yardbarker

Today's Best Stuff

For Bloggers

Join the Yardbarker Network for more promotion, traffic, and money.

Company Info

Help

What is Yardbarker?

Yardbarker is the largest network of sports blogs and pro athlete blogs on the web. This site is the hub of the Yardbarker Network, where our editors and algorithms curate the best sports content from our network and beyond.