Found March 21, 2013 on Fox Sports:
PLAYERS:
Sidney Crosby
,
Craig Adams
,
Brooks Orpik
,
David Steckel
,
Brendan Shanahan
,
David Legwand
,
John Tortorella
,
Evgeni Malkin
,
Ken Holland
,
Patrick Kaleta
,
Brad Richards
,
Harry Zolnierczyk
,
Mike Lundin
,
Matt Cooke
TEAMS:
Pittsburgh Penguins
,
New Jersey Devils
,
Nashville Predators
,
New York Rangers
,
Detroit Red Wings
,
Buffalo Sabres
,
Ottawa Senators
,
New York Islanders
The fear is gone. The doubt too for that matter. Ditto the hesitation. A year into his comeback from the concussion-like symptoms that nearly derailed Sidney Crosby's career, the Pittsburgh Penguins superstar is back atop the NHL scoring race thanks to his unparalleled mix of artistry, speed and grit. It wasn't the avalanche of points - 50 and counting heading into Friday's game against the New York Islanders - that let Crosby's teammates know their captain was back at the top of his considerable powers. No, the proof lay in the tight places around the net where Crosby makes his living better than anyone else. ''To play down low in the defensive zone against him is a nightmare,'' Penguins forward Craig Adams said. ''It's a long way back, but I can't imagine a guy playing better than he is right now. You can't get the puck from him.'' Perhaps because Crosby doesn't have to worry about getting knocked around so much anymore. Don't get him wrong, the game has never been faster. The players have never been bigger and he's never drawn more attention. Yet thanks to a series of rule changes made by the league and a shift in attitude by the guys wearing the sweaters, players say the NHL is as safe now as it's perhaps ever been. ''I can only speak to the games we played in, there's been a difference,'' Pittsburgh defenseman Brooks Orpik said. ''I think guys are a little bit more conscious, a little more respectful.'' In the 2-plus years since Crosby sustained a concussion following a blindside hit from Washington's David Steckel in the 2011 Winter Classic, the league has outlawed shots to the head entirely and given senior vice president of player safety Brendan Shanahan great leeway in handing out punishment for dangerous plays. Though Crosby says it's still too early to tell whether the steps taken by the league have made any impact on the number of concussions sustained by players, he does see evidence of guys playing more under control. ''I know it's changed from my first couple years, that's for sure,'' Crosby said. ''The game is much tighter.'' Crosby pointed to the average number of penalties as evidence that sticks, elbows, etc., aren't flying quite as much as they used to. Teams are averaging 3.6 power-play opportunities a game this season, down from 5.8 per game during Crosby's rookie year in 2005-06. Part of the decline can be attributed to the decreasing amount of open ice. After offenses flourished following the 2004-05 lockout, the pendulum has swung back to more conservative, defensive-minded schemes. The result is more clutching and grabbing, sure, but also a decision by players to avoid the kind of unnecessary penalties that can tilt games. It doesn't always lead to thrilling hockey, but it can lead to smarter, safer play. ''Obviously everyone needs to protect their heads and do the right thing in that mindset,'' Nashville forward David Legwand said. ''But we also want to win hockey games and play the right way.'' The definition of what ''right way'' is, however, remains entirely up for interpretation. Where some players see progress, New York Rangers coach John Tortorella sees a problem. Tortorella believes the game has become almost too sanitized, particularly the closer to the goal the puck gets. ''Underneath the hashmarks, I think you need to let us play a little bit more,'' he said. ''And I kind of miss that part of it. I know it's not going to come back to that. But I thought that was a big part of hockey back in those years, and we certainly can't do those type of things now.'' Tortorella isn't embracing brutality as much as he is vocalizing what is, in some ways, an identity crisis for many contact sports. Hockey is trying to preserve the spirit of the game while also protecting the health of its players. Getting hard data on concussions is difficult because many teams remain vague about the nature of an injury, often never getting more specific than ''upper body'' and ''lower body.'' Even the Penguins - one of the few progressive franchises in the league when it comes to discussing such matters - grew reticent when reigning NHL MVP Evgeni Malkin left a game against Florida last month after sliding into the end boards. Pittsburgh declined to label Malkin's injury as a concussion until two days had passed. The play in question, unlike the hit that sent Crosby's career into crisis, however, was clean. And the league understands that no amount of legislation will be able to eradicate head trauma from the game for good. Detroit Red Wings general manager Ken Holland believes the number of players diagnosed with concussions this season are down compared to last year but even he is working mostly off anecdotal evidence. ''I think we're doing as good of a job as we ever have in protecting our players,'' he said. ''But, when you have 6-foot-2, 200-plus pound players on skates going 25 miles per hour and they're hitting each other, you're going to have some injuries.'' Don't mistake positive steps, however, for victory. Every week Shanahan is forced to review tape of questionable plays. Buffalo forward Patrick Kaleta received a five-game suspension three weeks ago after sending New York Rangers forward Brad Richards into the boards. Philadelphia's Harry Zolnierczyk sat four games for launching his shoulder at the head of Ottawa's Mike Lundin. Both penalties - like all others handed out by the league - were accompanied by a video from Shanahan breaking down the play and explaining what the guilty player did wrong. Coaches can then use the video as teaching moments during team meetings. Adapting can take time. Yet there are success stories. Pittsburgh forward Matt Cooke was considered one of the league's dirtiest players two years ago but has cleaned up his act to the point where when he does something wrong, it is almost a shock. He earned a rare double-minor for boarding and unsportsmanlike conduct in a win over Washington on Tuesday. Cooke said he knew he needed to change if he wanted to extend his career. And even players who lack Cooke's pedigree as an enforcer have taken a hard look at how they go about their business. Adams, a grinder who has spent 12 years in the NHL as an aggressive forechecker, admits there are times he gets frustrated when he skates 200 feet only to have an opposing player intentionally turn his back to Adams to try and invite a penalty. Yet Adams - and most of his brethren - understand the need to hold up instead of following through. Mistakes will happen. So will concussions. Yet Adams sees a league trying to maintain a portion of its soul while also getting rid of the kind of cheap shots that almost prematurely ended Crosby's career. ''We're avoiding those hits,'' he said. ''I think it's starting to get into the culture that that's not OK.'' --- AP Sports Writers John Wawrow in Buffalo, Teresa Walker in Nashville and AP hockey writer Larry Lage in Detroit contributed to this report.
Original Story:
http://msn.foxsports.com/nhl/story/Ch...
THE BACKYARD
BEST OF MAXIM
RELATED ARTICLES
When the Pittsburgh Penguins suit up Friday night, they'll be aiming for their 11th straight win this season. While they seem to get overshadowed in the national media by stories like the Montreal Canadiens' surprise season and the Chicago Blackhawks' record-breaking start, the NHL oddsmakers at Bovada aren't overlooking this team. The Pens are now at 5-1 odds to win...
A year after his comeback from concussion-like symptoms, Pittsburgh Penguins star Sidney Crosby is on top of his game. Crosby leads the NHL in points and says he no longer worries about taking another hit to the head. The NHL has taken steps to eliminate the kind of dangerous hits that threatened Crosby's career, and players say heightened awareness plus stiffer penalties have...
If you haven't heard Malkin has been ruled out of tonight's game against the Islanders.  As well he should be.  That is of course if the media has correctly speculated he has a shoulder injury or a head injury.  Both of those injuries take more than just a few weeks to heal correctly and both of those injuries are injuries that could affect Malkin's play in the playoffs...
The Pittsburgh Penguins are again without star forward Evgeni Malkin and top defenseman Kris Letang as they visit the New York Islanders and try to stretch their winning streak to 11 games. Malkin is sidelined Friday night because of an upper body injury, while Letang is dealing with a lower body problem. Malkin, who earlier in the week eyed the matchup with the Islanders as a...
Matt Cooke's 4 minutes were killed. CONSOL Energy Center was on fire. And then there was Crosby was leading a 2-on-2 rush with a fresh Cooke. The crowd was still standing from cheering the PK effort, and they knew something was coming. Sid dished the puck to Cooke and drove to the net. Matt Cooke was passing to some mystery entity until the ROOT camera finally panned out, and...
Brandon Sutter snapped a tie early in the third period and Tomas Vokoun was sharp in making 33 saves for Pittsburgh on Friday night, helping the Penguins rally for a 4-2 victory over the New York Islanders and stretch their winning streak to 11 games. With the score tied 2-2, Sutter took a pass from Matt Cooke in front off a 2-on-1 rush and scored past goalie Evgeni Nabokov 1:46...
Tomas Vokoun was sharp in making 33 saves, and Brandon Sutter snapped a tie early in the third period for the Pittsburgh Penguins, who rallied for a 4-2 victory over the New York Islanders that stretched their winning streak to 11 games on Friday night. Sutter took a pass from Matt Cooke in front off a 2-on-1 rush and scored past goalie Evgeni Nabokov 1:46 into the third period...
There's a chance that Pittsburgh Penguins star Evgeni Malkin could end his six-game absence Friday night. While the Penguins would undoubtedly love to have Malkin back on the ice, they've already shown they can do just fine without him. With or without Malkin, the Penguins will try to match the longest win streak in the NHL this season at 11 games when they visit the New...
These days, it doesn't appear to matter how the Pittsburgh Penguins start games. The end result is always a win; at least that's how it has been in the month of March.The Penguins overcame one of their worst first periods of the season to defeat the New York Islanders 4-2, Friday night. Just three points back from a playoff spot and slipping fast, the Islanders started the...
Pittsburgh Penguins (23-8-0) @ New York Islanders (13-14-3) ROOT, NHLN-US, MSG PLUS, RDS2 - 7:00 pm/et Nassau Veterans Memorial Coliseum - Uniondale, New York There's something about the Islanders that we really dislike. For a team that has been pretty awful for many years, they always seem to give the Penguins trouble. This is especially true for games...
Defenseman Matt Niskanen scored the go-ahead goal in the third period and Sidney Crosby had two assists and the Pittsburgh Penguins extended their winning streak to 10 games with a 2-1 victory over the Washington Capitals on Tuesday. Niskanen's goal at 11:58 came nine seconds after the Penguins killed a four-minute penalty in the third period. The winning streak is the longest...
Defenseman Matt Niskanen scored the go-ahead goal in the third period and Sidney Crosby had two assists and the Pittsburgh Penguins extended their winning streak to 10 games with a 2-1 victory over the Washington Capitals on Tuesday.
NHL News

Delivered to your inbox

You'll also receive Yardbarker's daily Top 10, featuring the best sports stories from around the web. Customize your newsletter to get articles on your favorite sports and teams. And the best part? It's free!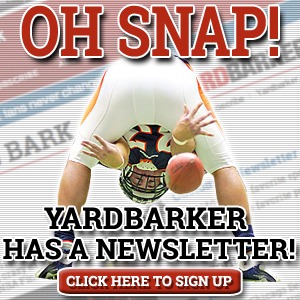 Latest Rumors
The Backyard

Today's Best Stuff

For Bloggers

Join the Yardbarker Network for more promotion, traffic, and money.

Company Info

Help

What is Yardbarker?

Yardbarker is the largest network of sports blogs and pro athlete blogs on the web. This site is the hub of the Yardbarker Network, where our editors and algorithms curate the best sports content from our network and beyond.