Found April 06, 2012 on Holdout Sports:
San Jose Sharks left winger Ryane Clowe blatantly cheated, and got away with it, while sitting on the bench during the third period of Thursday night's NHL game against the Los Angeles Kings. Clowe reached over onto the ice with his stick and tapped the puck away while Kings center Jarret Stoll was racing down the ice with it on a 3-on-2 breakaway.
It happened with 2:40 remaining in regulation and the game tied 5-5. The puck tap by Clowe slowed down Stoll just enough to allow Sharks forward Logan Couture to knock the puck into the corner and stop the breakaway attempt. Somehow, none of the referees saw it, so no penalty was called, even though all three Kings players stopped skating and put their arms up in disbelief.
The game went into a shootout and the Sharks ended up winning 6-5, which is critical in terms of the standings. The Kings could have clinched the Pacific Division title with a win over the Sharks, but instead, the Sharks and Kings are tied with 94 points apiece and only one regular season game remaining.
The NHL has to do something about this in order to be taken seriously. Clowe needs to be punished in some way - if not a suspension, then a hefty fine. Also, the referees in this game need to be talked to, since there's no way that all of them should have missed that call.
Video via NHL Network. H/T Puck Daddy.
Holdout Sports has a new look. Visit us at holdoutsports.com and tell us what you think.
Original Story:
http://feedproxy.google.com/~r/Holdou...
THE BACKYARD
BEST OF MAXIM
RELATED ARTICLES
ANYTHING TO WIN?
Last night, the San Jose Sharks and Los Angeles Kings faced off in a hugely important divisional match-up which unfortunately resulted in a Kings 6-5 shootout loss. At stake for the Kings was the potential to clinch the division and of course a little redemption from last year's postseason. The game had a very gritty, playoff-type feel to it, resulting in a combined total of 63...
WELL-ROUNDED PLAYERS
It doesn't happen as often as it used to, let alone two players in the same game, but last night we saw Ryane Clowe and Joe Thornton of the San Jose Sharks recorded Gordie Howe Hat Tricks (goal-assist-fight) in the Sharks 6-5 win over the Kings in a shootout. Said Clowe following his historic night: "I'll celebrate it with sleeping tonight, I'm tired. I don't know, It's...
The Los Angeles Kings announced their award winners. AS VOTED BY THE MEDIA Most Valuable Player "Bill Libby Memorial Award" - Jonathan Quick Best Newcomer "Mark Bavis Memorial Award" - Jeff Carter Outstanding Defenseman - Willie Mitchell Defensive Player - Jonathan Quick AS VOTED BY THE KINGS PLAYERS Most Inspirational Player "Ace Bailey Memorial Award...
Ryane Clowe got away with one on Thursday night in a highly contested matchup between his San Jose Sharks and the Los Angeles Kings. The veteran forward did everything he could to help his team to a 6-5 win, even when he wasn't on the ice. Clowe made news when he broke up what looked like a promising L.A. rush in the third period, and he did so from the bench. Jarret Stoll carried...
Ryane Clowe turned in perhaps the biggest play in the San Jose Sharks' 6-5 victory over the Los Angeles Kings on Thursday night - and he did it from the bench. With Kings forward Jarret Stoll making a rush up ice late in the third period, Stowe reached over the boards with his stick to swipe at the puck, barely catching it and knocking it loose from Stoll. Three players from...
The Kings roller-coaster campaign was rewarded Thursday night when they reached the playoffs for the third consecutive season. And it came to fruition shortly before the puck was dropped at Staples Center for the Kings-Sharks game, the home finale for Los Angeles. The Kings' magic number, one, transformed into zero when the Predators defeated Dallas, 2-0, in Nashville, officially...
Look forward to a wild Saturday night in San Jose, as the Kings and San Jose Sharks will play a game that could have a ton of significance. Depending on the results of Friday's game between Phoenix and St. Louis, the winner of Saturday's Kings-Sharks game could finish first in the Pacific Division -- with the third seed in the Western Conference -- while the loser could...
The Los Angeles Kings will be without the services of center Jeff Carter for Thursday's game against the Pacific Division rival San Jose Sharks, coach Darryl Sutter said. Carter will miss his fourth straight contest with a deep bone bruise in his ankle. The Kings (40-27-13), who have posted a 2-0-1 mark in that stretch, can secure a postseason berth on Thursday. Tests revealed...
Ryan Clowe's moment of blatant cheating could be a reason the San Jose Sharks may have a chance at a fifth straight Pacific Division title. The Los Angeles Kings wouldn't mind getting a measure of revenge on Clowe while hoping they have a shot at just their second division crown in team history. The bitter rivals conclude the regular season in what could be a winner-takes...
from Rich Hammond of LA Kings Insider, Darryl Sutter might say simple things, but be assured that he's not a simple man. Every coach has his own motivational tools, and every coach knows that what he says publicly has a good chance of making its way to his players' eyes and ears. To that end, Sutter gave some interesting comments today, after initially being asked about Jonathan...
Greg Wyshynski at Puck Daddy tries to make a compelling argument for Jonathan Quick to win the Vezina Trophy over Henrik Lundqvist..."But if you see the Vezina as an award not only for the goalie "adjudged to be the best at this position" but also the goalie who was vital to his team's success, then Jonathan Quick beats Henrik Lundqvist for the award. He has better...
Drew Doughty reacts to Ryane Clowe playing the puck from the bench, more on that later in the post. Florida's Stephen Weiss will be making his first appearance in the playoffs after ten years of waiting. [Puck Daddy] Florida clinched after Buffalo lost to Philadelphia. The Capitals will probably head into the playoffs with Braden Holtby as the starter.  Michal Neurvirth...
NHL News

Delivered to your inbox

You'll also receive Yardbarker's daily Top 10, featuring the best sports stories from around the web. Customize your newsletter to get articles on your favorite sports and teams. And the best part? It's free!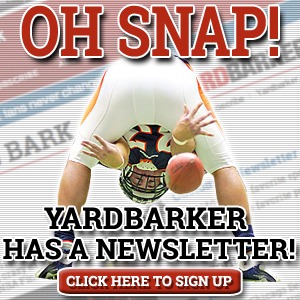 Latest Rumors
Best of Yardbarker

Today's Best Stuff

For Bloggers

Join the Yardbarker Network for more promotion, traffic, and money.

Company Info

Help

What is Yardbarker?

Yardbarker is the largest network of sports blogs and pro athlete blogs on the web. This site is the hub of the Yardbarker Network, where our editors and algorithms curate the best sports content from our network and beyond.