Found January 23, 2012 on centericechat.com:
The critics have spoken. And Tim Thomas is even trending on Twitter. An outpour of support — and backlash — towards one of the most likable NHL goalie has quipped one question: Why? Why did Tim Thomas decline an invitation to the White House? Well, because he holds strong conservative political views. And, apparently, the Tea Party applauds this lid: The 'Don't Tread On Me' lid. Should we hold the no-show against Thomas? No. If you're a Thomas fan, or a Bruins fan, do you have a right to be upset? Of course. There's a lot of emotion that pours into this argument. Thomas certainly isn't the first athlete to snub the president. Here's an open letter to Thomas from a puck head I found quite interesting. But to be fair, there's opinions on all sides of the political and hockey spectrum. Matthew Wilson is editor of Center Ice Chat. Follow him on Twitter @Mattjw24. Be sure to also Like us on Facebook and to Follow our Tumblr page. If you'd like to contribute, or appear as a guest columnist, please email us at CenterIceChat@gmail.com.
Original Story:
http://www.centericechat.com/2012/01/...
THE BACKYARD
BEST OF MAXIM
RELATED ARTICLES
Bruins fans are quickly learning there are certain downsides to a team's success. For so long we were used to the Bruins either flaming out in the playoffs or making ridiculous trades or just finding some reason to disappoint us. But we all stuck it out and over the past few years we have been rewarded, with everything culminating in a June 15, 2011 Stanley Cup clinching...
Bruins all-world goalie Tim Thomas doesn't deserve all the sniping he's receiving for skipping a date with the...
I had no clue as to if I should post this here or at Puck Drunk Love, but I figured this was my blog - I feel awkward about posting political stuff anywhere else. Tim Thomas skipped yesterday's meeting with President Barack Obama to honor the Bruins' 2011 Stanley Cup Championship. Teams go to the White House all of the time, and Thomas was the team's only American. He...
The defending Stanley Cup champion Boston Bruins visited the White House on Monday, where they took a tour and met with President Barack Obama. Tim Thomas, however, elected not to attend. Thomas later released a statement saying that he believes "the Federal government has grown out of control, threatening the Rights, Liberties, and Property of the People." Therefore, the...
Tim Thomas is not expected in net for the Bruins as they play the Washington Capitals on Tuesday night, but he will most likely still be a large part of the discussion surrounding the night's game. In the wake of the Bruins goalie's decision to not attend the team's meeting with President Barack Obama on Monday, Thomas has stirred up a firestorm of controversy that may...
Bruins goaltender Tim Thomas released the following statement Monday evening regarding his absence from the Bruins' visit to the White House this afternoon: "I believe the Federal government has grown out of control, threatening the Rights...
Bruins goalie Tim Thomas' White House boycott is a minor infraction that won't land him long in the penalty...
It is a well known fact that hockey goalies are a breed apart.  Many of them have odd habits and generally speaking are not like the skaters on their teams.  After all, if you spent your career, your life's work, willingly watching players launch pucks from the point at you at 90+ MPH, you gotta be a different kind of person. Proving this point, Boston Bruins Goalie, two time...
Look, goalies always have been a tad "different, so is it shocking that Tim Thomas opted not to visit the White House the other day with the Boston Bruins? No. And truth be told I could really care less if Thomas went or not. I'm fairly certain the rest of the Bruins players, coaches and staff enjoyed what had to be a special day. Regardless if you're a Democrat, Republican...
About 8 years ago, Curt Schilling decided to publicly back President Bush in his reelection campaign. Schilling quickly realized he wasn't in the southwest anymore. The way many members of the Commonwealth saw Curt changed after this action. He became one of the more loathed athletes in the Boston area. But, was it because of his loud mouth? Or, was it due to what was coming out...
Tim Thomas may have stolen the headlines on Monday with the Bruins in the nation's capital, but it will be pretty hard to take away the memories that many of the B's came away with. The Bruins were in Washington to be honored at the White House during a brief meeting with the president. As is customary, the B's presented Barack Obama with a black and gold sweater with...
Canucks News It's Wednesday morning and Canucks fans are of course ________ about last night's result. You fill in the blank and leave it in the comments section below! Anyhow, while you're sipping your morning java, HAVE A glance at all the Canucks blogs from recent days and nights. I will say in advance, YOU'RE WELCOME. For this morning's links, myself on behalf of NWSB...
Bruins News

Delivered to your inbox

You'll also receive Yardbarker's daily Top 10, featuring the best sports stories from around the web. Customize your newsletter to get articles on your favorite sports and teams. And the best part? It's free!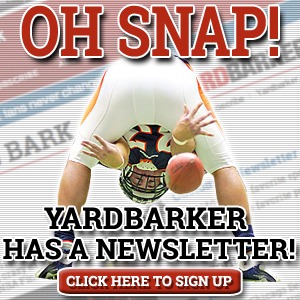 Latest Rumors
Best of Yardbarker

Today's Best Stuff

For Bloggers

Join the Yardbarker Network for more promotion, traffic, and money.

Company Info

Help

What is Yardbarker?

Yardbarker is the largest network of sports blogs and pro athlete blogs on the web. This site is the hub of the Yardbarker Network, where our editors and algorithms curate the best sports content from our network and beyond.