Originally posted on
Puck Drunk Love
| By Liam McGuire | Last updated 1/10/17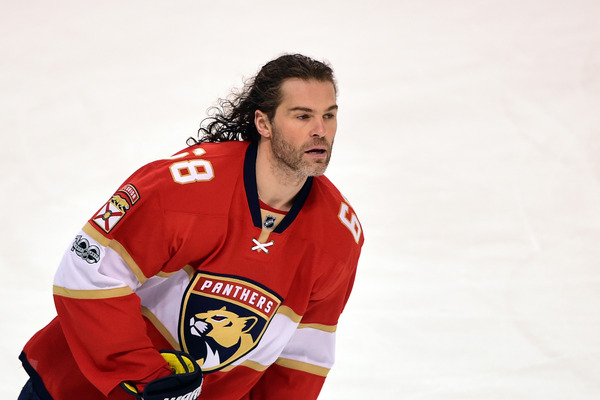 The ageless Jaromir Jagr has upped the ante by stating he wants to play hockey until he's 55.
Steve Mitchell-USA TODAY Sports
Jaromir Jagr is just like the Energizer Bunny, his career keeps going and going and going. The 44-year-old doesn't plan on stopping anytime soon, as Jagr admitted he wants to play until he's 55. Back in December, Jagr said he would work everyday to play until he's 50. Now he has raised the bar.
"I go to 55," Jagr told NorthJersey.com Monday as the Panthers beat the Devils, 3-0, at Prudential Center. "I just changed. Fifty-five. I feel good so I go to 55."
That's quite the lofty goal. Chris Chelios and Gordie Howe would be impressed.
Jagr's still got it. In 2016-17, the ageless wonder has posted seven goals, 18 assists and 25 points. It's a far cry from his multiple 100-point seasons he put up in the mid-90's and 2000's, but he's still a productive player in the league.
Teammate Roberto Luongo made sure to post a tweet making fun of Jagr's aspirations. He joked if he plays for another 28 years, he'll still fall short of Martin Brodeur's all-time win record.
After doing the math.... If I play another 28 years I will still fall about 5-6 wins shy of tying Marty's record!

— Strombone (@strombone1) January 10, 2017
Jokes aside, it's going to be tough for Jagr to reach the benchmark. There's no precedent for playing that long. 55 years old is ambitious and pretty absurd. But, that's what makes Jagr so great. He continues to defy the norms and play impressive hockey in his mid-40's. Can he do that into his 50's? If anyone can it's him. What a legend.
MORE FROM YARDBARKER:
The Weirdest Trade In Baseball History
QUIZ: Name the players on both 1990-91 and 1991-92 Stanley Cup-winning Pittsburgh Penguins teams
27 players were on both 1990-91 and 1991-92 Stanley Cup-winning Pittsburgh Penguins teams. How many of these NHL players can you name?
Clue: Number/Position
MORE FROM PUCK DRUNK LOVE:
MORE FROM YARDBARKER
Panthers News

Delivered to your inbox

You'll also receive Yardbarker's daily Top 10, featuring the best sports stories from around the web. Customize your newsletter to get articles on your favorite sports and teams. And the best part? It's free!