Found November 01, 2012 on Goon's World:
Is #NHLPA conf call with exec & negotiation committee plotting new CBA offer? Or merely ensuring everyone's on same page w/current stance? — Spector's Hockey (@SpectorsHockey) November 1, 2012 Good morning to you... It's day 47 of the NHL lockout and it looks like nothing is happening really... It looks like the NHLPA and the NHL Owners are talking but nothing really official or with any substance. Also, it appears that some of the players are starting to feel the pinch of the lockout and wondering if the lockout will kill their hockey careers. Shawn Thornton said he "didn't like the way things were going" in NHL talks during a radio interviewcsnne.com/hockey-boston-… #BruinsTalk — Joe Haggerty (@HackswithHaggs) November 1, 2012 This is what Shawn Thornton told Joe Haggerty of CSNNE.com. "I'm worried. Financially I've made some pretty good money the last couple of years. So I'm not hurting, but I'm definitely concerned that I don't have any paychecks coming in at this point," said Thornton. "For guys like me I have a few years left and I'm kind of caught in the middle and squeezed out on both sides. If this goes on for a year or two then I'm probably done and I have to go back to working for a living. "That's fine. I've done it before. I worked in a steel factory when I was younger. But on the other side I'd like to play out the last two years of my contract and be a little bit ahead after fighting 400 times over the last 15 years." NHLPA source,sense NHL open to negotiating 'making whole' aspect but still holding firm on all other components of last offer 'as is' #TSN — Aaron Ward (@aaronward_nhl) October 23, 2012 According to some of the tweets that I have seen in my twitter feed today, It looks like Friday is the day that the Winter Classic gets cancelled. Also, no news is not good news... Quick roundup: #WinterClassic likely bagged Friday. Hints of hope for movement among #nhlpa but far more guarded within #NHL — Rob Rossi (@RobRossi_Trib) November 1, 2012 #CBA Updated story on the frustrating stalemate and fate of Winter Classic espn.go.com/nhl/story/_/id… — Katie Strang (@KatieStrangESPN) November 1, 2012 Next up on the chopping block: the Winter Classic. On the Blueshirts Blog: nydn.us/SxtaTL #NYR #NHL #NHLPA #BecauseItsTheLockout — Pat Leonard (@NYDNRangers) November 1, 2012 Related articles Is there an end in sight to the NHL lockout? (ndgoon.blogspot.com)
Original Story:
http://feedproxy.google.com/~r/blogsp...
THE BACKYARD
BEST OF MAXIM
RELATED ARTICLES
Bruins players who decided to head overseas may be getting in some quality ice time, but they certainly weren't able to get in some quality trick-or-treating done in Southie, like one pesky winger did this year. Brad Marchand was spotted dressed as Thor on the streets of South Boston on Wednesday night -- reportedly trick-or-treating with his dog, which was dressed as Superman...
  We're too depressed from reading these quotes to do a real intro. They speak for themselves. From Pro Hockey Talk (emphasis ours):   "For guys like me I have a few years left and I'm kind of caught in the middle and squeezed out on both sides," he explained. "If this goes on for a year or two then I'm probably done and I have to go back to working...
Marc Savard has seen the best and the worst of the NHL, with the latter still dominating his life. The Bruins center is unlikely to ever play in the NHL again, and he knows that. The ever-present reminder in the forms of post-concussion headaches serve as a not-so-subtle reminder of that. However, Savard's most recent headaches were felt on Tuesday night, and...
Boston is a town filled with rich sports history, but one of the most significant dates is Nov. 1, 1924 -- the day the Boston Bruins played their first game in franchise history. Boston, which was the first NHL franchise to open for business in the United States, beat Montreal Maroons in Boston 2-1 in its first game ever. The first game that an American based...
The start of the Bruins' playoff series against the Philadelphia Flyers in 2011 followed the same script that it had in 2010 -- with two Boston victories. They looked to continue that trend in Games 3 and 4, with the venue shifting to the TD Garden. Bruins head coach Claude Julien will join Dale Arnold in the NESN studios on Thursday to discuss Game 3 of the Eastern Conference...
Matias Strozyk tweeted this out minutes ago:  #Bruins Chris Kelly joins HC Red Ice of NLB, where Patric Hörnqvist played. Contract can be extended at the end of every month. — Matias Strozyk (@MaStrozyk) October 31, 2012 There is nothing on Red Ice's website about the transaction yet, but we believe that Matias is a credible source (because Sarah Connors believes...
The Bruins blasted the doors off the Philadelphia Flyers in Game 1 of their 2011 Eastern Conference Semifinals. Their next time on the ice, things wouldn't be so easy. Tim Thomas led the B's back into Philadelphia for Game 2, while each side plotted its own revenge. For the Flyers, they would look to avenge the loss they had suffered the last time out....
While many Boston Bruins are overseas doing their best to stay busy during the NHL lockout, the Providence Bruins are doing their part at home to continue the organization's tradition of giving back to the community. Following the example that Zdeno Chara, Adam MacQuaid and Brad Marchand set last year with Jordan Caron, the P-Bruins visited patients at the Boston Children...
Bruins News

Delivered to your inbox

You'll also receive Yardbarker's daily Top 10, featuring the best sports stories from around the web. Customize your newsletter to get articles on your favorite sports and teams. And the best part? It's free!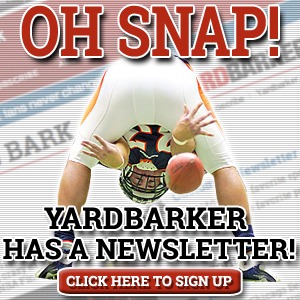 Latest Rumors
Best of Yardbarker

Today's Best Stuff

For Bloggers

Join the Yardbarker Network for more promotion, traffic, and money.

Company Info

Help

What is Yardbarker?

Yardbarker is the largest network of sports blogs and pro athlete blogs on the web. This site is the hub of the Yardbarker Network, where our editors and algorithms curate the best sports content from our network and beyond.