Found August 21, 2013 on Shutdown Line:
Position: Defenseman Height: 6'0" Weight: 205 lbs. Drafted: 2nd Round, 2010 Draft Age: 21 Last Year's Ranking: 3 Justin Faulk Season Age Team Lge GP G A Pts P/G 2008-09 16 USNTDP Under-18 Team NAHL 38 3 9 12 0.316 2008-09 16 U.S. National Under-18 Team Ind 1 0 0 0 0.000 2009-10 17 U.S. National Under-18 Team USHL 21 9 3 12 0.571 2010-11 18 U. of Minnesota-Duluth WCHA 39 8 25 33 0.846 2011-12 19 Carolina Hurricanes NHL 66 8 14 22 0.333 2011-12 19 Charlotte Checkers AHL 12 2 4 6 0.500 2012-13 20 Charlotte Checkers AHL 31 5 19 24 0.774 2012-13 20 Carolina Hurricanes NHL 38 5 10 15 0.395 Most teams are patient when it comers to developing their defensemen, which means they usually let them play an extra year in juniors or keep them in the AHL until they feel that they are ready. There are a good chunk of players who don't play in the NHL until their mid-20's and some of them take even longer to reach their full potential. Even those who appear "ready" for the pros are waited on a couple of years before they break into a full-time NHL role so that they can adjust to their role more easily. However, no such "development period" was needed for the Carolina Hurricanes young blue-liner Justin Faulk, who is already a top-four defenseman at the ripe age of 21.  Whenever a defenseman of Faulk's age plays 24 minutes a night, most of which coming against the opposition's best players, it's usually due to there being a lot of injuries or the team in question having poor defensive depth. Both of these issues have plagued the Hurricanes during Faulk's time here, but anyone who watched Faulk play can tell you that he earned those minutes. He plays such a solid positional & defensive game for a player his age. That combined with his ability to make good passes & reads out of his own zone made Faulk a great option for tough-minutes and why he is becoming one of the best young shutdown defensemen in the league. Seeing Faulk referred to as a "shutdown defenseman" might be kind of weird because he doesn't play a mean game and isn't physically intimidating at all. He is also very useful as a puck-mover and was an excellent offensive defenseman in college. However, when you look at Faulk's performance in the NHL, it's hard to call him anything but a shutdown defenseman and this was especially true last season. Faulk has a good shot & can play one of the points on the power play, but he was also used on the Hurricanes first penalty kill unit and was Kirk Muller's go-to option for playing against other team's scoring lines. The fact that he was matched up against the opposing team's first line in all but six of his games shows how much trust the coaching staff has in him and how his defensive game has evolved. There are a few cogs in Faulk's game, though. The biggest of which being that he was a negative possession player in his first two NHL seasons. He did have some growing pains during his rookie season and struggled to stay afloat at even strength because of that, but he responded with a strong sophomore campaign where his defensive game looked miles better than it ever had before. He was one of the Hurricanes best defensemen at preventing chances, which is no easy feat when taking his workload into consideration. The only problem is that he spent more time trying to keep play out of his own end rather than driving the play north. As a result, he posted some weak offensive numbers and only seemed to create chances when the Canes were on the power play. That comes with the territory with a 45.5 Offensive Zone Start percentage, but this is one part of Faulk's game I would like to see improve. That being said, he still posted respectable underlying numbers while playing the role of Atlas on the Hurricanes blue-line. Other than that, I don't think anyone can complain about the track Faulk is on right now. He hit a wall around March and got hurt shortly after, but his performance during the first two months of the season was at another level. Expecting him to play at that caliber for 82 games is probably unreasonable, but it did provide a glimpse at how good he can be and what the future could hold for him. Faulk is developing into the kind of player the Hurricanes can build their defense corps around and is only going to get better as his career progresses. Most defensemen who are able to break into the NHL at his age usually go onto bright futures, so there is a lot to be excited about with Justin Faulk.
Original Story:
http://www.shutdownline.com/hurricane...
THE BACKYARD
BEST OF MAXIM
RELATED ARTICLES
Zach Boychuk has a new contract with the Carolina Hurricanes. His job now: make the team. Boychuk 23 signed a one-year two-way contract Tuesday with the Canes that will pay him $550000 on the NHL level or $105000 on the American Hockey League level in the 2013-2014 season. Boychuk has spent much of the past four seasons in the AHL playing a total of 85 NHL games. The Canes' first...
Eric Staal got to Raleigh Center Ice a little after 10 a.m. Wednesday throwing on his skates for his first informal workout with some of his Carolina Hurricanes teammates. "Always good to see the big guy back" Canes forward Pat Dwyer said. Staal skated and stick-handled. He shot the puck played some two-on-two and had a few laughs with the guys. If you didn't know...
from Chip Alexander of the News & Observer, Staal skated and stick-handled. He shot the puck, played some two-on-two and had a few laughs with the guys. If you didn't know Staal had suffered a major knee injury in May, after taking a dangerous knee-on-knee hit, you would have thought it was just another day at the rink for the Canes captain. Staal didn't...
Position: Center/Wing Height: 5'11" Weight: 193 lbs. Drafted: 1st Round, 2010 Draft Age: 21 Last Year's Ranking: 2 Jeff Skinner Season Age Team Lge GP G A Pts P/G 2008-09 16 ...
Ron Francis Vice President of Hockey Operations for the National Hockey League's Carolina Hurricanes today announced that the team has agreed to terms with free-agent forward Sergey Tolchinsky (SIHR-gay TOLL-chin-skee) on a three-year entry-level contract. The deal will pay Tolchinsky $550000 at the NHL level or $55000 at the American Hockey League (AHL) level in the first year...
Hurricanes News

Delivered to your inbox

You'll also receive Yardbarker's daily Top 10, featuring the best sports stories from around the web. Customize your newsletter to get articles on your favorite sports and teams. And the best part? It's free!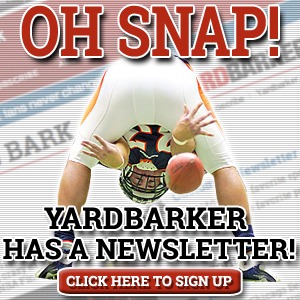 Latest Rumors
Best of Yardbarker

Today's Best Stuff

For Bloggers

Join the Yardbarker Network for more promotion, traffic, and money.

Company Info

Help

What is Yardbarker?

Yardbarker is the largest network of sports blogs and pro athlete blogs on the web. This site is the hub of the Yardbarker Network, where our editors and algorithms curate the best sports content from our network and beyond.