Found March 21, 2012 on NorthWest Sports Beat:
Push the button!
Vancouver Canucks fans it IS time to panic!
Over the past few weeks, the dissatisfaction with this (still SECOND PLACED TEAM!) has reached epidemic proportions. Never mind the fact that so many teams (each of the past five champions by the way) has gone through similar poor spells late in the season.
You know for sure that Alain Vigneault and Mike Gillis have lost their minds, and now is very much the time to panic and nobody is going to keep you from your opinions, your conspiracy theories, and your damn fine tinfoil helmet!!
At last, ten signs that your paranoia is real and justified:
1. You are jealous of the Toronto Maple Leafs, because at least everyone there agrees they have no chance this year.
2. You find yourself, late at night after the game, hunched over in a corner rocking yourself back and forth in your retro Cloutier jersey muttering, "Well, he was wasn't that bad….better than Lou, right?!"
3. You find yourself almost forgiving Brad Marchand, because at least he was tough and showed it.
4. You're ready to take back Iron Mike Keenan as your coach, let AV win games somewhere else…dammit!
5. You are contemplating changing your allegiance to the Chicago Blackhawks and frequently are heard to comment that "That little Patty Kane is a fine boy!"
6. You are ready to trade Henrik Sedin & Daniel Sedin for a 'kouple of Kardashians' instead. Even the funny looking ones.
7. You finally drank the Tony Gallagher Kool-Aid.
8. Your logic…"Well Nashville is getting Radulov back from the KHL because he's still 'under contract'…Jan Bulis is also in the KHL right now, so do we still have him 'under contract' too?!"
9. You are ready to exchange Mike Gillis for Brian Burke once more.
10. You have also finally added Tony Gallagher to your Twitter feeds.
He says its ok to hit the panic button.

Click here to view the next Canucks matchup.
Well readers would love to hear your take on this. Feel free to leave your comments below.
CLICK HERE TO CHECK OUT THE VANCOUVER CANUCKS CLUBHOUSE TODAY ON NWSB!
© C-Mac for North West Sports Beat, 2012. | Permalink | No comment |
Follow NWSB on Twitter or join US on Facebook for real-time updates OR... | Share This on Twitter | Share NWSportsBeat.com on Facebook
Post tags:
2012 NHL playoffs
,
Alain Vigneault
,
Canucks Blog
,
Canucks blogs online
,
Canucks fans
,
Canucks gossip
,
Canucks History
,
Canucks hockey blog
,
Canucks humor
,
Canucks Roster
,
Daniel Sedin
,
Henrik Sedin
,
hockey gossip
,
Jan Bulis
,
Kardashians
,
KHL
,
Mike Gillis
,
NHL Blog
,
NHL Gossip
,
NHL Jokes
,
Roberto Luongo
,
Tony Gallagher
,
Vancouver Canucks Blog
Original Story:
http://www.nwsportsbeat.com/canucks/b...
THE BACKYARD
BEST OF MAXIM
RELATED ARTICLES
First reported by Pro Hockey talk on the NBC Network. Vancouver Canucks forward Daniel Sedin will NOT play tonight versus the Dallas Stars in western conference action. Sedin was injured during Wednesday's matchup versus the Chicago Blackhawks after he was elbowed in the head by Duncan Keith in the first period. Keith, who received a minor penalty for the hit, is expected...
Vancouver Canucks left wing Daniel Sedin left Wednesday's game against the Chicago Blackhawks in the first period. Sedin exited the contest shortly after he was elbowed in the head by Blackhawks defenseman Duncan Keith. Although he played on a subsequent power play, Sedin did not return to the game. Earlier in the period, Sedin had hit Keith in the head with his shoulder. ...
Cory Schneider made 25 saves and stopped a penalty shot, Mason Raymond scored early in the first period and the Vancouver Canucks beat the Dallas Stars 2-1 on Thursday night. The Canucks were without Daniel Sedin, the team leader with 30 goals, sidelined indefinitely because of a head injury. Sedin is back in Vancouver after taking an elbow to the head from Chicago's Duncan...
The Game After While Daniel Sedin hopped a flight back to Vancouver immediately following the Chicago game, unsure whether he was Henrik or Daniel, the rest of the Canucks were off to Dallas to take on the Stars in the immediate haze of whatever happened Wednesday. If a silver lining can be found, the Keith elbow should galvanize this team and mean the end of phone-it-in March....
Last night there was a lot of outrage about Blackhawks defensemen Duncan Keith's hit on Canucks forward Daniel Sedin. What I didn't see was a lot of outrage about Daniel Sedins hit on Duncan Keith, and both hits are bad. Being consistent, I think you can see that both players "could be" required to sit a game or two, both hits are bad and unnecessary. I also...
Despite struggling in recent weeks, the Vancouver Canucks still hold a comfortable lead atop the Northwest Division. They may struggle even more if they're forced to play without Daniel Sedin. With Sedin's status uncertain, the Canucks will try to cool off the surging Dallas Stars at American Airlines Center on Thursday night. Vancouver (43-21-9) has stumbled to a 3-5...
With Shane Doan getting suspended for three games for elbowing Jamie Benn in the face, you've got to think that the Blackhawks defenseman Duncan Keith is going to get a game or two suspension for taking out the Canucks star forward Daniel Sedin with this high elbow to the head. These types of dirty hits are not acceptable and the NHL needs to be more proactive in removing...
The Vancouver Canucks want the NHL to throw the book at Duncan Keith for his hit on Daniel Sedin on Wednesday night. Ironic, isn't it, that an organization that has taken more cheap/dirty hits than any in the league in … Continue reading →
Canucks rely on young defenceman Amidst all the insanity that has characterized the past few weeks with the slumbering play of the team in general including the lack of sharpness on the power play, and the slugfest that erupted in Chicago following the vicious cheapshot by Duncan Keith on Daniel Sedin, what has gone quite under reported is the sterling play of Canucks rookie defenceman...
The Vancouver Canucks might have a firm grasp on the second seed in the Western Conference, but they are having a hard time building momentum heading into the playoffs. Looking to bounce back from their latest defeat, the Canucks face another difficult challenge Wednesday night when they visit a Chicago Blackhawks team trying to match a season high with its fifth consecutive victory...
Keith received two for elbowing.
NHL News

Delivered to your inbox

You'll also receive Yardbarker's daily Top 10, featuring the best sports stories from around the web. Customize your newsletter to get articles on your favorite sports and teams. And the best part? It's free!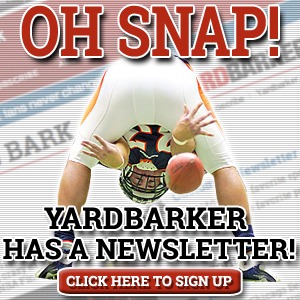 Latest Rumors
Best of Yardbarker

Today's Best Stuff

For Bloggers

Join the Yardbarker Network for more promotion, traffic, and money.

Company Info

Help

What is Yardbarker?

Yardbarker is the largest network of sports blogs and pro athlete blogs on the web. This site is the hub of the Yardbarker Network, where our editors and algorithms curate the best sports content from our network and beyond.