Found January 30, 2013 on NorthWest Sports Beat:
PLAYERS:
Gabriel Landeskog
,
Steve Downie
,
Joe Sacco
,
David Jones
,
Milan Hejduk
,
Ryan Wilson
,
Jan Hejda
,
Tyson Barrie
,
Alain Vigneault
,
Daniel Sedin
,
Henrik Sedin
,
Zack Kassian
,
Chris Higgins
,
Jannik Hansen
,
Mason Raymond
,
Jordan Schroeder
,
Dale Weise
,
Aaron Volpatti
,
Manny Malhotra
,
Maxim Lapierre
,
Dan Hamhuis
,
Kevin Bieksa
,
Jason Garrison
,
Keith Ballard
,
Cory Schneider
,
Ryan Kesler
,
David Booth
,
Dan Murphy
TEAMS:
Vancouver Canucks
,
Colorado Avalanche
,
Minnesota Wild
,
New York Mets
Just What the Doctor Ordered The Canucks started their California swing well, but the effort levels were maddeningly inconsistent in losses to the Sharks and Kings. Cue a home game against Colorado, a guaranteed slump buster. Matchup: Vancouver Canucks (2-2-2) v Colorado Avalanche (2-3-0) Venue: Rogers Arena Time: 7:00 pm TV/Radio: Sportsnet, Team 1040 Game Notes Let's review the eight-ball the Avalanche are under. They don't have Ryan O'Reilly, they don't have Gabriel Landeskog, they don't have Steve Downie. They do have Joe Sacco behind the bench, he of the 25-42-6 record in the Northwest since taking over the Avs. It's part a larger trend where the Canucks have taken at least a point in 18 straight games against Colorado and one the last seven meetings at Rogers Arena. I like those odds. What to Watch: Colorado The Avalanche also hold one of the few power plays currently worse than Vancouver's. They've converted just one of fifteen chances so far, while their penalty kill has been giving goals away like Oprah. Cue a home game against Colorado, a guaranteed slump buster. There's a chance Landeskog could play if he's cleared and recovered from his massive hit he took Saturday night, but most likely the young captain will be forced to the press box. Offseason signing PA Parenteau is one of the lone bright spots, leading the team in goals with three. Line-up Chuck Kobasew-Matt Duchene-PA Parenteau Jamie McGinn-Paul Statsny-David Jones Cody McLeod-John Mitchell-Milan Hejduk Patrick Bordeleau-Mark Olver-Mike Sgarbossa Erik Johnson-Ryan Wilson Ryan O'Byrne-Jan Hejda Greg Zanon-Tyson Barrie Semyon Varlamov What to Watch: Vancouver It's yet another chance to redeem blowing a two goal lead in the previous game. The powerplay is now 0 for its last 10, frustrating especially when Friday's blowout win over the Ducks was propelled by powerplay markers. Still, as Jason Botchford points out, these slow starts are nothing new for Alain Vigneault and the Vancouver Canucks. There's still a lot of hockey left and the standings in both conferences still look randomized. Let's all never forget the Minnesota Wild were the best team in the league until December last year. Line-up Daniel Sedin – Henrik Sedin – Zack Kassian Chris Higgins – Alex Burrows - Jannik Hansen Mason Raymond – Jordan Schroeder – Dale Weise Aaron Volpatti – Manny Malhotra – Maxim Lapierre Dan Hamhuis – Kevin Bieksa Jason Garrison – Alex Edler Keith Ballard – Chris Tanev Cory Schneider Injuries Vancouver – Ryan Kesler and David Booth are still hunting popcorn in the pressbox for at least a few more weeks. Maxim Lapierre is probably playing with a groin strain he picked up in practice late last week, considering how horrible he looked in the California long weekend. Colorado – Sharks defenceman Brad Staurt decimated Gabriel Landeskog on Saturday, sending the young captain into the pressbox with head and leg injuries. Steve Downie is out for the year with a torn ACL, while Ryan O'Reilly is still negotiating a new contract while playing in Russia. Prediction A nice cleansing home win. 4-2 Canucks. We all go home happy. Gameday Tweets The #Avalanche have not beaten the #Canucks in regulation time in 3 years. Colorado lost all six meetings last year vs. VanCity. — Q Smith (@NWSBQ) January 30, 2013 Bieksa – "We skated a lot together during the lockout, developed some chemistry and will be fine tonight." #Canucks — Sportsnet Pacific (@SNETPacific) January 30, 2013 Looks like Luongo gets start for #canucks — Dan Murphy (@sportsnetmurph) January 30, 2013 It's the #Canucks vs. Avalanche tonight in @rogersarena. 7:00PM on Sportsnet. Tale of the Tape: v.canucks.com/14rYjNd — Vancouver Canucks (@VanCanucks) January 30, 2013 New Post Up! Colorado Avalanche vs. Canucks betting odds and handicapping preview – #Vancouver #Canucks #Avalanche nwsb.co/hixuk — Northwest SportsBeat (@NWSportsBeat) January 30, 2013 CLICK HERE CHECK OUT THE VANCOUVER CANUCKS CLUBHOUSE TODAY ON NWSB!
Original Story:
http://www.nwsportsbeat.com/canucks/m...
THE BACKYARD
BEST OF MAXIM
RELATED ARTICLES
That Can't Be Good Vancouver Canucks goalie in the wings, Eddie Lack, has had successful hip surgery and will miss the remainder of the season. Lack, who signed a two-year, two-way deal this summer with the Canucks, has been out since November with hip related issues. Mike Gillis said in a statement on the Canucks website today: "After consultation with our team physicians, it...
A look at the rook Just thought I would check in and take a quick look at Canucks rookie Jordan Schroeder. Schroeder was called up to the Canucks almost as fast as he was sent down. After two disappointing games with Andrew Ebbett as the second line center, master juggler and lozenge enthusiast, Alain Vigneault did a little line juggling. Included in that juggling was the call up...
The Nucks +/- Well, we're all done the month of January and I thought it would be alright to go through which Canucks players have stuck out and which have maybe stunk out. This is the first and certainly not the last, the Plus/Minus of the month. The Plus Zack Kassian: Whodda thunk it? Zack Kassian in seven games is leading the team in goals with five. One could attribute his...
Here we go again… Really? Do you want to talk about something else around the water cooler today? The Canucks won, so you have most, if not all of your hair; and it was only a Wednesday, so you're probably not droopy eyed and clinging to that fifth cup of coffee. I just wanted to take a second to touch on the goalie issues the Canucks are currently having, or not currently having...
Best & Worst Nucks It may be an unusual season in terms of length in this post-lockout world, but aside from that it's yet another year and yet another slow start for the Vancouver Canucks. However, unless the uncertain tangle the team is in gets unravelled mighty quick this year could be done and dusted. The middling start for the team matches the indifferent performance of...
For the week of January 20-27 The Vancouver Canucks' first week (and a bit) of the new shortened NHL season is in the books. Entering Monday the C's owned a record of 2-2-1 and sit near the middle of the pack in the Western Conference. The reduced number of games in this lockout-altered season means that each game matters that much more than in typical years. If you're a Canucks...
Home, Sweet, Home The Vancouver Canucks are back at home for a quick two game home stand, which sees them play host tonight to the Colorado Avalanche tonight and the Chicago Blackhawks on Friday. Here then are my Canucks gameday tips for how to put a W in the win column tonight. Glass Half Full The California road trip that saw the Canucks play three games in four nights probably...
Roberto Luongo made 24 saves for his first win of the season and the Vancouver Canucks beat the Colorado Avalanche 3-0 on Wednesday night. Luongo, who has been on the trading block since Cory Schneider replaced him as Vancouver's No. 1 goaltender, was rarely tested but still made some big saves in his 61st career shutout. With the Canucks leading 2-0 in the third, Luongo stopped...
By Bill Kellett Getty Images No one in the city of Vancouver thought they would ever see Roberto Luongo in net again for the Vancouver Canucks. Yet, there he was between the pipes in the first game of the season. He took over in relief of the newly anointed No. 1 Cory Schneider after possibly his worst game in professional hockey. One game later, there he was again drawing the starting...
It seemed a near certainty Roberto Luongo had played his final game in a Vancouver Canucks sweater after Cory Schneider supplanted him as the team's No. 1 goaltender during last season's playoffs. Now, he's proving to be an asset. Luongo will make his third straight start Friday night as Vancouver hosts the rival Chicago Blackhawks, who have earned 13 of a possible...
Maintaining early leads has been a struggle for the Vancouver Canucks, contributing to them squandering important points in the lockout-shortened season. They haven't had much trouble earning points in recent meetings with the Colorado Avalanche, though. Vancouver looks to take at least a point in an 18th straight matchup by winning a seventh consecutive home meeting against...
Roberto Luongo turned in a 24-save shutout over the Colorado Avalanche last night as the Canucks improved to 3-2-2 this season. Zack Kassian had his fifth goal of the year in the win. Let's take a look at the rest of a short night on ice. Chicago lost its first game of the season in a shootout 3-2 to the Minnesota Wild. The notable happening in that game was that goaltender Nicklas...
NHL News

Delivered to your inbox

You'll also receive Yardbarker's daily Top 10, featuring the best sports stories from around the web. Customize your newsletter to get articles on your favorite sports and teams. And the best part? It's free!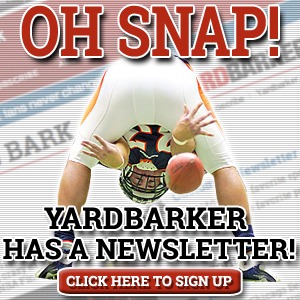 Latest Rumors
Best of Yardbarker

Today's Best Stuff

For Bloggers

Join the Yardbarker Network for more promotion, traffic, and money.

Company Info

Help

What is Yardbarker?

Yardbarker is the largest network of sports blogs and pro athlete blogs on the web. This site is the hub of the Yardbarker Network, where our editors and algorithms curate the best sports content from our network and beyond.