Found November 02, 2011 on Blue Seat Blogs:
Bridgeport Sound Tigers 4, Connecticut Whale 3 (OT) By Brian Ring Bridgeport, CT, November 2, 2011 - The Connecticut Whale fell to the Bridgeport Sound Tigers Wednesday afternoon, 4-3 in overtime, at the Webster Bank Arena at Harbor Yard. The Sound Tigers' Tim Wallace tallied a hat-trick in the game, including the overtime winner, to lead Bridgeport to a come-from-behind win. The Whale received two goals and an assist from rookie Jonathan Audy-Marchessault. The defeat snapped the Whale's five-game winning-streak, but Connecticut did gain at least a standings point for the ninth consecutive game (7-0-0-2). "It's 3-1 and you're giving up odd-man chances, that's no good," said Whale head coach Ken Gernander. "We were feeling good about ourselves going into the third period," said Whale forward John Mitchell. It's a couple mental lapses that ended up costing us the third period and eventually in overtime." The Sound Tigers had opened up the scoring with Wallace's first goal of the season, as his wrist shot snuck past Whale goaltender Cam Talbot (27 saves) just 4:06 into the first period. Justin DiBenedetto and Dylan Reese assisted on the goal. Audy-Marchessault tied the game 7:16 into the first, after breaking into the offensive end on a two-on-one with Mats Zuccarello. Zuccarello's pass across the slot fooled Bridgeport goaltender Kevin Poulin (33 saves) and allowed Audy-Marchessault to beat the backstop high to glove side. Tim Erixon also assisted on the goal, his first AHL point coming in his first game with the Whale after starting the season with the parent New York Rangers. The Whale took a 2-1 lead on Mitchell's snap-shot at 16:32 of the period, his shot from the left circle beating Poulin high to the stick side. Audy-Marchessault tallied his second point of the afternoon with an assist on the goal. Audy-Marchessault struck again with his second goal and third point of the game just 38 seconds into the final frame, scoring off of another quality pass from Zuccarello. The Whale's first successful power-play conversion of the game gave them a 3-1 lead. Wallace cut the Connecticut lead to 3-2 midway through the period with his second goal of the game, his shot going over the left pad of Talbot. Cizikas and DiBenedetto registered the assists on the score. The equalizer finally came at 13:17, when Bridgeport's David Ullstrom put his fifth goal of the season up and over Talbot, after the Whale had failed to get the puck out of their zone along the boards. Wallace netted the game-winner, his third of the game, at 3:12 of overtime, breaking in on a three-on-one and ripping a shot past Talbot.  That came just after a Whale power play had expired. During the game, it was announced that the Whale's Chad Johnson has been selected as the Reebok/AHL Goaltender of the Month for October. Johnson made five October appearances and went 3-0-2, tying for the league lead among qualified goalies in both goals-against average (1.69) and save percentage (.942). The Whale will finally return home this Friday, when Connecticut hosts the brand-new St. John's IceCaps at the XL Center (7:00) on "Power Ghouls" night. The Whale will be hosting a special on-ice Halloween costume parade and offering  a buy-one get-one ticket deal to fans who come to the game in costume. CL&P employees who present their company ID at the Public Power Ticket Office at the XL Center will also be extended the buy-one-get-one-free offer on Upper Level tickets for Friday night.
Connecticut Whale 3 at Bridgeport Sound Tigers 4 (OT)
Wednesday, November 2, 2011 – Webster Bank Arena Connecticut 1 1 1 0 – 3
Bridgeport 1 0 2 1 – 4 1st Period-1, Bridgeport, Wallace 1 (DiBenedetto, Reese), 4:06. 2, Connecticut, Audy-Marchessault 3 (Zuccarello, Erixon), 7:16. Penalties-Redden Ct (high-sticking), 10:58; Gillies Bri (roughing), 13:44; served by Romano Bri (bench minor – too many men), 17:16. 2nd Period-3, Connecticut, Mitchell 3 (Audy-Marchessault), 13:32. Penalties-Niederreiter Bri (hooking), 6:34; Nightingale Ct (delay of game), 14:30; Bickel Ct (fighting), 17:22; Haley Bri (fighting), 17:22; Backman Bri (hooking), 19:27. 3rd Period-4, Connecticut, Audy-Marchessault 4 (Zuccarello, Mitchell), 0:38 (PP). 5, Bridgeport, Wallace 2 (Cizikas, DiBenedetto), 9:24. 6, Bridgeport, Ullstrom 5 (Wishart), 13:17. Penalties-No Penalties OT Period-7, Bridgeport, Wallace 3 (Cizikas, Reese), 3:22. Penalties-Wishart Bri (high-sticking), 0:50. Shots on Goal-Connecticut 11-8-14-3-36. Bridgeport 11-9-10-1-31.
Power Play Opportunities-Connecticut 1 / 5; Bridgeport 0 / 2.
Goalies-Connecticut, Talbot 3-2-0 (31 shots-27 saves). Bridgeport, Poulin 2-3-0 (36 shots-33 saves).
Attendance-7,696
Referees-Jamie Koharski (84).
Linesmen-Marty Demers (79), Kevin Redding (16).
Original Story:
http://www.blueseatblogs.com/2011/11/...
THE BACKYARD
BEST OF MAXIM
RELATED ARTICLES
Christopher Botta interviews agent Pat Brisson about the new deal for John Tavares of the Islanders.
On July 18, 2006, New York Islanders' backup Garth Snow retired and was summarily announced as the team's new General Manager. Needless to say, it was a surprise. It was also the first of two extremely unusual offseason goaltending moves the Islanders would make that year. The second came two months later, when Snow made his first gonzo deal, handing Rick DiPietro a guaranteed...
Nino Niederreiter, the 5th overall pick in the 2010 NHL Entry Draft, has been listed as day-to-day after suffering a groin injury in the preseason.  The Islanders have been patient with Neiderreiter's groin injury to this point.  Nino participated in his first full practice with the team yesterday and has been skating for the past week or so.  Nino probably won't be ready...
Share Islanders defenseman Travis Hamonic was just six-years-old when the Winnipeg Jets left the province of Manitoba. Fifteen years later, he still remembers what it was like to watch his ho...
The Islanders' effort is all fine and dandy, the abiding by edicts and playing within a structure all embraced, but at some point, if the pucks stop going in the net, something has to change.For head coach Jack Capuano, that point finally came after last night's 3-0 loss...
Larry Brooks at the New York Post reports that Islanders' general manager Garth Snow has been coy concerning the possibility of claiming Sean Avery on waivers.Brooks adds that it's a long shot because he has plenty of enemies on Long Island, but Snow may jump at the chance to hurt the Rangers....we all saw last year the Islanders have no problem blocking teams from acquiring...
More Transactions: September l October November 1: Trevor Gillies cleared waivers and was assigned to Bridgeport. Nino Niederreiter was assigned to Bridgeport on a conditioning assignment.
Share Every year, the players on the New York Islanders visit select schools across Long Island for Islanders School Day, a community outreach program which is based on encouraging school-age...
Team Record: 3-4-2 Last Game: 3-2 OTL vs. SJS Season Series: 0 of 4 Team Record: 4-6-1 Last Game: 4-3 SOW vs. FLA Season Series: 0 of 4 ...
The New York Islanders will aim for their first win in nearly three weeks when they welcome the Winnipeg Jets for tonight's clash at Nassau Coliseum.
NHL News

Delivered to your inbox

You'll also receive Yardbarker's daily Top 10, featuring the best sports stories from around the web. Customize your newsletter to get articles on your favorite sports and teams. And the best part? It's free!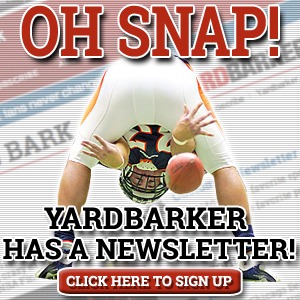 Latest Rumors
Best of Yardbarker

Today's Best Stuff

For Bloggers

Join the Yardbarker Network for more promotion, traffic, and money.

Company Info

Help

What is Yardbarker?

Yardbarker is the largest network of sports blogs and pro athlete blogs on the web. This site is the hub of the Yardbarker Network, where our editors and algorithms curate the best sports content from our network and beyond.