Watch as Tim Schaller makes a fantastic move to get by the New York Rangers defence and then beats Henrik Lundqvist to chase him from the game.
Fredrik Claesson and Tim Schaller dropped the gloves in a spirited tilt after Schaller took exception to Claesson's questionable hit to teammate Noel Acciari.
"Go to the net and good things will happen." Stop me if you've heard this one before… The "simple approach" is something that has eluded the Boston Bruins for the majority of this young season. With injuries and inexperience defining the early portions of the campaign, the team has struggled to consistently gel, be it in the form of generating legitimate scoring opportunities or...
Boston Bruins Colin Miller and Tim Schaller Return to Lineup Against the Washington Capitals The Boston Bruins are making some adjustments in their last game of the regular season. With injuries to Torey Krug and Noel Acciari, the Bruins now turn to Colin Miller and a returning Tim...
Bruins forward Tim Schaller has been cleared for contact and is nearing a return to action. (James Guillory/USA Today Sports) It was hard to miss Bruins forward Tim Schaller, who has missed the last nine games with a lower-body injury suffered in a Mar. 8 win over the Red Wings, in his return to the ice earlier this week. In a bright red jersey that signified Schaller was still...
Tim Schaller will miss Saturday's game against the Flyers. (Winslow Townson/USA Today Sports) There's never a 'good' time to deal with a rash of injuries. But there probably hasn't been a time where the Bruins have been better equipped to handle multiple injuries than they are right now. Already down center Ryan Spooner, who suffered a concussion in the third period of Monday's...
Tim Schaller's brother Dave has organized a 'Timmyhead Takeover' for today's Bruins-Flyers game. (James Guillory/USA TODAY Sports) Look on the ice for today's game between the Bruins and Flyers and you'll see just one Tim Schaller head. Look into the TD Garden crowd, however, and you'll see more than a few. You'll see several, actually. OK, what the hell am I talking about? It is...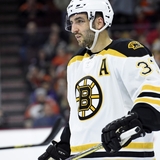 BOSTON (AP) Patrice Bergeron and Tim Schaller scored second-period goals Saturday to help the Boston Bruins beat Buffalo 3-1 and complete a sweep of home-and-home games against the Sabres. The victory also gave Boston a sweep of its four-game season series against the Sabres. Buffalo was the only team the Bruins had never swept during a regular season. Buffalo lost 4-2 at home...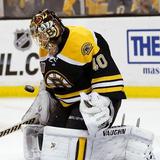 DETROIT (AP) -- Tuukka Rask made 23 saves for his 31st career shutout to lead the Boston Bruins to a 1-0 win over the Detroit Red Wings on Saturday night. Tim Schaller scored for the Bruins, who snapped a three-game losing streak and ended Detroit's six-game winning streak. It was Rask's first game back after missing the previous three with a lower-body injury. Jimmy Howard stopped...
BUFFALO, N.Y. (AP) The Buffalo Sabres have recalled center Mikhail Grigorenko from the minors in a series of moves made before their game against the New Jersey Devils on Friday night. Grigorenko rejoins the Sabres for the sixth time this season, while Buffalo demoted forward Tim Schaller and defenseman Chad Ruhwedel to Rochester, their American Hockey League affiliate. Ruhwedel...
MORE STORIES >>
Bruins News

Delivered to your inbox

You'll also receive Yardbarker's daily Top 10, featuring the best sports stories from around the web. Customize your newsletter to get articles on your favorite sports and teams. And the best part? It's free!