Heika looks at 91 and 9 and dares to compare. Plus, Marc Methot respected, and Blackhawks fans ejected. All Dallas Stars fans know the legend of Mike Modano. Most of them also know how he fundamentally altered his own playing style during Ken Hitchcock's first coaching tenure. As the story goes, the high-flying Modano forfeited a chance at any number of scoring records to become...
The Dallas Stars return from the 4 day break to defeat the Blues at home and move into third in the central division. The Dallas Stars and the NHL hosted "Hockey is for Everyone" night at the American Airlines Center Friday night, with Tyler Seguin servong as the Stars' ambassador. This social outreach program is a great cause for the NHL to undertake, esspecially for non- traditional...
Seguin takes his role in the community seriously. Plus, a trade, Seattle isn't messing around, and more. Since there isn't a lot of Victory Green on the ice this week and I've been watching the Olympics to fill the void, I've seen a lot of human interest stories about the athletes who are competing in South Korea. In honor of that, let's take a look at a great piece that Sean Shaprio...
The Stars' center has vastly improved his two-way play this season. Plus, All Star stuff, puppies, and a teenage Gretzky. Happy Saturday everyone! Are you excited for some primo 3-on-3 hockey this weekend? Watching guys shoot pucks hard or do breakaways against goalies that are totally giving it their all? Yeah, me neither. At least it's better than the Pro Bowl, right? Tyler...
With a delayed penalty on the Columbus Blue Jackets, Joonas Korpisalo stretches across and drops his stick to deny Tyler Seguin and keep the Dallas Stars off the scoresheet.
Watch as Tyler Seguin uses his stick to make the perfect deflection and send the puck top shelf.
Dallas Stars' Tyler Seguin steals the puck at his own blue line, turns on the jets and dekes out Colorado Avalanche goaltender Jonathan Bernier, finishing on the backhand.
Tyler Seguin may have not got all of this one-timer but still manages to get a fluttering puck just under the crossbar for a goal.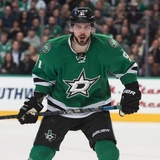 The Dallas Stars will have another player to worry about after Tyler Seguin's injury this week. The forward was injured during a World Cup of Hockey exhibition game against Team USA on September 9th. It was first reported as a lower body injury, with reports speculating that he had injured his knee. However, he underwent an MRI a week after the injury took place, and it was identified...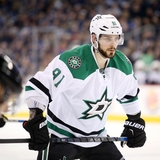 FRISCO, Texas (AP) Dallas Stars center Tyler Seguin has a hairline fracture in his heel after playing for Team Canada in preparation for the World Cup of Hockey. The Stars said Saturday the fracture was detected during an MRI exam on Friday, and that Seguin will be re-evaluated in a week. Dallas opens training camp next Friday. The 24-year-old Seguin suffered the fractured heel...
MORE STORIES >>
Stars News

Delivered to your inbox

You'll also receive Yardbarker's daily Top 10, featuring the best sports stories from around the web. Customize your newsletter to get articles on your favorite sports and teams. And the best part? It's free!