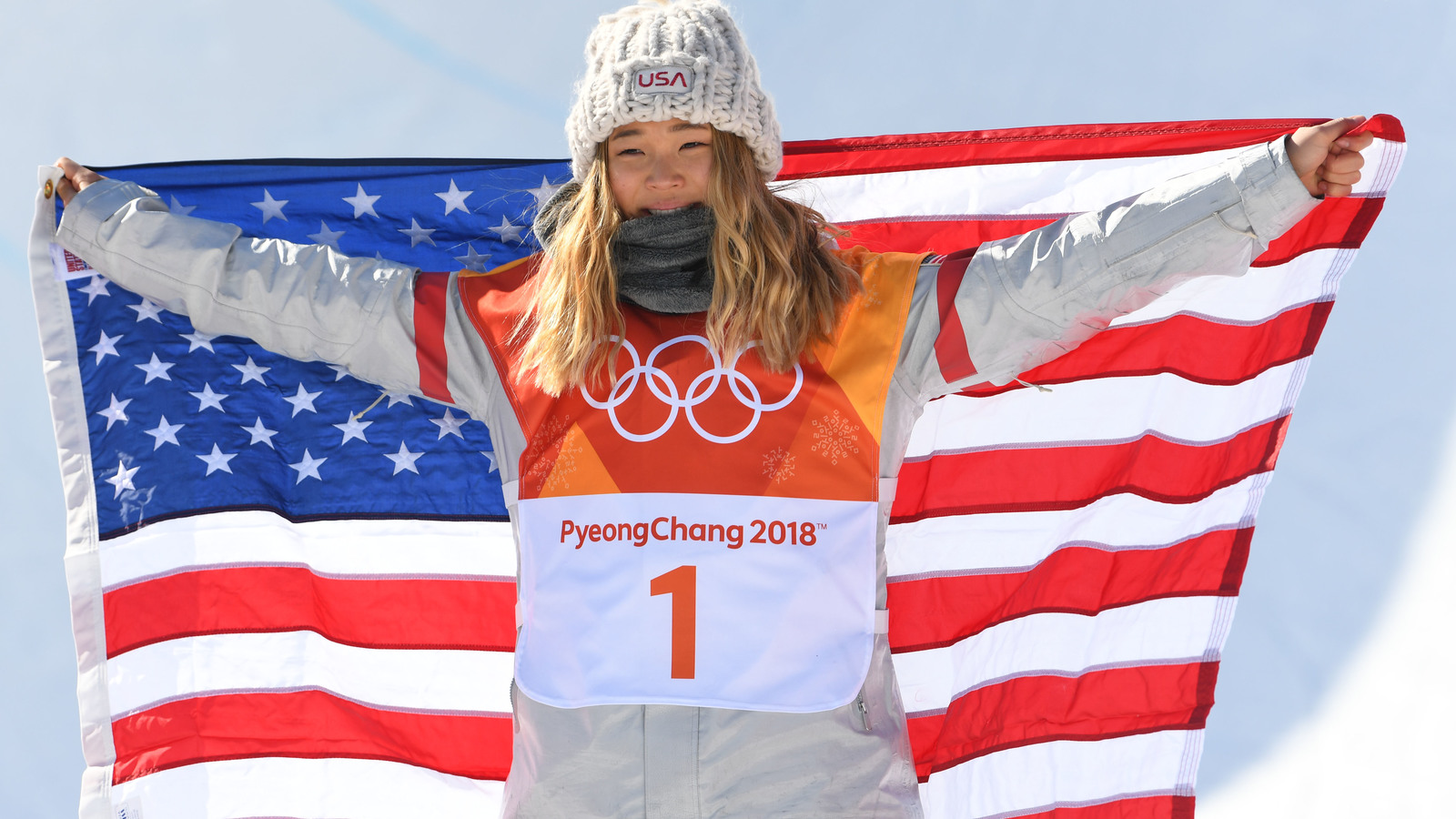 Feb 13, 2018; Pyeongchang, South Korea; Chloe Kim (USA) reacts after taking the gold medal in the halfpipe event during the Pyeongchang 2018 Olympic Winter Games at Phoenix Snow Park. 
Jack Gruber-USA TODAY Sports
Through less than one week of the 2018 Winter Olympic Games in Pyeongchang, South Korea, we've already had our socks knocked off on more than a few occasions. The world's best have wowed the masses with one spectacular performance after another, treating us to some incredible results.
Speed skating records have been getting annihilated on a regular basis. A Russian figure skater set a new mark for excellence in a short program. A 17-year-old American snowboarder came out of nowhere to stomp his final run and win the first gold for Team USA. Another 17-year-old American already had gold in the bag and then one-upped herself with a legendary final run in the halfpipe.
Those are just a few of the amazing things we've witnessed so far at the 2018 Winter Olympic Games. Here's a more detailed look at the extraordinary efforts that have been forever imprinted on our minds.
Red Gerard stomps final run to win gold in men's slopestyle
Heading into his final run in the men's snowboarding slopestyle finals, Red Gerard was in pretty rough shape. His best run out of his first two resulted in a very low score of 46.40. He botched his first run, then he crashed out in his second run and appeared to tweak his back in the process.
Needless to say, it wasn't looking great for the lone American in the men's snowboarding slopestyle finals.
Then, magic.
Gerard was flawless on his final run. He executed all his tricks sharply and even stomped a backside triple cork 1440 to cap off the run in style. The end result was a score of 86.17, good for gold on a blustery day that caused many riders to falter.
It was also the first gold medal of the 2018 Winter Olympic Games for the Americans, and his press conference after winning was priceless.
Evgenia Medvedeva sets world record for short program score in team figure skating event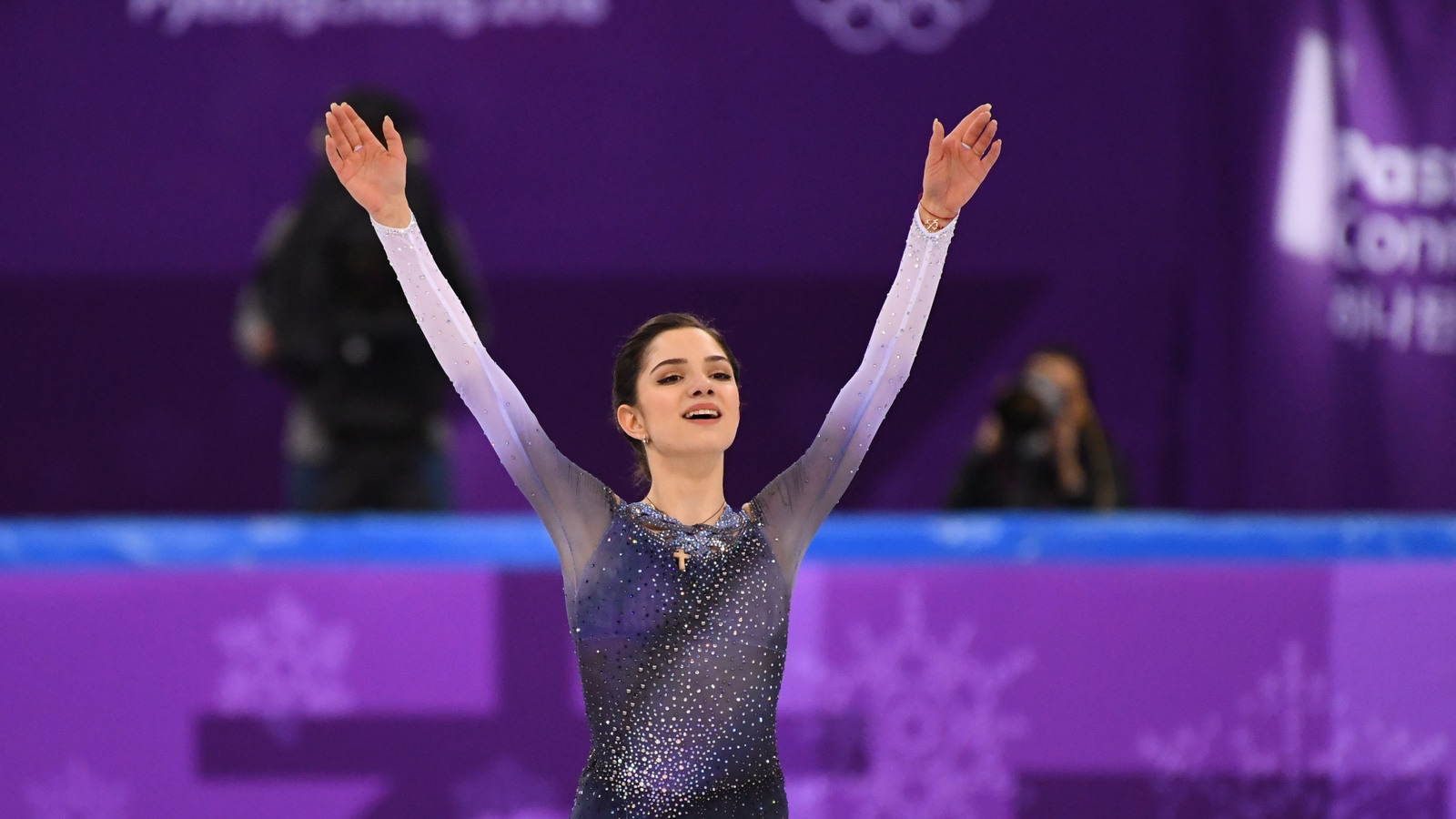 Feb 11, 2018; Pyeongchang, South Korea; Evgenia Medvedeva (OAR) during the women's short program team figure skating event during the Pyeongchang 2018 Olympic Winter Games at Gangneung Ice Arena.
Robert Deutsch-USA TODAY Sports
Perfection. That's what Evgenia Medvedeva was able to conjure on Sunday during the Ladies single skating short program portion of the team competition. The Russian figure skater, participating under the Olympic banner as her home nation was banned from the 2018 Winter Games, set a new world record with a score of 81.06.
Medvedeva, who's a huge K-pop fan, said she gained inspiration for her record run by listening to South Korean-Chinese K-pop band Exo before her world-record setting ladies short program routine.
"It's unreal inspiration and it really improved my mood," she said, via the Associated Press. "I feel more confident because of them."
What's even more remarkable is that Medvedeva, just 18 years old, didn't even know she was going to be able to compete in Pyeongchang until a month ago. Needless to say, we're glad she made it.
Marit Bjoergen becomes most decorated woman in Olympics history
No woman in Olympics history has a resume that can match what Norway's Marit Bjoergen has accomplished in her legendary career.
"I am here to take medals," Norwegian Marit Bjoergen said after winning her 11th Olympic medal on Saturday by taking silver in the 15K skiathlon, per USA Today. "It is my fifth Olympics and still to be there, I am happy with that. I am happy to be here at my age (37)."
In five Olympics appearances, Bjoergen has racked up six gold medals, four silvers and a bronze. Her silver medal in the 15K skiathlon broke a tie that she previously had with retired Russian cross-country skier Raisa Smetanina and retired Italian cross-country skier Stefania Belmondo, making her the most decorated female Winter Olympian in the history of the Games.
Bjoergen missed out on a chance to add to her legacy Tuesday when she failed to medal in the 10km individual sprint. However, in no way does that diminish her remarkable achievements, and more could still be on the way.
Speed skating records falling en masse
The ice has been running extremely fast on the track at Gangneung Ice Arena. So far, there have been ten Olympic records set in short track speed skating and two Olympic records set in speed skating.
The Olympic record was topped four times during the Ladies 500 meter events, with South Korea's Choi Min-jeong claiming the fastest time and earning two of the four record-setting marks. She was also part of the Ladies 3,000 meter relay that set an Olympic record before the Chinese team smashed it to bits in the second semifinal.
These two Asian nations saw their fates reversed during the Men's 5,000 meter relay, with China setting a new Olympic record in the first semifinal and then South Korea shaving more than two seconds off that previous record in the second semifinal.
South Korea once again set a record in the Men's 1,500 meter race when Lim Hyo-jun finished with a time of 2:10:485. Canada's Charles Hamelin did the same in the Men's 1,000 meters competition, finishing with a time of 1:23:407.
Dutch skater Sven Kramer set a new Olympic record in the Men's 5,000 meters, and he also set the career record for most medals by a man in speed skating. His countrywoman, Jorien ter Mors, set an Olympic record and world record at sea level with a scorching time of 1:13:56 in the Ladies 1,000 meters.
Whew. That is a ton of records falling in the span of less than a week.
Mirai Nagasu becomes first American woman to land triple axel in Olympics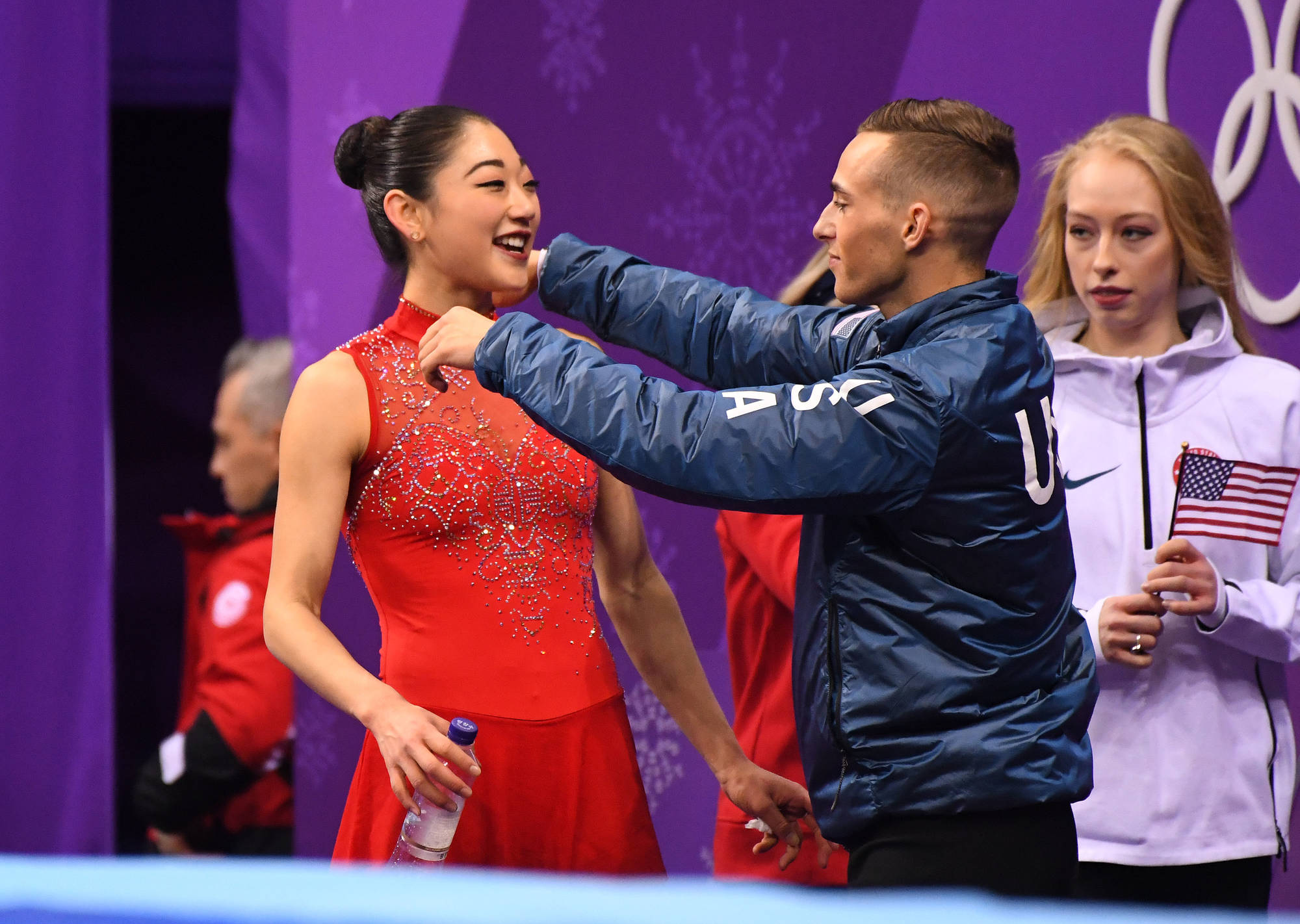 Feb 12, 2018; Pyeongchang, South Korea; Mirai Nagasu (USA) moves to the bench for her scores after the figure skating singles event during the Pyeongchang 2018 Olympic Winter Games at Gangneung Ice Arena. 
Robert Deutsch-USA TODAY Sports
Only eight women in the history of figure skating have ever landed a triple axel, and before Mirai Nagasu pulled it off this week only two had ever done it in the Olympics. The insanely difficult maneuver —  a jump with three and a half rotations, and the only one with a forward-facing takeoff — is the pinnacle of women's figure skating.
On Sunday, Nagasu stole our hearts when she boldly pulled it off, becoming the first American woman to ever land the jump in an Olympics event.
"This is definitely history, or herstory, whatever way you want to put it," said Nagasu, per the Team USA website. "I felt a lot of pressure, because it's a responsibility and a job and I owe it to my teammates as well."
Previously, Tonya Harding had landed it, but never during the Olympics. The social media reactions to Nagasu's performance were priceless, as was her performance.
Noriaki Kasai competes in eighth career Olympics, setting new record
Over the course of his legendary career, Japanese ski jumper Noriaki Kasai has set numerous records. He's listed in the Guinness Book of World Records for the most World Cup starts in history, with 537 over the course of nearly three decades. He also has the world record for 67 career team starts in the World Cup.
Last Friday, he competed in the men's normal hill competition, marking his eighth career Olympics appearance, setting yet another record. Previously, he had been tied with Russian luger Albert Demchenko.
Though his efforts didn't come close to resulting in a fourth career Olympic medal (21st place), the 45-year-old ski jumper deserves to be recognized for his mind-boggling achievements.
Norway and Netherlands post podium sweeps 
The Dutch are incredible on the ice. On this note, Katie Couric had a very interesting theory about why the Netherlands athletes are so darn good in speed skating, but it's one we don't necessarily share.
We already touched on Sven Kramer and Jorien ter Mors setting Olympic records this past week.
Further establishing their supremacy in the speed-skating arena, the Dutch trio of Carlijn Achtereekte, Ireen Wüst and Antoinette de Jong won gold, silver and bronze, respectively, to sweep the podium in the Ladies 3,000 meters final.
This wasn't the only early podium sweep of the 2018 Winter Games, however.
Norway landed a clean sweep in the Men's 30km skiathlon, too. Simen Hegstad Krüger, Martin Johnsrud Sundby and Hans Christer Holund took gold, silver and bronze, respectively, to dominate that competition in a major way.
These podium sweeps are pretty remarkable. And it shows just how far the rest of the world has to go to catch up in these difficult disciplines.
North and South Korea compete together in women's hockey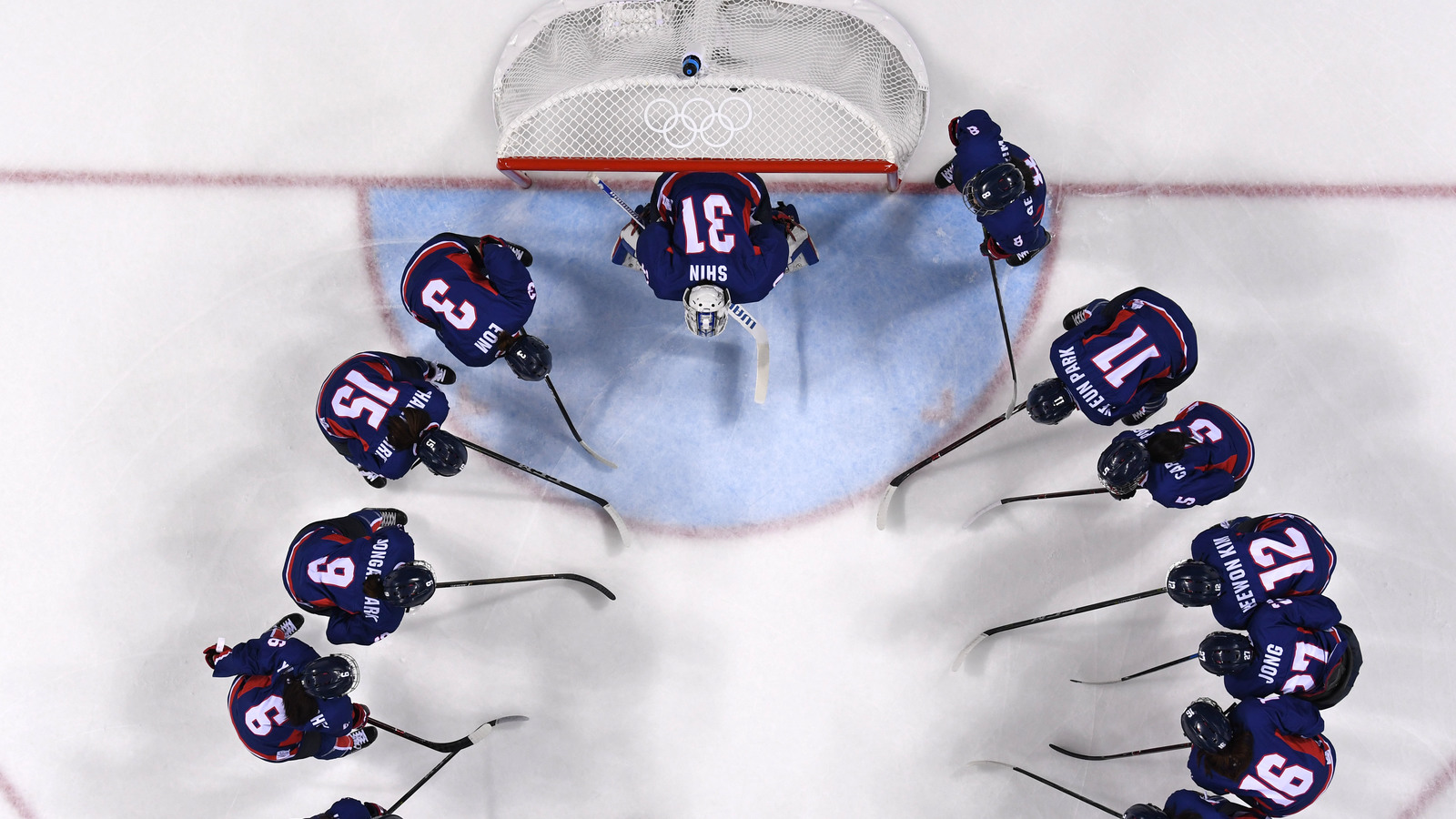 Feb 14, 2018; Gangneung, South Korea; in a hockey game between Korea and Japan during the Pyeongchang 2018 Olympic Winter Games at Kwandong Hockey Centre. 
Kelvin Kuo-USA TODAY Sports
Heading into Wednesday's game against Japan, the Korean team hasn't managed a single goal in its first two matches. Not surprisingly, the team is 0-2, and both games so far have been lopsided blowouts.
But that's hardly the point here.
The simple fact that North Korea and South Korea have been able to band together for any reason is worth celebrating. These are two nations who are technically still at war, and the threat of further conflict has never left the region since a truce was called at the end of the 1950-53 war between them.
One IOC member thinks the unified Korean women's hockey team deserves the Nobel Peace Prize for what it has been able to accomplish. While we're not ready to go that far, it's clear that a positive step has been made that could potentially lead to further positive communication between these two nations.
Chloe Kim leaves no doubt about supremacy with dominant gold in woman's halfpipe
The world fell in love with this pint-sized 17-year-old halfpipe magician this past week.
First, Chloe Kim dominated during qualifying runs, posting the top-two scores out of anyone competing. In the same evening, her Twitter account emerged as a star as well when she expressed a strong desire for some ice cream in between her qualifying runs.
Then the next day, she wrapped up gold on her first run, posting a score of 93.75, before tweeting about being "hangry," which once again broke the Internet. Then, with her gold already in hand, she went out and posted a near-perfect final run just because, winning gold with a final score of 98.25.
It was a magnificent statement, and Kim became an international sensation for her personality, skill and drive.
Shaun White saves his best for last on third Olympic gold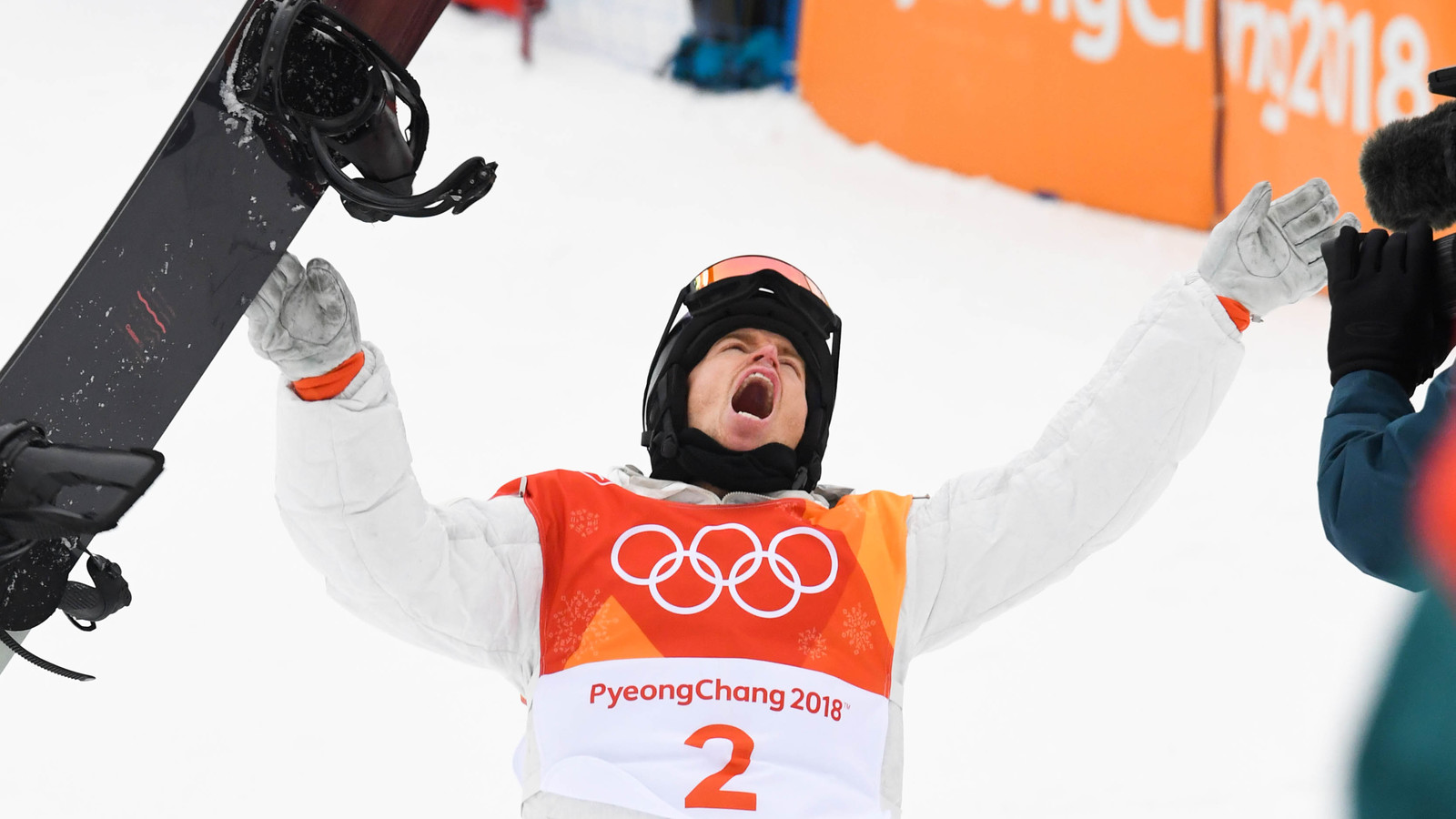 Feb 14, 2018; Pyeongchang, South Korea; Shaun White (USA) celebrates winning gold in the mens snowboarding halfpipe final during the Pyeongchang 2018 Olympic Winter Games at Phoenix Snow Park.
Jack Gruber-USA TODAY Sports
Whereas Kim already had her gold wrapped up when she busted out her masterpiece at the end of her competition, Shaun White needed the run of his life to win gold at the 2018 Winter Olympic Games Tuesday night.
Japan's Ayumu Hirano was leading the competition with an incredible score of 95.25, which he posted in the second round of the finals. It beat White's first run score by one full point, and the pressure was fully on the two-time gold-medal winner on the final run.
Every other competitor had concluded their runs when White stepped up to the top of the pipe, needing to pull off a miracle. In the moments leading up to his take-off, White was visibly dealing with some nerves. Then he took off.
It took back-to-back 1440s, which White had previously hinted he'd need to win the event, to pull off the win. White absolutely nailed his final run, finishing with a near-perfect score of 97.25 to claim his third Olympic gold medal and was crying tears of joy afterward.
There's a chance we could see White in the Olympics in two years, too. He's very interested in competing for Team USA when skateboarding takes its first step as an Olympic sport in Tokyo for the 2020 Summer Games.
Olympics News

Delivered to your inbox

You'll also receive Yardbarker's daily Top 10, featuring the best sports stories from around the web. Customize your newsletter to get articles on your favorite sports and teams. And the best part? It's free!
MORE FROM YARDBARKER:
QUIZ: Name every city to host the Winter Olympics
The 2018 Winter Olympics in PyeongChang, South Korea will be the 23rd incarnation of the Winter Games. How many of the host cities can you name in five minutes?
Good luck!
CLUE: YEAR / COUNTRY
Note: The 1940 and 1944 Winter Olympics were canceled due to World War II.
MORE FROM YARDBARKER
Olympics News

Delivered to your inbox

You'll also receive Yardbarker's daily Top 10, featuring the best sports stories from around the web. Customize your newsletter to get articles on your favorite sports and teams. And the best part? It's free!