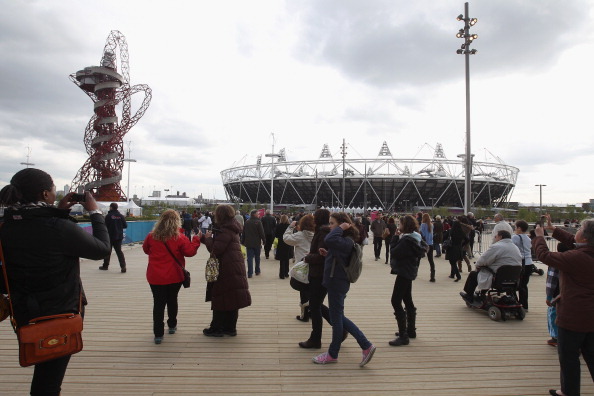 Thanks to an eye-opening stunt performed by one of the workers at London's Olympic Park, the city of London is now aware that security for the upcoming Olympic Games is extremely inadequate. Just hours before the official opening of the Olympic Stadium, a man who has worked at the site for several years successfully smuggled a fake bomb through security and right into the heart of the grounds.
As you can see from the exclusive video above that The Sun posted over the weekend, the worker was able to drive his truck right through multiple security checkpoints without being searched or questioned. The device, which looked exactly like a bomb and was wired like one, was carried in the cabin of the man's digger in plain sight, yet his voyage went unchallenged.
Once inside the complex, the man went on a 25-minute tour with the bomb, posing in front of the Olympic Village — where 17,000 athletes will soon be housed — as well as in front of the Olympic Stadium.
"I've worked for several years on the Olympic Park and keep hearing how the security is water-tight," the worker told The Sun. "But after a thorough check every morning, I can come and go from the Park all the day with my digger without being searched at all. I can meet anyone on the outside without anyone knowing and bring anything inside without anyone checking. If I had terrorist connections I could be bringing in explosives, chemicals — anything at all."
This isn't exactly how London envisioned the roughly 1 billion Euros it spent on security being utilized. The worker said he wanted to come forward because it was shocking how loose the security was so close to the Games. He and The Sun were thanked by the Olympic Games organizers, who insist security will be tightened significantly now that the breach has been brought to light.
MORE FROM YARDBARKER
Olympics News

Delivered to your inbox

You'll also receive Yardbarker's daily Top 10, featuring the best sports stories from around the web. Customize your newsletter to get articles on your favorite sports and teams. And the best part? It's free!
Best of Yardbarker
NFL News
MLB News

Today's Best Stuff

For Bloggers

Join the Yardbarker Network for more promotion, traffic, and money.

Company Info

Help

What is Yardbarker?

Yardbarker is the largest network of sports blogs and pro athlete blogs on the web. This site is the hub of the Yardbarker Network, where our editors and algorithms curate the best sports content from our network and beyond.