New England Patriots linebacker Brandon Spikes will become a free agent at the start of the new league year on Tuesday.  The former second-round pick said Friday on NFL Network's "NFL AM" that "both sides could benefit from a fresh start." "I would never say never," he said of a return to New England before adding, "You know, everybody [says] you never want to...
New York Yankees legend Mariano Rivera recently purchased an abandoned church and poured $3 million dollars into renovating the historic monument, for his wife who is a practicing Minister. Rivera is arguably the best closer the game has ever witnessed relying on a nasty cutter to strike the fear of God in opposing hitters. There is no question, many MLB hitters thought their prayers...
The New York Jets and quarterback Mark Sanchez may not be done with one another. While Sanchez will not be brought back at his currently $9 million salary plus a $2 million roster bonus the Jets could always choose to bring the signal caller back on a revised deal. Sanchez's roster bonus comes due on March 25. Pro Football Talk's Mike Florio reports the following: Per a source...
The charges keep piling up for Aaron Hernandez even while the former NFL star is still behind bars. The Bristol County Sheriff announced on Thursday his office has filed a complaint to charge Hernandez with assault and battery after fighting another inmate who was reportedly handcuffed at the time, reported WHDH-TV in Boston.The former New England Patriots tight end, who has pleaded...
I see where Mike Woodson is coming from, but he should be more focused on the job at hand, and finishing it out strong. According to the New York Post, Woodson took exception to a report Bulls center Joakim Noah tried to recruit Carmelo Anthony to Chicago during All-Star weekend, calling it illegal and a form of tampering. "I'm not going to get into all of that. You know legally...
A source has informed Page Six that the alleged cause of the disturbing pinkeye that (Bubonic) plagued Bob Costas in Sochi during the Winter Olympics and prompted him to be pulled off the air was caused by botched Botox procedure. Costas, whose unfortunately timed condition became comedic fodder, missed six days as the prime-time host […]The post Was Bob Costas' Sochi pink eye...
LeBron James is not a fan of the alternate sleeved jerseys that the Miami Heat and several other NBA teams have had to wear this year. I have to say, I agree with him, at least from an asthetic point of view. However, James' dislike for the attire has more to do with the functionality […]Continue reading...
Things just keep getting worse for Darren Sharper. The former Saints, Vikings, and Packers safety and NFL Network is already in jail for multiple rape allegations, and now the truth is starting to come out. According to a report obtained by USA Today, Sharper told witnesses that he and a friend had sex with two […]
Manny Ramirez has not played in the major leagues since having two performance-enhancing drug-related suspensions in 2011 when he was a member of the Tampa Bay Rays, but he insists that he is not retired. "My qualities are still there, and I just need an opportunity to continue showing that the 'Super Manny' can help a team," Ramirez said Thursday on "Grandes en los Deportes"...
The Miami Marlins are one of those bad teams that kind of relies on marketing their opponents as a sales pitch to fans wherever possible. Thursday's Grapefruit League spring training game against the Boston Red Sox was one of those opportunities. Unfortunately, the Red Sox burned them, and now they're reportedly upset. The Marlins designated […]
It's a few summers away, but might we be looking at another work stoppage in the NBA three summers from now. According to Sean Deveney of The Sporting News, league executives and player agents are expecting another work stoppage as soon as the summer of 2017, when either party can opt out of the current Collective Bargaining Agreement. Ideally, whether labor or management,...
CrossFit is facing a $2.5 million lawsuit after a transgender woman claims the fitness company refused to allow her to compete in the women's division at the upcoming CrossFit Games. Why? Well, because she was technically born a man.In 2006, Chloie Johnson underwent sex reassignment surgery to become legally recognized as a woman by the State of California. But she was denied...
All Sports News

Delivered to your inbox

You'll also receive Yardbarker's daily Top 10, featuring the best sports stories from around the web. Customize your newsletter to get articles on your favorite sports and teams. And the best part? It's free!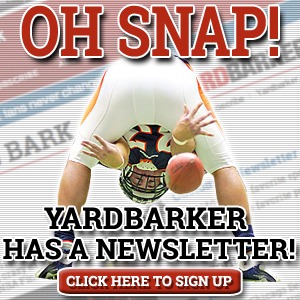 THE HOT 10: Who's Trending
Latest Rumors
Best of Yardbarker

Today's Best Stuff

For Bloggers

Join the Yardbarker Network for more promotion, traffic, and money.

Company Info

Help

What is Yardbarker?

Yardbarker is the largest network of sports blogs and pro athlete blogs on the web. This site is the hub of the Yardbarker Network, where our editors and algorithms curate the best sports content from our network and beyond.