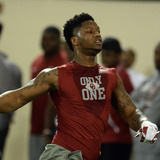 It would not be surprising to see the New England Patriots select a running back in the 2017 NFL Draft. But it will not be Joe Mixon.The Patriots have taken the former Oklahoma star off their draft board because of his 2014 arrest for assault, a source told Jeff Howe of the Boston Herald. ESPN later confirmed the report.Howe reported the Patriots "absolutely will not even consider...
Kentucky fans were angry with the amount of fouls called against the Wildcats in their Elite Eight loss to North Carolina on Sunday, and some of them have crossed the line in expressing their frustrations.According to a report from ESPN's Jeff Goodman and Dana O'Neil, NCAA referee John Higgins met with law enforcement officials on Tuesday to discuss repeated phone calls he has...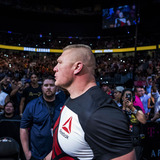 When you look at Brock Lesnar, it's hard to imagine the heavyweight has ever lost a fight in the UFC. Lesnar always appears to be in top physical condition, but his manager insists that is rarely the case. For Lesnar's UFC bouts, that has apparently never been the case.In a recent appearance on the Fight Society Podcast, Paul Heyman spoke about Lesnar's battles with diverticulitis...
The Indiana Pacers have reached a point in the season where they can't afford to lose to lesser competition, so coming up short against the 29-44 Minnesota Timberwolves on Tuesday night was not ideal. For Paul George, it was downright infuriating.Despite leading by as many as nine points midway through the fourth quarter, the Pacers collapsed and ended up losing to Minnesota, 115...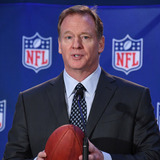 Roger Goodell will finally face the music.The NFL commissioner said on Tuesday at the league's annual meetings that he will attend the Thursday night opener hosted by the defending Super Bowl champion Patriots this fall.That's a big deal because Goodell has avoided Foxboro since hammering the Patriots with the Deflategate scandal and penalties.Last season, Goodell chose to attend...
The NBA seems closer to hiring a female head coach than any of the four major North American sports leagues, and Adam Silver would like it to happen as soon as possible.ESPN interviewed the NBA commissioner Tuesday about the league and LeanIn.org's launch of their gender equality awareness campaign, and Silver had plenty to say about woman coaching and officiating in the NBA. In...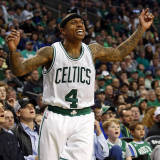 The Boston Celtics are the best team in the NBA's Eastern Conference.This seems like a pretty bold statement, but on paper, it no longer can be disputed. The Celtics woke up Tuesday with the best record in the East (48-26), overtaking a Cleveland Cavaliers team that had held the No. 1 spot since October.That's a significant achievement for Boston, which is just three seasons...
Tuesday marks the 25th anniversary of one of the greatest college basketball games of all time, the 1992 Elite 8 classic between Duke and Kentucky that ended with Christian Laettner's buzzer-beating game winner in overtime that became known as "The Shot."But to get off that shot, Laettner needed a perfect pass that went three quarters of the court. Grant Hill, now a Turner...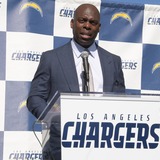 In his first offseason as the Los Angeles Chargers' head coach, Anthony Lynn surely isn't mincing words. He knows exactly what his quarterback situation looks like and wants to change the dynamic a bit.According to the team's official website, Lynn and the Chargers are looking to add a young quarterback in the upcoming 2017 NFL Draft."I think we do have to get a young quarterback...
A nice portion of top news in the NFL has recently surrounded retired running back Marshawn Lynch.It all started when Lynch was reportedly spotted wearing Oakland Raiders gear while supposedly requesting a release from the Seattle Seahawks. Since, several conflicting reports have surfaced as to whether or not Lynch plans to return to playing football.Shedding a bit of light from...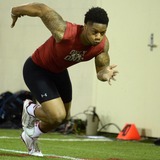 No one really knows where Joe Mixon will be taken in next month's NFL Draft, but the general consensus among scouts and talent evaluators is that the former Oklahoma running back has incredible potential.Mixon has little chance of being selected ahead of Leonard Fournette, Dalvin Cook and possibly Christian McCaffrey, but that has everything to do with his off-field issues. Just...
All Sports News

Delivered to your inbox

You'll also receive Yardbarker's daily Top 10, featuring the best sports stories from around the web. Customize your newsletter to get articles on your favorite sports and teams. And the best part? It's free!
THE HOT 10: Who's Trending