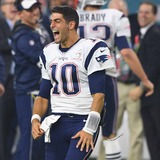 Jimmy Garoppolo remains a member of the New England Patriots heading into the final day of action at the 2017 NFL Scouting Combine. A player many thought might be on the move by now as quarterback-needy teams searched for answers, Garoppolo's asking price is apparently far too steep at this time."No team has come anywhere close to meeting the Patriots' demands in a potential...
Alabama linebacker Reuben Foster is formally apologizing for an incident that got him sent home from the NFL Scouting Combine.Foster was banished from the Combine on Friday after an incident involving a hospital worker, meaning he was missing when the linebackers did their drills on Sunday. In an attempt to account for his behavior, Foster's agent sent a letter to all 32 teams...
Myles Garrett is wowing executives and scouts at the NFL Scouting Combine.Garrett, the potential No. 1 overall pick in the NFL Draft, is posting huge numbers at the Combine and is impressing everyone who sees. In fact, one executive thinks he's good enough to save someone's job. It's not every year that you get a potential franchise player from day one in the draft, but Garrett...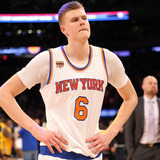 Scouts and executives around the NBA are wondering the same thing as the rest of us about the New York Knicks: why isn't Kristaps Porzingis more involved?Al Iannazzone of Newsday reports that people around the league believe Porzingis is "standing around too much, that [point guard Derrick] Rose rarely looks for him and that the Knicks don't run enough plays for him." Porzingis...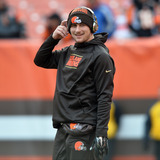 Because Jerry Jones was so high on him prior to the 2014 NFL Draft, Johnny Manziel will forever be linked to the Dallas Cowboys. And even though the Cowboys appear to have already found their franchise quarterback, Jones continues to do very little to erase that narrative.Manziel says he is working toward an NFL comeback, and Jones was asked about the former Cleveland Browns first...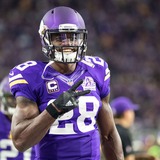 Adrian Peterson knew he was never going to make anything close to the $14 million that the Minnesota Vikings originally had him on the books for in 2017, but does the 31-year-old still think he should be one of the highest-paid running backs in the NFL?According to Mike Florio of Pro Football Talk, Peterson has generated very little interest from teams since the Vikings announced...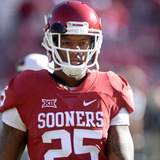 If not for Joe Mixon's disturbing history of off-field drama, there would likely be three and possibly four running backs projected to be taken in the first round of the NFL Draft next month. And according to one scout, Mixon is the best of the bunch from a skill standpoint.Ben Volin of the Boston Globe was told by an NFL scout at the Scouting Combine that Mixon is a better prospect...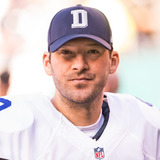 There is something of an understanding between Tony Romo and the Dallas Cowboys.Amid rumors that the Washington Redskins are interested in Romo, Clarence E. Hill Jr. of the Star-Telegram reported Saturday that Romo and Cowboys owner Jerry Jones have an "unspoken understanding." Jones won't be trading Romo to Washington under any circumstances, and Romo would not join Dallas's...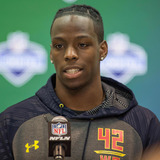 Former Washington wide receiver John Ross said he was aiming for the NFL Combine 40-yard dash record, and he made good on that.Ross ran an unofficial 4.22 40 time on Saturday in Indianapolis, which beats Chris Johnson's record 4.24 time at the combine. The time was later confirmed official by the NFL.Here's video: On Friday, Ross said he was going for the record."I'm going...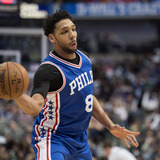 Jahlil Okafor has seen the video that went viral during the week of his poor defensive effort on Wednesday, and he has an explanation for it.In short, Okafor acknowledges he was tired at that point in the game, though he defends himself by saying he also was following the team's defensive gameplan. "I know about the clip that everybody's been talking about," Okafor said after...
Jeffrey Loria's handshake agreement to sell the Miami Marlins apparently fell through, though that will not impede the owner's attempt to sell his team.The Miami Herald's Barry Jackson reports that Loria is expected to sell the Marlins this year, barring a change of heart.Jackson says Loria is in active talks with four groups of potential buyers and has had talks with two others...
All Sports News

Delivered to your inbox

You'll also receive Yardbarker's daily Top 10, featuring the best sports stories from around the web. Customize your newsletter to get articles on your favorite sports and teams. And the best part? It's free!
THE HOT 10: Who's Trending