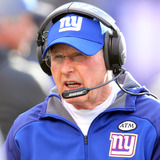 The Jacksonville Jaguars might reach far into their past to fix the problems of the future. With head coach Gus Bradley on a short leash and members of the coaching staff already canned this week after a 2-5 start, ESPN's Adam Schefter floated an interesting candidate as the team's next head coach -Tom Coughlin. The report: .@adamschefter: If the Jaguars decide to make a...
There has been a lot of talk about the Cleveland Browns potentially trading Pro Bowl offensive tackle Joe Thomas before the deadline, but it could end up being another one of the team's few star players that gets dealt. Ian Rapoport of NFL Media reports that Joe Haden, who has been battling a groin injury, is drumming up interest on the trade market. Mentioned on #NFLGameDay...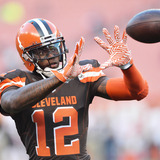 Cleveland Browns receiver Josh Gordon has reportedly been released from the rehab facility he checked into a month ago, per ESPN's Adam Schefter. "It is said to be the most intensive treatment that he has gone through, and Gordon is doing 'a lot better,' one source said." The talented receiver is currently suspended indefinitely after reportedly violating the league's...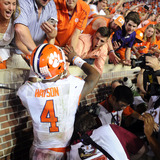 Upsets, fantastic finishes and some downright ugly play by a couple of top teams highlighted the college football Week 9 action. One team we had high hopes for as a College Football Playoff contender failed to follow through. Another team that figures to contend for a title barely hung on against an inferior opponent. Yet another top-ranked team was stunned in a shocking upset by...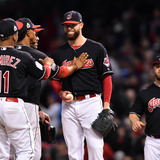 The Indians are on the brink of winning their first World Series in 68 years. Cleveland took a 3-1 series lead over the Chicago Cubs on Saturday behind a dominant start from Corey Kluber. The right-hander threw six innings of one-run ball in a 7-2 win, Kluber's second win of the series already. The Cubs jumped out to a 1-0 lead in the first inning when Dexter Fowler hit a leadoff...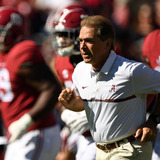 University of Alabama coach Nick Saban almost became the head coach of the New York Giants after last season. Actor and comedian Tom Arnold, who is friends with Giants owner Steve Tisch, told ESPN's Paul Finebaum how it all went down last January. Via The New York Post: "They got his deal done with [Ben McAdoo] and they are ready to sign him, and, they get a call from [boxing...
Teddy Bridgewater is not commenting on reports saying that his knee injury may threaten his career. Last week a report said some doctors believe Bridgewater's knee injury suffered in training camp is so bad that the Minnesota Vikings quarterback may never be able to return from it. Though the report is shocking on the surface given how young and early in his development Bridgewater...
It's a good thing LeBron James didn't pull an Eli Manning and refuse to play for the Cleveland Cavaliers. A recent report by ESPN's Brian Windhorst shows he wasn't exactly keen on playing for his hometown team back in 2003 when he was a teenager about to enter the NBA Draft. "When James was a teenager, he started attending games at the arena, and he couldn't believe...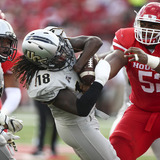 Shaquem Griffin was born with a rare birth defect that and unfortunately because of it, he lost his left hand at the age of 4. Griffin was born with amniotic band syndrome, which is a defect that affects less than one out of every thousand babies. Grffin hasn't let it effect him though. He has overcome adversity and been an inspiring figure for the University of Central Florida...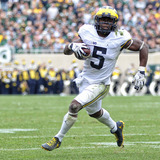 Michigan State head coach Mark Dantonio made a ridiculous coaching error at the end of Saturday's rivalry game against Michigan, and Heisman candidate Jabrill Peppers took full advantage. Having cut the score to one touchdown, Dantonio called for a two-point conversion attempt. He chose…poorly. Mark Dantonio's decision to go for two at the end of the game ended exactly as...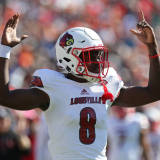 Down by one point with less than half a minute against Virginia, Louisville desperately needed a big play to avoid dropping its second game in 2016. Lamar Jackson and Jaylen Smith answered the call with a clutch 29-yard game-winning touchdown. Watch them work their late-game magic. Louisville answers! #LOUvsUVA pic.twitter.com/VY9TyBTerZ — Athlon Sports (@AthlonSports) October...
All Sports News

Delivered to your inbox

You'll also receive Yardbarker's daily Top 10, featuring the best sports stories from around the web. Customize your newsletter to get articles on your favorite sports and teams. And the best part? It's free!
THE HOT 10: Who's Trending