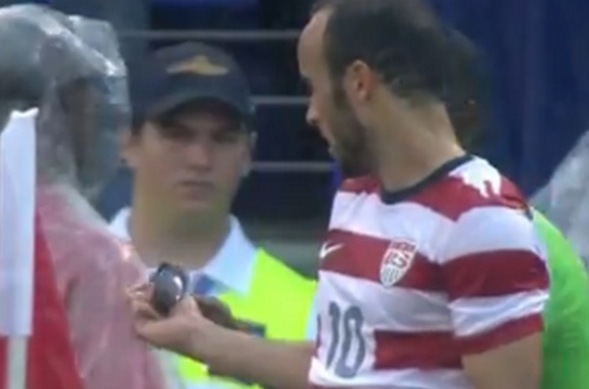 YouTube The United States welcomed El Salvador to Baltimore for the quarterfinal of the Gold Cup over the weekend and the El Salvadorians made themselves right at home – in a rather impolite way.  The U.S. up 5-1 in the 87th minute when Landon Donovan lined up to take a corner kick. Along with the steady rain, Donovan was showered with whatever objects the El Salvadorian fans could pitch onto the pitch.  With mainly plastic cups at his feet, Donovan spotted a pair of sunglasses that he picked up to give to the nearby official.  When the handoff to the official failed, Donovan decided to put on the sunglasses – because why not, right?  The official put his fun police hat on and ripped the glasses off Donovan's face. The U.S won 5-1, but we have not confirmed whether Donovan went back for the sunglasses after the game.  The best part of the video – Donovan not even cracking a smile. [Thanks to Dirty Tackle]
Read the rest of this story...
MORE FROM YARDBARKER:
Best athlete by state all time
MORE FROM YARDBARKER
Soccer News

Delivered to your inbox

You'll also receive Yardbarker's daily Top 10, featuring the best sports stories from around the web. Customize your newsletter to get articles on your favorite sports and teams. And the best part? It's free!