Found February 09, 2013 on O-Posts:
On Monday, Europol, the law enforcement agency of the European Union, announced the results of an 18 month inquiry of match-fixing in football to a reaction of immense shock throughout the game. They revealed that a total of 680 matches across the world were fixed, including a Champions League tie that had been played in England which went someway to hinting at the seriousness of their findings. Not only would they concern a club close to home, but it gave a lucid indication that match-fixing was now festering in the very highest levels of the sport. It was an investigation that originally only involved Germany, Finland and Hungary, but expanded to over 30 countries spanning right across the world. The European Police revealed that Asia had staged 300 corrupt matches while Europe played host to 380, including "several top football matches in European leagues as well as World Cup and European Championship qualifiers". Officials went to the extent of revealing the figures of corruption in Germany-based matches alone; £13.9 million in total was wagered to a profit of £6.9 million and very worryingly, as they voiced from behind a stall in The Hague, this was "just the tip of the iceberg". However, there was a slight sense of apprehension to the report that UEFA are now awaiting in detail according to Rob Wainwright, Europol's director. The FA, reacting to the bombshell that one of the matches in question was a Champions League game hosted in England "three or four years ago", said they were "not aware of an credible reports into suspicious Champions League fixtures played in England, nor has any information been shared". The match in question was quickly confirmed as Liverpool's one-nil win over Hungarian side Debrecen back in 2009. Charges involved Debrecen goalkeeper Vukasin Poleksic for not informing officials that he was approached by fixers prior to a game with Fiorentina in that campaign, for which he was banned for two years. However, the charges only specified the Italian club and not Liverpool, who maintain they have never been told by any organisation that the match at Anfield was under investigation. A case that concerned a goalkeeper who had previously been severely dealt with by European football's governing body hardly fitted into the sensationalist headlines the investigation should have demanded, but it was clear as the revelation continued that the issue went far, far deeper into the heart of the game. They created a macabre of criminal syndicates, based mainly in Asia, using facilitators in Europe to bribe and corrupt all those involved in the game for financial gain. Over 425 suspects were identified by an investigation that involved 50 arrests and 80 further search warrants. Wainwright portrayed a dark, eerie criminal network spreading itself into Europe from its epicentre out in the far-east. It is believed that the betting syndicates are operating not only on results, but on certain events in matches similar to the no ball scandal that scourged the Pakistani cricket team back in 2010. That should be familiar to the everyday football fan who is exposed to in play betting and the plethora of markets now available to betting companies who have developed into a mass businesses on the back of such practice. The wide-scale of Europol's match-fixing probe. With so many areas on which to place money in the sport, there is always a suspicion that a footballer can take advantage on an individual level, it was Southampton's Matt Le Tissier who claimed he made a spread-bet, of which he failed, on himself to win the first throw-in in a game with Wimbledon back in 1995. Europol's findings have taken that suspicion and multiplied it to a grave worry that manipulation is taking place on the grandest of scales via a murky underground network of criminals threatening to send a game that has always prided itself on fair play and honest competition into a state of decay. With the African Nations Cup taking place in South Africa, Paul Put, the Belgian coach of Burkina Faso, said he was not surprised by Europol's findings, claiming the problem is pandemic. He has had a previous run-in with the practice having served a three year ban in Belgium after being found guilty for fixing two matches while manager of Lierse, a con allegedly organised by Chinese business man Ye Zheyun and has led to forty people being charged. "Match-fixing has always existed in football" said Put, "that is reality but what can you do about it?" Even stronger views came from Arsenal manager Arsene Wenger who feared these revelations would form a "tsunami" that would overwhelm the sport. "I cannot accept this" said Wenger, "I was always aware there was a lot cheating in the game and we are not strong enough on what is happening". These words were motivated partly by Wenger's past with corruption that involved his Monaco team being caught up in the match-fixing scandal with Marseille in the early 1990s and he now calls for severe sanctions on those found guilty. Wenger did allay fears over the domestic game though, remaining adamant that English football remains free of corruptive influence, "match-fixing is not a problem in England" said the Frenchman. The football world will now await the next chapter of this saga, that will probably appear with the details of UEFA's revision into the Europol investigation, with a great deal of agitation. There will be a hope that the more the governing bodies continue to peruse over the investigation with the finest of tooth-combs, the more information will gradually begin to come clearer in order to erode away the mystery that is shrouding this squalid world of corruption. The European Police have gone a long way to confirming a fear that football is blighted by a darker-side but there is a sense that it has only scratched the surface, it now must delve further into the abyss in order to ensure football remains free of the disease lurking underneath.   Written by Adam Gray Follow Adam on Twitter @AdamGray1250 Please like O-Posts on Facebook You can follow O-Posts on Twitter @OPosts
Original Story:
http://feedproxy.google.com/~r/O-post...
THE BACKYARD
BEST OF MAXIM
RELATED ARTICLES
Arsene Wenger wants blood tests to prevent drug cheats - originally posted on Soccerlens.comArsenal manager Arsene Wenger has called on FIFA to introduce blood tests to prevent drug cheats from corrupting the beautiful game. Arsene Wenger wants blood tests introduction to prevent drug cheats Till now, football players are only tested for banned substances through urine samples at...
Arsenal boss Arsene Wenger would welcome blood tests in football and believes current doping controls are not strict enough to catch cheats. The Lance Armstrong case in cycling and this week's revelations of widespread doping in Australian sport have again put drugs in sport high on the public agenda, and Wenger does not think football can consider itself immune from such underhand...
Each day we'll bring you the very latest tabloid rumors as the biggest clubs around splash the cash to bolster their rosters. True or not, they're always entertaining... Arsene Wenger has demanded football introduces blood testing to ensure drug cheats do not corrupt the game. Peter Odemwingie and West Brom team-mate Steven Reid had a fierce bust-up after the Nigeria forward...
FIFA's former head of security Chris Eaton is not aware of any "credible evidence" of match-fixing in the English domestic game but warned the national authorities to remain vigilant against the threat. A report released earlier this week by European enforcement agency Europol said 380 matches were under investigation, including one 2009 Champions League game in England...
Soccer News

Delivered to your inbox

You'll also receive Yardbarker's daily Top 10, featuring the best sports stories from around the web. Customize your newsletter to get articles on your favorite sports and teams. And the best part? It's free!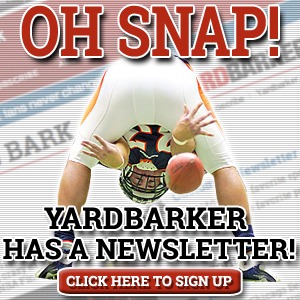 Latest Rumors
The Backyard

Today's Best Stuff

For Bloggers

Join the Yardbarker Network for more promotion, traffic, and money.

Company Info

Help

What is Yardbarker?

Yardbarker is the largest network of sports blogs and pro athlete blogs on the web. This site is the hub of the Yardbarker Network, where our editors and algorithms curate the best sports content from our network and beyond.