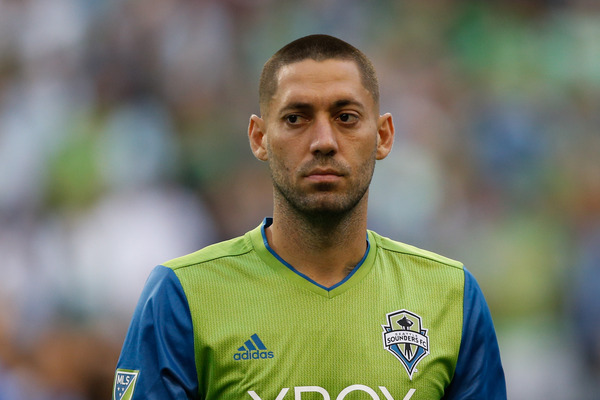 Seattle Sounders FC forward Clint Dempsey faces an uncertain future.
Jennifer Buchanan-USA TODAY Sports
With MLS teams scheduled to start training for the upcoming season later this month, much has been written about the health of Clint Dempsey. As many of you might recall, the Sounders' designated player and U.S. international star was briefly sidelined in August with an irregular heartbeat, then began training and was shut down altogether in September due to a reoccurrence of the same symptoms. While the Sounders went on to win the MLS Cup in December without their star forward, Dempsey publicly remains an integral part of Seattle's plans in 2017.
Seattle's President of Soccer Garth Lagerwey said late last week "we are going to do our best to get him ready to play in a safe manner, and if it happens, great, and if it doesn't, then we'll be patient and wait as long as it takes." Bruce Arena, U.S. Men's National Team manager, also weighed in on Dempsey's health, saying that he felt that he'd be ready for the Sounders' opening game in March and available for the national team's World Cup qualifiers later that same month.
But this raises some serious questions about playing a physically demanding game with a diagnosis that will require constant monitoring and recurrence a very real danger. Due to privacy concerns, little has been made public regarding what has been done to try to treat Dempsey's condition. His brother Ryan tweeted last October that Dempsey had undergone a medical procedure to try to correct an irregular heartbeat.
While we know little about his current condition, one would be hard-pressed to name a footballer past or present who continued playing the sport knowing he had a heart irregularity. Dempsey will be 34 years old when the MLS season begins, having already played top-flight football. With an estimated net worth in the millions of dollars, money cannot be the main motivator. While always an extremely competitive individual, it would seem that his health is of paramount concern,
Dempsey knows full well how fleeting life can be from his own personal experience. In 1995 he tragically and unexpectedly lost his sister to a brain aneurysm. While the loss of his sister has motivated him to excel on the pitch, it also serves as a reminder of how fragile our health can be.
Dempsey has achieved an extraordinary amount of success in Europe and the United States, beginning with his humble beginnings in Nacogdoches, Texas. He has a tremendous amount of soccer knowledge that can be passed along as a mentor. But given his current physical ailment, that mentorship might be better served as a coach rather than as a player.
MORE FROM YARDBARKER:
Best athlete by state all time
MORE FROM YARDBARKER
Soccer News

Delivered to your inbox

You'll also receive Yardbarker's daily Top 10, featuring the best sports stories from around the web. Customize your newsletter to get articles on your favorite sports and teams. And the best part? It's free!