FC Kansas City forward Amy Rodriguez suffered an anterior cruciate ligament tear Sunday, and will now miss the rest of the season. But U.S. Soccer stars have Rodriguez' back. The likes of Carli Lloyd, Sydney Leroux, Heather O'Reilly and Megan Rapinoe all tweeted their support and best wishes to Rodriguez, who scored one of Kansas City's two goals in the game against the Boston Breakers...
FC Kansas City forward Amy Rodriguez suffered an ACL tear to her left knee during the 2017 season opener against the Boston Breakers on Sunday. Rodriguez missed all of the 2016 season on maternity leave, so when she threw on her Kansas City jersey and scored a goal in her return this past weekend almost everyone could agree that A-Rod was back. However, during the second half she...
If there's one player who is both criticized and praised more than anyone else on the U.S. women's national team, it's Alex Morgan. At any given time, judgments on her performance for the U.S. seem to fall simultaneously on both sides of the spectrum.When the USWNT's campaign for the Rio Olympics starts on Wednesday, the spotlight will be even brighter on Morgan. With strikers like...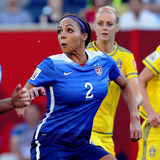 On Monday, US Women's National Team star Sydney Leroux announced she is pregnant, which will cause her to miss both the Rio Olympics in August and also the 2016 National Women's Soccer League season. Surprise! My plans have changed for this summer. @Ddwyer14 and I are so excited to announce... pic.twitter.com/99knKtCvTO — Sydney Leroux Dwyer (@sydneyleroux) January 26, 2016 ...
PORTLAND, Ore -- For the second consecutive year, FC Kansas City defeated the Seattle Reign in the National Women's Soccer League Championship Game, twice stealing the crown from the team that posted the best regular-season record. By downing Seattle 1-0 on neutral ground here at Providence Park, Kansas City accomplished what the team wholeheartedly wanted: To send midfielder Lauren...
The post WNT vs. Haiti: Amy Rodriguez Goal – Sept. 20, 2015 appeared first on TheSoccerDaily.com.
Defending NWSL champions FC Kansas City swept aside the Chicago Red Stars 3-0 Sunday in front of a sparse house at Toyota Park to advance to this year's final. Amy Rodriguez scored twice as KC played the game at a canter, outclassing a Chicago side that at times looked simply dreadful. KC will now face the winner of Sunday's other semifinal, between the Seattle Reign and the Washington...
The U.S. Women's National Team is marching on to the FIFA Women's World Cup semifinals after defeating China 1-0 in the quarterfinals. This was a rematch of the famous 1999 final. In this match, there were many unknowns surrounding the U.S. lineup. Who would take the place of Lauren Holiday and Megan Rapinoe who were both suspended due to yellow card accumulation? The start went...
MORE STORIES >>
Soccer News

Delivered to your inbox

You'll also receive Yardbarker's daily Top 10, featuring the best sports stories from around the web. Customize your newsletter to get articles on your favorite sports and teams. And the best part? It's free!