Found October 26, 2012 on Tennis Panorama :
  (October 26, 2012) Victoria Azarenka sealed the No. 1 ranking for the year by defeating Li Na 7-6(4), 6-3 at the WTA Championships on Friday in Istanbul. The victory for the Belarusian also moved her into the semifinals on Saturday where she'll take on Maria Sharapova. "It's incredible achievement," Azarenka told media.  "I'm really, really proud of that.  I still feel that I don't want to really get into it too much because I'm still in competition and I would like to keep that focus for two more days I have left.  It's the most that's it's going to take. "But it's important to stay a little bit grounded.  After that, I can enjoy my time and celebrate that." It was a career year for Azarenka who began the year with a 26-match win streak capturing her first major – the Australian Open. "Definitely this was a breakthrough.  It's good to see women's game, you know, raising its level so much more.  Especially over this year I felt like all the top players are kind of pushing each other to be better.  It's great for our sport. "If you look at the list of these people (Number one's), it's kind of difficult to believe that a little girl from Belarus is on that list. "But it's really incredible achievement.  When I started to play tennis I had this big picture in my head that I want to be there.  Back then it's so far away.  It's like pretty much touching the sky."   Li Na despite the loss remains upbeat: "I think I still have positive to take away, but at least on this tournament I play No. 1, 3, and 5 in the world, so pretty good challenge for the self. "End of the season at least I was healthy.  I didn't have any injury.  So really looking forward for the next yeah, next season." Azarenka will play Sharapova on Saturday in the semis who demolished alternate Samantha Stosur 6-0, 6-3 to complete a perfect round-robin record. "It's definitely not going to be a surprise that I'm going to play Maria, Azarenka said, "and for her will not be a surprise that she's playing me. "But it is different occasion.  It is a different place.  We played in the semifinals before, but actually I never played her in the Championships.  So it is new and it is not new.  So you can take it both ways." "I certainly didn't want to play as long a match as I did in the previous round, Sharpaova said of her win over Stosur. "I wanted to do a better job of a few things and I think I did." Agnieszka Radwanska defeated Sara Errani 6‑7, 7‑5, 6‑4 in 3 hours and 29 minutes – the longest recorded best-of-three-set match in WTA Championships history. "I had to play my best tennis until the end of the match because every game was a big fight," Radwanska said. Williams was undefeated in three matches in her Red Group and didn't play on Friday. The match between Radwanksa and Errani lasted 3 hours, 29 minutes and was the longest recorded best-of-three-set match in WTA Championships history. "I think altogether of course I'm exhausted," Azarenka said.  "I never played so many hours last three days, so was a lot of tennis.  Now for sure it's going to be hard; no day off. "I really need to be ready for tomorrow.  But I'm actually really happy that at least one of those marathon matches I could win and made for the first time semifinal. "I was out of power," Errani said.  "I was dead maybe from the second.  So I just try to fight.  In tennis you have to fight.  I just try to play point by point also if I was tired, and that's it.  I think only about that, not other things. "All the game were very long; also the one that I lost.  So just try to maybe push a bit more to make shorter the point, but was tough. "I'm here playing in the master with the best players of the year.  It's good results for me.  I won one match; this is one was very tough. "I just try everything on the court, try to give my best, give everything, and this is it.  This is what I did." "I was happy to come back.  Actually I start pretty good in the third set, but obviously she's a big fighter so she didn't give up as well.  So I really had to play my best tennis until the end of the match, because every game was the big fight." Order of play for Saturday, October 27, 2012 Stadium (from 13.00hrs) 1. Huber/Raymond vs. Hlavackova/Hradecka 2. Serena Williams vs. Agnieszka Radwanska (NB 15.00hrs) 3. Maria Sharapova vs. Victoria Azarenka 4. Errani/Vinci vs. Kirilenko/Petrova
Original Story:
http://www.tennispanorama.com/archive...
THE BACKYARD
BEST OF MAXIM
RELATED ARTICLES
WTA Chairman and CEO Stacey Allaster presents Victoria Azarenka with the Diamond ACES Award (Photo by Getty Images) (October 24, 2012) ISTANBUL, TURKEY – The Women's Tennis Association (WTA) announced that World No.1 Victoria Azarenka has been named the winner of the Diamond ACES Award for the 2012 season. The Award is presented to the player who consistently goes above and beyond...
(October 25, 2012) Serena Williams completed a perfect 3-0 round-robin record in the Red Group at the WTA Championships in Istanbul with a 6-4, 6—4 win over No. 1 Victoria Azarenka. Williams raised her overall record against Azarenka to 11-1. Despite losing on Thursday, Azarenka can still clinch the year-end No. ranking with a win in her next round-robin match. She's 1-1 so far...
Serena Williams extended her dominance over the top-ranked player in the world on Thursday, defeating Victoria Azarenka 6-4, 6-4 at the WTA Championships. Williams improved to 11-1 overall against Azarenka, winning the last nine matches. Williams beat Azarenka in the semifinals of Wimbledon and at the London Olympics. ''Maybe I'm doing the right things at the right...
(October 24, 2012) In a battle which featured high quality shot-making and high drama, No. 1 Victoria Azarenka saved two match points  to turn back Angelique Kerber 6-7(11), 7-6(2), 6-4 in three hours in her first round-robin match at the WTA Championships in Istanbul on Wednesday. Azarenka is just one victory away from clinching the year-end No. 1 world ranking. Kerber fought...
Tennis News

Delivered to your inbox

You'll also receive Yardbarker's daily Top 10, featuring the best sports stories from around the web. Customize your newsletter to get articles on your favorite sports and teams. And the best part? It's free!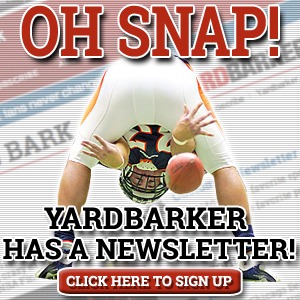 Latest Rumors
Best of Yardbarker

Today's Best Stuff

For Bloggers

Join the Yardbarker Network for more promotion, traffic, and money.

Company Info

Help

What is Yardbarker?

Yardbarker is the largest network of sports blogs and pro athlete blogs on the web. This site is the hub of the Yardbarker Network, where our editors and algorithms curate the best sports content from our network and beyond.