Found July 08, 2013 on Awful Announcing:
"Yea you say it best when you say nothing at all." - Keith Whitley It seems counter-intuitive, but there are times when the best thing an announcer can say nothing.  For a job that's almost entirely telling a story with the spoken word, this is a novel concept.  An announcer calls a game with the mission and purpose of illuminating the game with their descriptions.  Think how much more a hockey game is brought to life by Doc Emrick.  Or an NBA playoff game with Marv Albert.  Or March Madness with Gus Johnson.  Networks have experimented with announcerless games in the past and they didn't work because the announcer's words add a crucial element to the telecast of any sporting event. And yet, there are times when silence is the most powerful tool at the broadcaster's disposal.  That was the case at Wimbledon's Center Court on Sunday when Andy Murray became the first Brit to win the title on home soil in 77 years, ending one of the most infamous droughts in sports.  (See, there's hope yet, Cubs fans!)  ESPN's tennis coverage is just a notch below their soccer coverage as some of the best work Bristol does.  When ESPN goes all-in covering an event and fills their on-air staff with top pros like Mike Tirico and Chris Fowler as well as great analysts and tennis vets (John and Patrick McEnroe, Brad Gilbert, Darren Cahill, Cliff Drysdale, Chris Evert, etc.) you're going to get a top shelf production.  That was exactly the case with Fowler and the McEnroe Brothers manning the booth for the men's final. But as Andy Murray was serving for the win in the 3rd set something interesting happened.  Fowler and the McEnroes completely backed away.  From the time Murray went up 40-0 with 3 Championship Points to the time Novak Djokovic fought all the way back to a break point of his own, the announcers said nothing. Now it's not uncommon for great announcers to let certain moments breathe.  Vin Scully is superb at this and in all honesty so is Joe Buck.  They know when to step back and let the moment speak for themselves.  Fowler, McEnroe, and McEnroe did this to the extreme on Sunday and it was a brilliant decision.  The trio was silent for so long some may have wondered whether the power to the booth went out.  But the sounds of Center Court were so gripping that nothing needed to be added to the moment.  It spoke for itself.  Fowler didn't need to tell the story - the crowd, the players, and the tennis did it for him.  The crowd gasping with every shot and the incredible tension at hand finally breaking into pandemonium when Djokovic's final shot went into the net was one of the most captivating few minutes of the sporting year.  And all of it described with minimal descriptions from the broadcast booth.  In fact, the silence from the booth even added to the drama and tension and excitement of the moment. Just have a look and listen to this example of the final point of the tournament.  While it doesn't quite capture the gravitas of the ESPN booth, it does portray the trio as knowing when to step away and when to enter in... Tennis commentary is by its nature less verbose than almost any other sport.  The announcers don't speak during the rallies and play by play and analysis has to be tucked neatly between points.  It's a testament to announcers like Tirico and Fowler that they can adjust their game so well to a much different sport than football or basketball where there's a running stream of play by play. I'm of the firm belief there's not one blueprint to great play by play, whether it be excitement or stoicism, or what have you.  An announcer has to be true to yourself and true to the moment.  Perhaps though Sunday's Wimbledon final is a great lesson for broadcasters everywhere to take a step back and let these great sporting moments speak for themselves.  Sometimes less is more... and sometimes nothing can mean everything.
Original Story:
http://www.awfulannouncing.com/2013/j...
THE BACKYARD
BEST OF MAXIM
RELATED ARTICLES
Source: Andy Murray Facebook Newly crowned Wimbledon champ Andy Murray has never been a stickler for social media. He's flirted with the technology occassionally, but never really embraced Twitter or Facebook. But something has changed for the Scot. Perhaps it is that the constant barrage of criticism he faced has come to an abrupt halt after his Wimbledon victory. Or maybe...
The first question at the first formal news conference of the first full day of Andy Murray's new life as Wimbledon champion concerned the buzz building in Britain about whether knighthood awaits. Murray sighed and rested his chin on his left hand. ''I don't really know,'' he said Monday. ''I mean, it's a nice thing to have, or be offered. I...
Scotland's Andy Murray became the first British tennis player to win the men's singles tournament at Wimbledon in 77 long years when he captured the tournament on July 7. The 26-year-old was firing on all cylinders in the center court as he beat number one ranked Novak Djokovic of Serbia in straight sets by scores of 6-4, 7-5, and 6-4. The last British male to win the event was...
This one is forever. For Andy Murray. For Britain. It took forever. It lasts forever. Andy Murray is the Wimbledon champion. How many times has he heard that in his head over the years? How many times has he told himself he'd never be there? He beat Novak Djokovic 6-4, 7-5, 6-4 on Sunday. He is the first Brit to win Wimbledon since Fred Perry in 1936. When Murray jumped into...
The consummation of a long, tempestuous love affair. The third major of 2013 ended today with an exclamation point as Andy Murray brought euphoria to a nation starved for a home-grown Wimbledon champion.  Here are some thoughts. That was…historic:  77 years, and counting no longer.  It often must have felt like 777 years to Andy Murray and members of his team, so often did the...
THE NEWS Britain awoke to a new era on Monday, into a world in which the tennis-loving public finally has its own Wimbledon champion once again. On Sunday, Andy Murray beat Novak Djokovic in straight sets, 6-4, 7-5, 6-4, to win the men's title at the All England Club. Murray became the first British man to win the Wimbledon title since Fred Perry in 1936, a victory that has...
Five notable changes that took place in Britain in the 77 years that elapsed between Wimbledon titles for Fred Perry and Andy Murray, who ended Britain's drought on Sunday: 1. MANY BIRTHDAYS: Queen Elizabeth II was 10 at the time of Perry's victory in 1936 and still known as Princess Elizabeth. Her coronation was in 1953. 2. MANY WINNERS: A total of 39 different men representing...
Andy Murray finally won one for the Brits, defeating top-seeded Novak Djokovic in straight sets for the Wimbledon title. Still, it wasn't easy: Yes, this was history, and Murray's 6-4, 7-5, 6-4 victory over top-seeded Novak Djokovic was a fitting close to nearly eight decades of British frustration in its own backyard: A straight-setter, yes, but a hard-fought, 3-hour, 9-minute...
AP Andy Murray and Marion Bartoli certainly stole the show this fortnight with their emphatic victories at Wimbledon. Their good form continued off the court where both looked stunning at the Wimbledon Champions Dinner.
On Sunday, Andy Murray ended a 77-year drought for British men's players at Wimbledon, taking home the UK's first championship at the All England Club since 1936 with a straight-sets victory over Novak Djokovic. With the historic win, Murray joined the likes of the 2002 Canadian ice hockey team, the 2004 Boston Red Sox, the 2005 Chicago White Sox, the 2010 Spanish World...
On Sunday, Andy Murray ended a 77-year drought for British men's players at Wimbledon, taking home the UK's first championship at the All England Club since 1936 with a straight-sets victory over Novak Djokovic. With the historic win, Murray joined the likes of the 2002 Canadian ice hockey team, the 2004 Boston Red Sox, the 2005 Chicago White Sox, the 2010 Spanish World...
Men's Singles - Andy Murray (2), Britain Women's Singles - Marion Bartoli (15), France Men's Doubles - Bob and Mike Bryan (1), United States Women's Doubles - Hsieh Su-wei, Taiwan, and Peng Shuai (8), China Mixed Doubles - Daniel Nestor, Canada, and Kristina Mladenovic (8), France Gentlemen's Invitation Doubles - Lindsay Davenport, United States, and Martina...
Tennis News

Delivered to your inbox

You'll also receive Yardbarker's daily Top 10, featuring the best sports stories from around the web. Customize your newsletter to get articles on your favorite sports and teams. And the best part? It's free!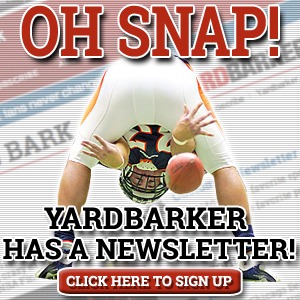 Latest Rumors
Best of Yardbarker

Today's Best Stuff

For Bloggers

Join the Yardbarker Network for more promotion, traffic, and money.

Company Info

Help

What is Yardbarker?

Yardbarker is the largest network of sports blogs and pro athlete blogs on the web. This site is the hub of the Yardbarker Network, where our editors and algorithms curate the best sports content from our network and beyond.