Posted January 14, 2013 on AP on Fox
His heavily tattoed arms include one in Japanese that says, ''Beauty Will Save the World.'' No. 8-ranked Janko Tipsarevic of Serbia says his wife has barred him from getting more - and he listens to her because his rise through the rankings started when they married in 2010. ''Honestly, I don't know why but from the moment I got married I started producing great results,'' Tipsarevic said during a humorous on-court interview after beating Lleyton Hewitt 7-6 (4), 7-5, 6-3 in the first-round of the Australian Open on Monday. Hewitt's first-round exit brought an abrupt halt to his long-running effort to end a drought for Australian men at Melbourne Park dating back to 1976. He has played a record 17 consecutive Australian Opens and was cheered on by a packed center court crowd that chanted his name: ''Let's go Lleyton, let's go!'' The 3-hour, 2-minute match was filled with exciting points and fast-paced scrambling on both sides of the net. It tipped in Tipsarevic's favor during the second set when he was a double break down but powered back aided by big serves to win. ''He's such a good ball striker. Even when I did attack he came up with some unbelievable passing shots,'' said the former No. 1-ranked Hewitt, and winner of 2001 U.S. Open and 2002 Wimbledon. ''His scrambling and passing shots from out of position were exceptional tonight.'' Known for his towering self-confidence, Hewitt's post-match comments were more humble than a day earlier. When asked Sunday if he felt unlucky to have drawn the No. 8 seed in the first round, Hewitt replied with typical bravado: ''I don't care. I'll knock him off, try to take his spot in the draw.'' For now, the Serbian's spot in the draw is secure. He was elated by his win, saying he had expected a tough match from Hewitt but was stunned by his stamina. ''It's really amazing. I mean, the guy had so many injuries, and he is turning 32 this year, and the balls that he's making you play just to finish the point!'' said Tipsarevic, a U.S. Open quarterfinalist last year. ''I really needed to produce some extraordinary tennis.'' Tipsarevic turned pro in 2002 and was ranked 46 when he married Serbian TV host, Biljana Sesevic, in July 2010. Coincidentally or not, from then on he steadily climbed the rankings, breaking into the top 10 in Nov 2011 and has remained ever since. Asked about the body art on his arms, he said he has six tattoos and doesn't regret any but is taking a break. ''I am currently on an embargo from my wife not allowing me to do any more,'' he said. He faces Lukas Lacko in the second round, after the Slovak defeated Gilles Muller 6-2, 6-4, 7-6 (3). --- GOLD, BABY: If all her money just vanishes one day, Venus Williams can always cash in on her Olympic gold medals. ''I have hid them in a sack,'' she said with a smile, when asked where she keeps all her medals. ''One day if I become a statistic and I lose all my money, then I have to melt all the gold off.'' Joking aside, Williams has won four gold medals, including three from winning women's doubles alongside sister Serena at the 2012 London Olympics, the 2008 Beijing Games and 2000 Sydney Games. In Sydney she also won the singles tournament. But it's the most recent one from London that helped lift her spirits. Williams took a seven-month break from tennis after being diagnosed in 2011 with an autoimmune disease that can cause fatigue. She returned to tennis in March and went on to win the Wimbledon doubles trophy followed by her latest Olympic medal. ''Gold, gold, gold, baby. So you know, that was awesome,'' Williams said after advancing to the second round with a 6-1, 6-0 win over Galina Voskoboeva of Kazakhstan. At 32, she's not talking about retirement yet but once she quits tennis she knows what she does not want to do. ''Hopefully, like I said, I won't run out of money and have to commentate,'' she said, again laughing. ''But if I do, I will be commentating.'' Her 18 years in tennis have built up a decent nest egg of $28.5 million in career prize money. --- COMEBACK TRAIL: Sam Querrey is the highest-ranked - and only seeded - American man at the Australian Open this year, but he doesn't think of himself as the leader of the U.S. team. World No. 13 John Isner would have been the highest-ranked American in Melbourne, but he had to pull out with bone bruising in his right knee, leaving No. 22 Querrey as the Americans' top player in the men's draw. ''Serena's probably the real leader,'' Querrey quipped after his 6-7 (2), 6-4, 6-2, 6-4 first-round win over Spanish qualifier Daniel Munoz-De La Nava on Monday. ''I'm cheering for the other guys and they're cheering for me so we're all in it together, but I don't feel like too much of a leader.'' A year ago, Querrey was just happy to get into the Australian Open without having to play the qualifying tournament. An injury to his right elbow led to surgery that sidelined him for months in 2011, causing his ranking to fall to No. 125. He lost in the second round in Melbourne last year to Australian Bernard Tomic. Querrey has spent the past year and a half trying to climb back up the rankings, playing several second-tier Challenger events to earn back points he lost. His next opponent in Melbourne is another American on the comeback trail - Brian Baker. The 27-year-old Baker also had surgery on his right elbow, in February 2008, one of five major operations he underwent over a six-year span. Baker started 2012 ranked No. 456 in the world; by the end of the year, he was up to 61st. Querrey and Baker have only played each other once - at a Challenger event in Sarasota, Florida, last April. Querrey won that match in three sets. ''We've both sort of come a long way since then,'' Querrey said. --- Associated Press writer Justin Bergman contributed to this report.
Original Story:
http://msn.foxsports.com/tennis/story...
THE BACKYARD
BEST OF MAXIM
RELATED ARTICLES
Lleyton Hewitt's record 17th consecutive Australian Open campaign ended in a 7-6 (4), 7-5, 6-3 first-round loss to eighth-seeded Janko Tipsarevic of Serbia on Monday night. The former No. 1 player qualified for his first Australian Open when he was 15. He will turn 32 next month. Nobody in the Open era has played more consecutive Australian Opens than Hewitt, a former U.S. Open...
Janko Tipsarevic in press By Evan Valeri "Beauty will save the world." Written in Japanese and adorning the left arm of current ATP number nine ranked player Janko Tipsarevic, this is just one of many tattoos that make Tipsarevic stand out from the crowd. His tattoos along with the sporty Oakley glasses he wears make Janko an unforgettable figure in tennis. Separating himself...
Time and injuries may have wearied his body, but nothing seems to have reduced Lleyton Hewitt's bravado. The two-time Grand Slam champion takes to the court on Monday night for his 17th consecutive Australian Open. Asked Sunday whether he felt unlucky to have drawn the eighth-seeded Janko Tipsarevic in the first round, Hewitt replied: ''I don't care. I'll knock...
James Crabtree is currently in Melbourne Park covering the Australian Open for Tennis Grandstand and is giving you all the scoop directly from the grounds. Lleyton Hewitt is defeated by Janko Tipsarevic during the first round of the Australian Open By James Crabtree A day before Lleyton Hewitt's encounter with 8th seed Janko Tipsarevic the Aussie legend was in a defiant practically...
By Jaclyn Stacey (January 14, 2013) MELBOURNE PARK,  Australia – Eighth seed Janko Tipsarevic ground out victory in just over three hours against former world No. 1 Lleyton Hewitt in a thrilling three set encounter on Rod Laver Arena in Monday's evening session 7-6(4), 7-5, 6-3.   "I cannot tell you how happy that I am, first of all, that I managed to win, and second of all...
(January 14, 2013) A look at some the questions and answers from day one of the 2013 Australian Open tennis tournament in Melbourne.  Maria Sharapova Q.  You have now gotten a double bagel win at every slam.  It completes your double bagel slam or calendar slam.  Is that something you're proud of? (Editor's note – Sharapova needs a double bagel at Wimbledon to complete...
Tennis News

Delivered to your inbox

You'll also receive Yardbarker's daily Top 10, featuring the best sports stories from around the web. Customize your newsletter to get articles on your favorite sports and teams. And the best part? It's free!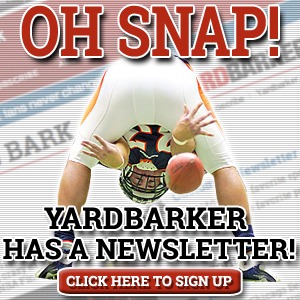 Latest Rumors
The Backyard

Today's Best Stuff

For Bloggers

Join the Yardbarker Network for more promotion, traffic, and money.

Company Info

Help

What is Yardbarker?

Yardbarker is the largest network of sports blogs and pro athlete blogs on the web. This site is the hub of the Yardbarker Network, where our editors and algorithms curate the best sports content from our network and beyond.