Found July 05, 2013 on Tennis Grand Stand:
Fast forward six months. We can anticipate a blockbuster meeting between two members of the Big Four in the Wimbledon final after all.  The route getting there took some intriguing twists and turns, however.  Here are some reactions to Friday's action. That was…expected:  For the seventh time in ten years, the Wimbledon final will feature the top two men in the world.  When Roger Federer and Rafael Nadal tumbled by the first Wednesday, Novak Djokovic and Andy Murray became overwhelming favorites to reach the second Sunday.  Credit to them for taking care of business and ensuring a worthy climax to the tournament. But also better than expected:  With Djokovic's semifinal opponent injured and Murray's semifinal opponent highly inexperienced, two routs could have unfolded on Friday.  Instead, a captivated crowd saw more than seven and a half hours of high-quality tennis, courtesy of underdogs who showed determination and resilience.  Credit to Juan Martin Del Potro and Jerzy Janowicz f...
Original Story:
http://www.tennisgrandstand.com/2013/...
THE BACKYARD
BEST OF MAXIM
RELATED ARTICLES
QUICK RECOVERY
Andy Murray became the first British tennis player to win Wimbledon in 77 years with a straight set victory over Novak Djokovic on Sunday. Afterwards, Murray made his way through the crowd to hug his guests in the player's box, but nearly forgot one very important person: his mom. Fortunately, something told Murray to turn around before he climbed down from the player'...
Andy Murray took a two-set lead over Novak Djokovic on Sunday in the Wimbledon final, winning the second 7-5 after taking the first 6-4. The players traded breaks in the second set, as they did in the first, and Murray again came out on top by breaking a second time. With the sun beating down on Centre Court, both players wore white caps and sat under umbrellas during changeovers...
Andy Murray finally won one for the Brits, defeating top-seeded Novak Djokovic in straight sets for the Wimbledon title. Still, it wasn't easy: Yes, this was history, and Murray's 6-4, 7-5, 6-4 victory over top-seeded Novak Djokovic was a fitting close to nearly eight decades of British frustration in its own backyard: A straight-setter, yes, but a hard-fought, 3-hour, 9-minute...
Djokovic-del Potro Wimbledon Boxscore By The Associated Press Friday At The All England Lawn Tennis and Croquet Club London Men's Semifinal Novak Djokovic (1) def. Juan Martin del Potro (8), 7-5, 4-6, 7-6 (2), 6-7 (6), 6-3. Djokovic del Potro 1st Serve Percentage 69 60 Aces 22 4 Double Faults 2 4 1st Serve Winning Pct. 83 72 2nd Serve Winning Pct. 39 55 Fastest serve (mph...
This one is forever. For Andy Murray. For Britain. It took forever. It lasts forever. Andy Murray is the Wimbledon champion. How many times has he heard that in his head over the years? How many times has he told himself he'd never be there? He beat Novak Djokovic 6-4, 7-5, 6-4 on Sunday. He is the first Brit to win Wimbledon since Fred Perry in 1936. When Murray jumped into...
So this is what tennis is turning to, its next generation. The straight man vs. the punchline. Andy Murray and Novak Djokovic won their semifinal matches Friday to advance to the Wimbledon final. It'll be the third final in the past four majors that they have played each other. In a crazy Wimbledon of upsets, it so happens that the No. 1 and No. 2 seeds have reached the end...
We wrote earlier this week about rising star Jerzy Janowicz. Even in defeat Friday, he took further steps to win over some fans. The Polish No. 1 had no chance of being the crowd favorite Friday while going up against Great Britain's great hope in Andy Murray in the semifinals. And Janowicz's mercurial temperament only added to the challenge. Down 30-0 at 4-4 in the third...
Djokovic leads 11-8 2006 Madrid Masters, clay-outdoor, R16, Djokovic, 1-6, 7-5, 6-3. 2007 Indian Wells Masters, hard-outdoor, SF, Djokovic, 6-2, 6-3. 2007 Miami Masters, hard-outdoor, SF, Djokovic, 6-1, 6-0. 2008 Monte-Carlo Masters, clay-outdoor, R16, Djokovic, 6-0, 6-4. 2008 Toronto Masters, hard-outdoor, QF, Murray, 6-3, 7-6 (3). 2008 Cincinnati Masters, hard-outdoor, F,...
Since the end of the Challenge Round (1921) 1932 - Bunny Austin lost to Ellsworth Vines, United States, 6-4, 6-2, 6-0. 1934 - Fred Perry def. Jack Crawford, Australia, 6-3, 6-0, 7-5. 1935 - Fred Perry def. Gottfried von Cramm, Germany, 6-2, 6-4, 6-4. 1936 - Fred Perry def. Gottfried von Cramm, Germany, 6-1, 6-1, 6-0. 1938 - Bunny Austin lost to Don Budge, United States, 6-1...
(July 3, 2013) For years now, I have dismissed Juan Martin Del Potro on grass. And it wasn't without reason. He is very tall and has long legs, and the low bounce on grass makes it difficult for him to get down to hit balls comfortably. His movement on the surface has never been great. Most of all, though, even when he played his best tennis, the results just weren't there on...
2013 - Andy Murray 2012 - Roger Federer 2011 - Novak Djokovic 2010 - Rafael Nadal 2009 - Roger Federer 2008 - Rafael Nadal 2007 - Roger Federer 2006 - Roger Federer 2005 - Roger Federer 2004 - Roger Federer 2003 - Roger Federer 2002 - Lleyton Hewitt 2001 - Goran Ivanisevic 2000 - Pete Sampras 1999 - Pete Sampras 1998 - Pete Sampras 1997 - Pete Sampras 1996 - Richard...
Tennis News

Delivered to your inbox

You'll also receive Yardbarker's daily Top 10, featuring the best sports stories from around the web. Customize your newsletter to get articles on your favorite sports and teams. And the best part? It's free!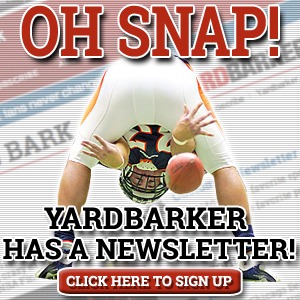 Latest Rumors
Best of Yardbarker

Today's Best Stuff

For Bloggers

Join the Yardbarker Network for more promotion, traffic, and money.

Company Info

Help

What is Yardbarker?

Yardbarker is the largest network of sports blogs and pro athlete blogs on the web. This site is the hub of the Yardbarker Network, where our editors and algorithms curate the best sports content from our network and beyond.