Found September 14, 2012 on Wrestle Scoop:
- Eve Torres announced on Twitter Thursday that she is engaged to Rener Gracie, her boyfriend of several years. - Jerry Lawler posted the following Tout video thanking fans: - WWE posted an interview with Michael Cole yesterday afternoon. During the interview, Cole detailed the phone call he received from Jerry "The King" Lawler on Wednesday. "I had just gotten home to Texas after what had been a whirlwind two days dealing with this situation. I actually got a phone call from Jerry's girlfriend, who's in the hospital with him. And she said 'Michael, I've got somebody who wants to talk to you.' She handed over the phone and it's 'The King'! "We immediately had a couple of laughs. He's weak, but he's alert. He talked coherently and he's not completely out of the woods yet and he's got a long recovery process to come, but he's awake. Jerry's in a lot of pain — he said he feels like he's been through a 60-Minute Iron Man Match, but he's in great spirits. "The biggest
Original Story:
http://www.wrestlescoop.com/2012/09/1...
THE BACKYARD
BEST OF MAXIM
RELATED ARTICLES
After Jerry Lawler collapsed during Monday night's taping of WWE's Monday Night Raw, there were fears that Lawler had suffered brain damage because of the amount of time Lawler's brain went without oxygen. But according to WMCT in Memphis, result of a CT scan show that those fears did not become a reality. Friends, family, and fans have been on pins and needles awaiting Jerry...
– The first official Ryback shirt is available on WWEShop.com. – Devin Cutting reports that WWE has a house show set for Tyler, Texas on January 13th, 2013. – During Wednesday night's RAW replay on mun2, which will air Saturday night on Universal HD and most foreign markets, all matters pertaining to Jerry "The King" Lawler's health scare during Monday's live broadcast...
Stacy Carter recently spoke about Jerry Lawler's heart attack on RAW. Here are the highlights… On Jerry Lawler's Condition: "Right now he's stable, being responsive with a tube down his throat. He's squeezing people's hands, nodding his head. He can point out where he's hurting, stuff like that. The next step is to wait for the test results to come back tomorrow,...
- TMZ reported yesterday that they spoke with Jerry Lawler's son Kevin and that Lawler was awake, responsive and while he was hooked up to tubes and not able to speak, he was writing stuff on a notepad and communicating with people.Arda Ocal reported last night that Lawler's girlfriend Lauryn did a phone interview with WMC-TV5 in Memphis and said that Lawler's chest is sore...
Lauryn McBride released to the Memphis media a photo of Lawler recovering in the hospital on Thursday following a heart attack suffered Monday during Raw. Lawler is shown with various medical devices connected to his body to aid his recovery and to continue monitoring his health.
WWE Legend Jerry Lawler began making phone calls to a number of friends last night, including Michael Cole and Vince McMahon. Now that Lawler is looking to make a recovery, most of the discussion among the WWE wrestlers has been about how lucky Lawler was and speculation on whether or not WWE will allow him to wrestle again. While there is no timetable yet for Lawler to return to...
Daniel Bryan appeared on 98.5 SportsHub in Boston this morning. Thanks to Josh (@ClubberinTime) for sending in this report from his appearance.Bryan started off by talking about Jerry Lawler's heart attack on RAW this past Monday, and being in the ring at the time. He says he was in the middle of a chin lock and noticed that the crowd was looking away from the ring. He thought...
Steven Muehlhausen of Fight Club Chicago spoke with former WWE Creative Writer Court Bauer this week about Jerry Lawler's medical emergency on Monday's Raw and whether WWE was right to continue with the show."You can always debate that, but on the flip side, if he had died obviously it's a whole new ballgame. They were in the process of trying to stabilize him and perform...
WWE Hall of Famer Jim Ross has posted his latest blog online. Check out some highlights below: On Jerry Lawler: "The King is quickly recovering from the major heart attack that he suffered Monday night during Raw in Montreal. I saw a photo of him and he looks great especially his flowing, DARK locks. I know that Jerry is overwhelmed by the outpouring of support that he has received...
- A fan on Twitter asked Jim Ross if WWE will do anything to show support for Jerry Lawler on Monday's RAW. Ross replied: "Likely an update, well wishes, paycheck." - The match with Sin Cara vs. The Miz on Friday's SmackDown was heavily edited, as you probably could tell by watching the match. Fans in attendance noted to us that it was one of Cara's most-botched...
- Dustin Rhodes will be replacing Jerry Lawler for the big independent wrestling show on September 22nd from Dutchess Stadium in Fishkill, NY. Rhodes will team with former NY Yankees pitcher Joe Ausanio to take on Luke Robinson and Romeo Roselli.- CM Punk wrote on Twitter yesterday that his way was ruined by American Airlines. Apparently the WWE Champion had some flight troubles...
- WWE Legend The Honky Tonk Man wrote the following about filling in for Jerry Lawler on RAW commentary: "Who would want to see HTM do commentary just for one night only to fill in for The King and help #WWE out?" Roddy Piper doesn't agree that HTM would be a good fill-in and says he would take the job: "I would stand in for The King on commentary till he gets...
WWE News

Delivered to your inbox

You'll also receive Yardbarker's daily Top 10, featuring the best sports stories from around the web. Customize your newsletter to get articles on your favorite sports and teams. And the best part? It's free!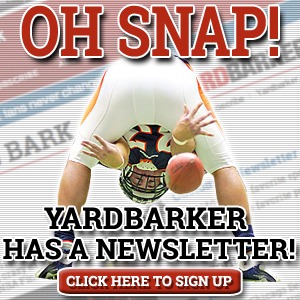 Latest Rumors
Best of Yardbarker

Today's Best Stuff

For Bloggers

Join the Yardbarker Network for more promotion, traffic, and money.

Company Info

Help

What is Yardbarker?

Yardbarker is the largest network of sports blogs and pro athlete blogs on the web. This site is the hub of the Yardbarker Network, where our editors and algorithms curate the best sports content from our network and beyond.