Striker discusses release and WWE product: Matt Striker said he's doing alright following his recent release from WWE. He told the Wrestling Heels Radio show… "I'm doing alright. I've thought about pulling out a shot gun once or twice. (Laughs) I shouldn't joke about that. But you know what I mean. I sat down and I talked to my spirits and God and stuff and said "what do you have for me next." The book of Job. That's what it is. If you don't know the book of Job go and read it. I'll never lose my faith." Striker also discussed his opinion of the current product… "WWE product is great. Sometimes it's cool to be anti-WWE. But if you like wrestling and entertainment you should support WWE. Money in bank is gonna be ridiculous if nothing else. But Indie wrestling, there's good and bad which there always was. To me, lots of skulls popping up. Taking kids' money, putting them in plastic pants, teaching them to do nothing and kid knows how to do a back-flip. Then kid goes home and tells friends he's a wrestler. That kind of dilutes the pool. I also understand Japan wasn't what it once was. But New Japan is really taking strides to rebuild that. It's like economics. It's a bell curve. Has to go through down before it goes up. Right now I think it's on an uptick. WWE is on a bigger up tick and that will trickle down and the entirety of wrestling will benefit." In regard to TNA Striker seems open to it if they want him… "I love wrestling and all aspects of wrestling and entertainment. You call my phone, I'll answer." Hart not under legend's deal: WWE Hall of Famer Bret Hart revealed in an interview with 680News.com that he's not under a WWE Legend's contract… "I think I'm one of the few guys that doesn't because – these Legends contracts sound great, but they own your soul. It's like signing your life to the devil." The Hitman said he doesn't mind working with WWE but doesn't want to be "owned" by them. Joey Ryan talks TNA run: Recently released Joey Ryan discussed his TNA run with ITRLive – here are some highlights… How he got in to TNA: "Through David Lagana. I worked with David Lagana in a few places actually Ring of Honor, NWA Hollywood and then he booked me for Ring Ka King in India. Then he got hired to be a writer in TNA and they were looking for guys. He suggested me to Al Snow and Al Snow saw footage of me and decided to make me a GutCheck contestant. It kind of happened quickly. They called me up and Al Snow asked if I would be interested and I said yes. He said, "Alright, I'll see you next week". There wasn't anything I had to sit on really." On TNA GutCheck: "They literally don't tell you anything. I was the second ever guy to do GutCheck. The first GutCheck was Alex Silva. There was that whole thing where Ric Flair changed his decision on Alex Silva. You see, I don't know how much of that is really a shoot or not. I think they brought me in particularly to be a "No" because they just needed somebody from the indys to make this seem more legitimate and told "no". I think that was a work on their part. I think when I wrestled and I had a good match against Austin Aries, thank God I had to wrestle Austin Aries, then I came in and did my promos and stuff like that, even before I was in front of the judges, they weren't telling me I was going to get a "No", but I had a few people telling me things. Like Eric Bischoff and Hulk Hogan came up to me and said, "Hey, we like your look, we think you are good. No matter what happens out there, we want to do something with you hopefully down the line". They were hinting that I was going to get a "No" vote. I was already going in there portraying a heel character so I knew going into this that I wasn't just going to go out there, be told "No" and walk away with my tail between my legs. I'm going to be adamant about it. I was going to be myself, a guy who has been told "No" for the last 12 years by major companies. After I did that promo, there was talk of me going around. They were saying to themselves, "How can we use this guy?" Before that, there was nothing planned for me." Backstage following the GutCheck segment: "Well I don't know if they do this anymore but there were cameras all over the place. Everyone was still filming me. I had an argument with Al Snow in the back. Was it a worked shoot? I don't know. He was yelling at me, I thought it was pretty intense. I knew cameras were on too so I wasn't sure. Once the cameras cut, Eric Bischoff approached me and told me, "That was incredible! That's what the segment should be! That's what live TV is all about!" He has a producer's mind. He was the one who came up to me and was the most vocal about it all." On Taz backstage following the GutCheck: "Taz is kind of a hard-ass. I think he knew but I don't think he liked me right off the bat because of that. He's a prideful person, he is very proud of his wrestling and I was bad-mouthing his wrestling. I think he got to the point where he realized that I was doing anything I could to get a job." On signing with TNA: "I actually got a call from Bruce Prichard the next day saying, "We got a contract for you". I signed it and faxed it back to them. At that point, I don't really know if they knew where the storyline was going to go at that point. They just wanted to capitalize on any hype that happened." On teaming With Matt Morgan: "Don't know, it was a little hard to pull off because Matt is this unstoppable monster. I'm just this small guy. Matt would just look stupid if I just keep costing him all of these wins. I don't think it went the way they planned it. I don't know if this didn't go the way they planned or if they just didn't think about how long they could keep this up. It just gets to the point where you think, how long is Matt going to stick with this guy that isn't winning. We were tagging against Chavo and Hernandez. I think they used me as a fall guy to keep Matt Morgan protected." On the negative rumors about TNA contracts: "I had a great contract. I got a monthly salary and a bonus whenever I did wrestle. So yeah, I had a great contract. They said, "Hey, I want to pay you" and I said, "Great, I like getting paid"." On his release from TNA: "I knew there had been some office cuts and to be honest, I knew after the Matt Morgan stuff as they used me so sparingly. I think I did a PPV match that was unannounced. I did the referee stuff with the Knockouts. Then I did the random X-division 3-way match so. When I wasn't being used, I was at home collecting paychecks, so I kind of knew that this was too good to be true. They are paying me to sit at home for months now. Part of me said, I know Hulk Hogan and Eric Bischoff like me so there's some pull there so maybe they are waiting to come up with something for me. I got the hint myself when I was just sitting at home getting paid." On being notified of his release: "Al Snow called me and said "This isn't anything against you or your work, this is just budget cuts". I know they are on the road now and that's much more expensive. I think they are just trying to make the company as profitable as possible. It was a decision they had to make. They had to cut guys without affecting the current storylines. I'm not bitter about it. I understand why. I don't have anything bad to say about anyone there. It's just a business thing."
Original Story:
http://wrestlingtruth.com/wrestling-n...
MORE FROM YARDBARKER
WWE News

Delivered to your inbox

You'll also receive Yardbarker's daily Top 10, featuring the best sports stories from around the web. Customize your newsletter to get articles on your favorite sports and teams. And the best part? It's free!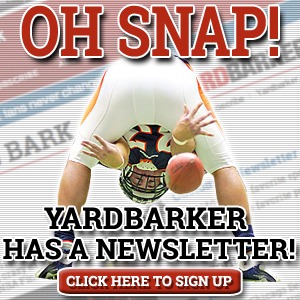 Latest Rumors
Best of Yardbarker

Today's Best Stuff

For Bloggers

Join the Yardbarker Network for more promotion, traffic, and money.

Company Info

Help

What is Yardbarker?

Yardbarker is the largest network of sports blogs and pro athlete blogs on the web. This site is the hub of the Yardbarker Network, where our editors and algorithms curate the best sports content from our network and beyond.