Found August 13, 2013 on Wrestling Truth:
Punk talks Bryan and Wrestlemania: Here are some more CM Punk quotes from the Q&A panel at the Wizard World Chicago Comic Con late last week… On his and Daniel Bryan's success against the odds: "The first thing that popped into my head was when [American] Dragon (Daniel Bryan's old moniker) won the title, I think he won it in Philly, and I was still champion and we passed each other in the hallway carrying the titles and it was just like, regardless of what anybody says about how I'm skinny fat and he's short and he's weird because he doesn't eat meat and I'm strange because I don't smoke weed. We don't belong wherever we are and we're not atypical Vince McMahon this and that, regardless of whatever, that's just a hell of a memory for me. I grabbed him and I was like you want to take and he finished my sentence, take a picture. It was just a cool moment. Two dudes who've known each other over a decade, wrestling in rodeos on s*** covered floors in front of 12 people just because that's what we wanted to do. It was a cool moment." Wrestling the Undertaker: "Main eventing Wrestlemania, especially after last year's Wrestlemania, I used to kind of be obsessed about it. Not so much anymore. I had a lot of hilarious conversations with raised voices and everything with certain people in the company and I finally proved it to the one person that mattered that I should have went on last and that was me. So, I don't really give a s*** about anything else. Basically what I'm trying to say is that if it never happens it ain't because of me. I know that now. It's one of those things that I kind of got laid to rest." Roman Reigns discusses his heritage and The Shield: The Shield's Roman Reigns recently spoke with TribLive.com about the formation of the group and his famous wrestling heritage… "I come from very strong family. My heritage is strong within this business. I was gifted with a certain set of genetics. I'm athletic. I like to think I'm not a bad looking guy. One of the jokes we always talk about, as long as I can put a little oil on my arms, wet my hair and I'll be alright. "It was pretty much unexpected, I heard some rumors we would possibly do something at Hell in a Cell. That kind of folded. We waited a few weeks to get to Survivor Series. Once we got the green light, we just kicked the door down." "Being paired up with them has been an awesome experience. For me, I don't even feel like I'm scratching the surface yet. I'm just now starting to let my hair down." Reigns is of course the cousin of The Usos, the son of Sika of the Wild Samoans and the brother of former WWE star Rosey. Angle's rehab stint causes Hardcore Justice change: Due to Kurt Angle entering rehab, the Main Event Mafia vs Aces and Eights 5 vs 5 match at Hardcore Justice has been bumped back a week. Dixie Carter wrote on Twitter… "After meeting with @HulkHogan, due to circumstances beyond our control – @TheAcesAnd8s vs. Mafia 5 on 5 match is delayed until 8/22 Impact." Obviously Kurt still won't be in the match, but will likely be replaced by Chris Sabin or somebody like Jeff Hardy. SmackDown rating drops: Last week's episode of WWE Friday Night SmackDown drew a an average audience of 2.49 million viewers on Syfy. Though this is down from the previous week, that was the highest number of the year so far.
Original Story:
http://wrestlingtruth.com/wrestling-n...
THE BACKYARD
BEST OF MAXIM
RELATED ARTICLES
After Monday's WWE RAW went off the air, six-man a dark match main event took place Daniel Bryan, Mark Henry and the Big Show defeated The Shield after Daniel Bryan hit Dean Ambrose with his top-rope headbutt. It's worth noting that Big Show wrestled in the jeans and polo shirt that he wore on RAW. According to a fan who was at the show, during the match, a fan asked Big Show...
Daniel Bryan is less than a week away from challenging John Cena at WWE SummerSlam. The hype throughout the social media world would lead you to believe that this is the time for Bryan to go over. I say not so fast.
- Triple H spoke with Mike Dunsmore of NBC Sports Radio this week. In the audio below, he talks about Daniel Bryan, Hulk Hogan, the WWE Performance Center and more: - The WWE NXT Twitter account is hyping Mark Henry and "surprise guests" for the August 22nd NXT tapings from Full Sail University in Winter Park, Florida. - As noted, WWE taped the August 23rd episode of...
- Daniel Bryan recently spoke with the Pop2It blog to promote SummerSlam. Here are some highlights:Speaking of talent breaking through to the next level, WWE's developmental system is essentially training the next generation of Superstars. Some of the more notable talent that have been introduced from there is the three wrestlers known as The Shield, who have found a lot of success...
WWE published an interview with WWE Hall of Famer Shawn Michaels. Here are some highlights.On whether or not he saw Daniel Bryan having a future in WWE: "I always tried to be honest with him. I knew he was talented. And I knew he was going to face the same uphill battle that every guy his size does, myself included, and it was simply a matter of if he had the patience and the ability...
- Here's the updated card for WWE's SummerSlam pay-per-view after tonight's RAW:WWE Title Match Daniel Bryan vs. John Cena Special Referee: Triple HWorld Heavyweight Title Match Christian vs. Alberto Del RioWWE United States Title Match (Kickoff Pre-show) Rob Van Dam vs. Dean AmbroseRing of Fire Match Kane vs. Bray WyattCM Punk vs. Brock LesnarCody Rhodes vs. Damien SandowDolph...
- DirecTV recently interviewed Kaitlyn to promote the WWE SummerSlam pay-per-view:- Join us for live coverage of the WWE SummerSlam press conference from Los Angeles today at 2pm EST. Michael Cole will host the event. John Cena, Daniel Bryan, Triple H, CM Punk and others will be speaking.- The cast of WWE's Total Divas will be appearing on E!'s The Soup this Wednesday to promote...
- Below is WWE SummerSlam 2006 in 60 seconds: - WWE's latest 30 Second Fury video looks at Trouble In Paradise: - Mark Henry has been removed from advertisements for the dark main event for this Monday's RAW. Henry was originally scheduled to team with John Cena and Daniel Bryan to face The Shield but CM Punk has replaced him in the listings. WrassleMania.com – Wrestling...
While Kaitlyn and AJ Lee have been feuding over the WWE Divas Title, at this time the Bella Twins are viewed as the top Divas in WWE right now. Both are dating top WWE stars John Cena and Daniel Bryan so imagine that! In addition to their high-placed boyfriends, another part of the reason is the success of Total Divas, which has helped their stock rise.
- Embedded below is this week's Raw Backstage Fallout. The description for the episode reads, "Randy Orton is keeping his sights on the WWE Title. Also, The Miz reflects on John Cena vs. Daniel Bryan at SummerSlam and Rob Van Dam is primed for his U.S. Title Match against Dean Ambrose."- Sunday's episode of WWE Total Divas averaged 1,671,000 viewers. Thats up around 100,000...
Punk's favorite promotion revealed: During a Q&A session at the Wizard World Comic-Con in Chicago over the weekend, CM Punk was asked what his favorite promotion to work for is. Punk said ROH, specifically in 2004 when he was wrestling guys like Austin Aries, Daniel Bryan and Samoa Joe. On who he would like to work with in WWE, Punk said Dean Ambrose was highest on his list...
Live from Sacramento, California this is the Raw Deal for episode #1055. Follow me on Twitter @johnreport.Before we begin, check out my 20 Questions & Answers about SummerSlam column that I posted late Sunday night that covered a lot of the stories heading into next Sunday's big event.Raw started with Daniel Bryan making his entrance to a big ovation. Wade Barrett was in the...
WWE News

Delivered to your inbox

You'll also receive Yardbarker's daily Top 10, featuring the best sports stories from around the web. Customize your newsletter to get articles on your favorite sports and teams. And the best part? It's free!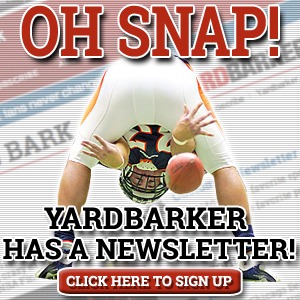 Latest Rumors
Best of Yardbarker

Today's Best Stuff

For Bloggers

Join the Yardbarker Network for more promotion, traffic, and money.

Company Info

Help

What is Yardbarker?

Yardbarker is the largest network of sports blogs and pro athlete blogs on the web. This site is the hub of the Yardbarker Network, where our editors and algorithms curate the best sports content from our network and beyond.