Live on "Miz TV," The Big Dog challenges The Miz for his title while his Shield brothers help him in dispatching The Miztourage. Get your first month of WWE Network for FREE: http://wwenetwork.com Subscribe to WWE on YouTube: http://bit.ly/1i64OdT Visit WWE.com: http://goo.gl/akf0J4 Must-See WWE videos on YouTube: https://goo.gl/QmhBof
Intercontinental Champion The Miz is fired up and ready to face United States Champion Baron Corbin tonight at Survivor Series. Get your first month of WWE Network for FREE: http://wwenetwork.com Subscribe to WWE on YouTube: http://bit.ly/1i64OdT Visit WWE.com: http://goo.gl/akf0J4 Must-See WWE videos on YouTube: https://goo.gl/QmhBof
Ahead of their clash tonight at Survivor Series, United States Champion Baron Corbin takes a personal shot at Intercontinental Champion The Miz. Get your first month of WWE Network for FREE: http://wwenetwork.com Subscribe to WWE on YouTube: http://bit.ly/1i64OdT Visit WWE.com: http://goo.gl/akf0J4 Must-See WWE videos on YouTube: https://goo.gl/QmhBof
The Miz provides his A-List commentary while watching back his tag team match with R-Truth against the iconic pairing of The Rock & John Cena at Survivor Series 2011 on WWE Network. Get your first month of WWE Network for FREE: http://wwenetwork.com Subscribe to WWE on YouTube: http://bit.ly/1i64OdT Visit WWE.com: http://goo.gl/akf0J4 Must-See WWE videos on YouTube: https://goo.gl/QmhBof
The Shield compete together for the first time in nearly three years, live on Raw. Get your first month of WWE Network for FREE: http://wwenetwork.com Subscribe to WWE on YouTube: http://bit.ly/1i64OdT Visit WWE.com: http://goo.gl/akf0J4 Must-See WWE videos on YouTube: https://goo.gl/QmhBof
The A-Lister and the new Raw Tag Team Champions roast The Hounds of Justice on "Miz TV." Get your first month of WWE Network for FREE: http://wwenetwork.com Subscribe to WWE on YouTube: http://bit.ly/1i64OdT Visit WWE.com: http://goo.gl/akf0J4 Must-See WWE videos on YouTube: https://goo.gl/QmhBof
The Monster Among Men gets his hands on The A-Lister, but soon finds himself facing hellfire and brimstone. Get your first month of WWE Network for FREE: http://wwenetwork.com Subscribe to WWE on YouTube: http://bit.ly/1i64OdT Visit WWE.com: http://goo.gl/akf0J4 Must-See WWE videos on YouTube: https://goo.gl/QmhBof
The rivalry between Intercontinental Champion The Miz and United States Champion Baron Corbin continues to heat up before Survivor Series with these extra personal tirades. Get your first month of WWE Network for FREE: http://wwenetwork.com Subscribe to WWE on YouTube: http://bit.ly/1i64OdT Visit WWE.com: http://goo.gl/akf0J4 Must-See WWE videos on YouTube: https://goo.gl/QmhBof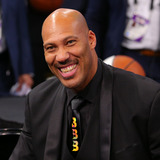 LaVar Ball finally found the proper place for his talk and hype — a WWE ring.Ball and his "Big Baller Brand" made an appearance on WWE's "Monday Night RAW" at Staples Center in Los Angeles Monday. Father LaVar appeared on the program with sons LaMelo and Lonzo.Both sons got in the ring with The Miz, and then LaVar did as well. The sons said a few things, but we all know that LaVar...
MORE STORIES >>
WWE News

Delivered to your inbox

You'll also receive Yardbarker's daily Top 10, featuring the best sports stories from around the web. Customize your newsletter to get articles on your favorite sports and teams. And the best part? It's free!