Here it is: the two-piece to end all two-pieces.Cameroonian-French middleweight Hassan N'Dam N'Jikam ended his most recent bout with a two-punch combo that will go down in boxing's all-time book of brief and frighteningly devastating sequences.Facing off against Venezuelan boxer Alphonso Blanco in Paris on Saturday, N'Jikam wasted no time in dispatching his opponent with a jab and...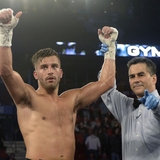 There was a lot of boxing on this weekend, see who came up short, who impressed, and why David Lemieux is name every fight fan should memorize. The post Boxing Bonanza Report Card: Lemieux Shines Above The Rest appeared first on The Sports Fan Journal.
BROOKLYN, N.Y. -- As he approached the dais at Thursday afternoon's press conference, it was apparent that French Cameroonian middleweight beltholder Hassan N'Dam N'Jikam was a bit starstruck. N'Jikam opened up by saying his English was not very good, but conducted himself rather eloquently, not needing his French translator for the duration of his statements. "Thank you...
MORE STORIES >>
Boxing News

Delivered to your inbox

You'll also receive Yardbarker's daily Top 10, featuring the best sports stories from around the web. Customize your newsletter to get articles on your favorite sports and teams. And the best part? It's free!