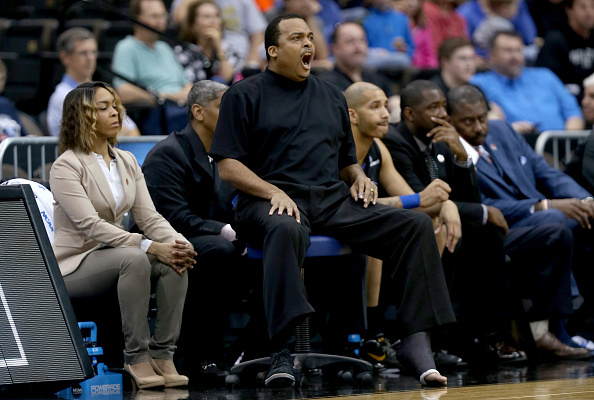 Head coach Ron Hunter of the Georgia State Panthers coaches from a chair during the 2015 NCAA Men's Basketball Tournament. Hunter injured his Achilles last week during the Sun Belt Conference tournament championship game.
Mike Ehrmann/Getty Images
By Matt Birch
The Georgia State Panthers busted a lot of brackets after upsetting the Baylor Bears in the Round of 64 in the 2015 NCAA Tournament, 57-56. R.J. Hunter drilled the game-winning three-pointer in the waning seconds of the game, and no one was happier than the team's head coach (who also happens to be R.J.'s father), Ron Hunter. Hunter was so happy that he fell out of his stool while celebrating the victory.
The jubilation carried over into the locker room after the game, when Hunter delivered a passionate speech to his team. He stressed how important it was for the Panthers to have confidence in their abilities.
Hunter even called out President Obama. He joked that he hopes the POTUS makes better decisions as a president than he did about Georgia State.
Georgia State and UAB may have foiled bracket contests for a lot of sports fans, but they sure are fun to watch on and off the court.
MORE FROM YARDBARKER
College Basketball News

Delivered to your inbox

You'll also receive Yardbarker's daily Top 10, featuring the best sports stories from around the web. Customize your newsletter to get articles on your favorite sports and teams. And the best part? It's free!