Tennessee Basketball: Hot Seat Madness It's been just over a year since a coach was fired at the University of Tennessee, and wouldn't you know it the fan base is out for blood again. After dropping their 11th game, while sitting squarely on the bubble on Saturday afternoon, third year head coach Cuonzo Martin didn't do himself any favors with the way their loss to the Aggies went...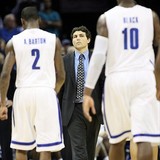 Antonio Barton had a superb first half to help kick-start the Vols to an easy victory in their conference opener at LSU (Photo credit: allfortennessee.com). The Tennessee Vols out-rebounded their opponent, yet again, en route to their tenth victory of the season on Tuesday night. Tennessee basketball improved to 10-4, and extended their win-streak to four games against LSU Tuesday...
Newcomer Antonio Barton (Photo Credit: wbir.com) On Tuesday night Tennessee basketball began their season on the road against Xavier. The outcome was a loss after a dismal shooting performance from all over the floor. While it is early in the season, no team in the country knows better than the Vols that wins in games like that matter. Tennessee has been left out of the past two...
SI.com Antonio Barton would be the perfect final addition to the Syracuse hoops team this fall. The former Memphis point guard has experience over three seasons with an NCAA-caliber program. He has solid length at 6'2″ atop the zone, and can help out both scoring (averaging more than eight points per game as a freshman) and dishing. Most importantly, he would provide a much-needed...
At some point Central Florida is probably going to win another game this season, but Memphis' Antonio Barton made sure it won't come at the expense of the Tigers.Memphis trailed UCF by two points in the final seconds of Wednesday night's game when Barton freed himself with a couple of baseline screens, caught a pass from his brother in the right corner and hoisted up the potential...
MORE STORIES >>
College Basketball News

Delivered to your inbox

You'll also receive Yardbarker's daily Top 10, featuring the best sports stories from around the web. Customize your newsletter to get articles on your favorite sports and teams. And the best part? It's free!
THE COLLEGE BASKETBALL HOT 10