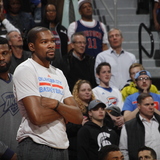 Kevin Durant has two teammates whose alma maters are in the Final Four. Their gloating deeply annoys him. Randy Foye of Villanova and Dion Waiters of Syracuse share a locker room with Durant, and apparently they won't shut up about the fact that their schools are in the Final Four. KD isn't a fan of having teammates college's in the #FinalFour. He also doesn't lose sleep about...
AUSTIN, Texas -- University of Texas regents approved a 15-year, $250 million licensing and apparel contract with Nike on Friday that includes a signature line of apparel featuring former Longhorns basketball player Kevin Durant.Texas has partnered with Nike since 2000 and the company had an exclusive negotiating arrangement with the school that was built into the previous contract...
Kevin Durant is one of the best basketball players to come out of Texas in the last decade. Since making his way to the NBA, he has been a perennial All-Star and MVP in 2014. He has has also gained a terrific fashion sense by constantly being seen wearing a backpack. According to College Spun, the Longhorns' football team has taken after Durant and given their players special edition...
It seems as though NBA Commissioner David Stern and NCAA President Myles Brand have made up their mind, to change the age limit for college players entering the NBA from one year to two. The current age restriction is 19, which essentially means that high school kids can go to college for one season and then declare themselves draft ready. While many fans have disagreed with...
MORE STORIES >>
College Basketball News

Delivered to your inbox

You'll also receive Yardbarker's daily Top 10, featuring the best sports stories from around the web. Customize your newsletter to get articles on your favorite sports and teams. And the best part? It's free!
THE COLLEGE BASKETBALL HOT 10