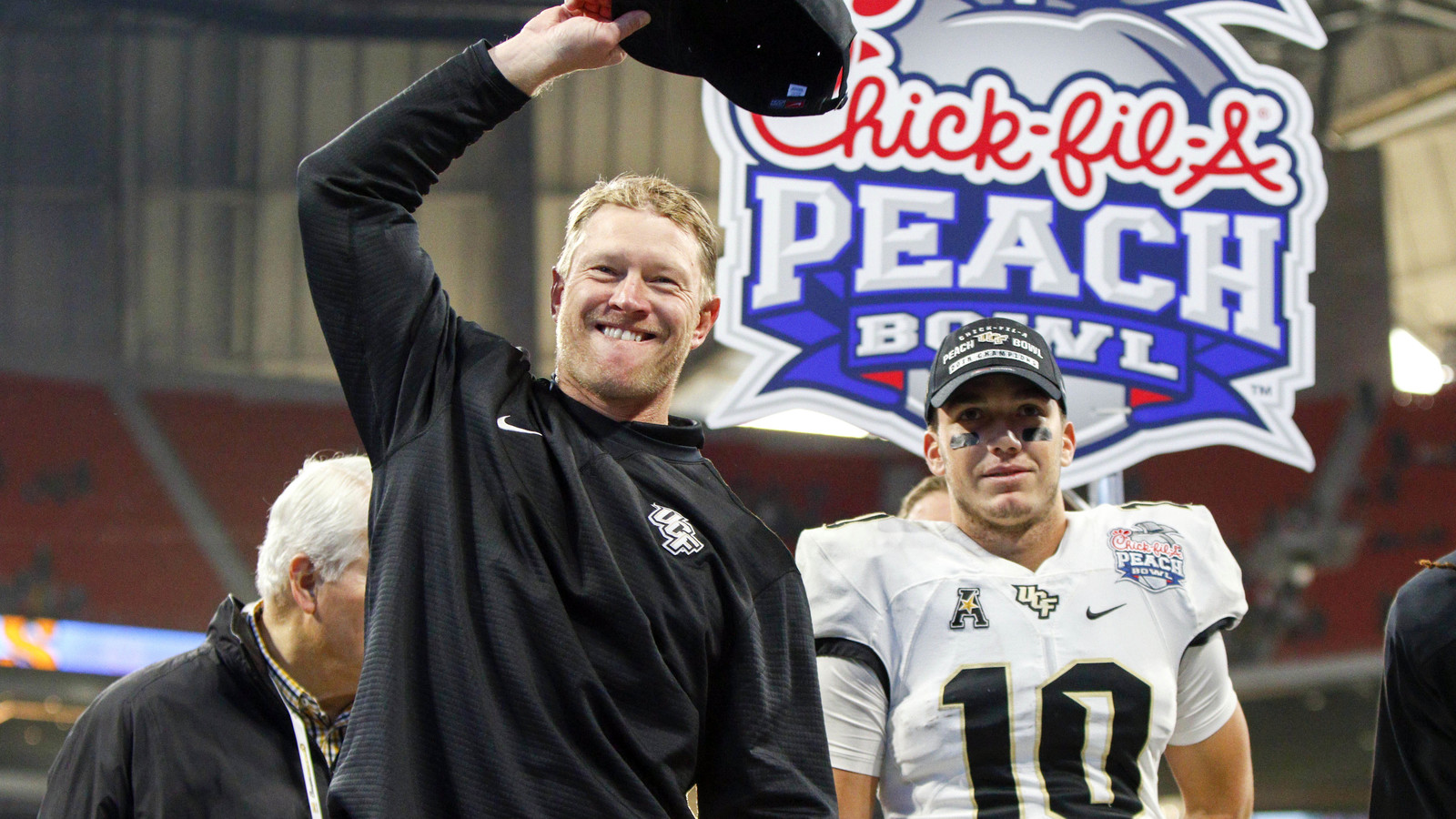 Brett Davis-USA TODAY Sports
With the exception of the National Championship Game, college bowl season is over. We learned a lot about teams and conferences as a whole, and it's safe to say there were some surprises involved during the bowls as well.
Here's a look at 10 things we have learned from 2017-18's college bowl season.
1. The Big Ten really was that loaded…
It's really quite amazing that, despite apparently not having one of the four best teams in the country, the Big Ten was easily the standout conference in bowl season. The conference's teams went 7-1, including New Year's Six wins for Ohio State, Penn State and Wisconsin over highly rated foes USC, Washington and Miami. Even in the only loss, Michigan was up 19-3 at one point. Overall, the Big Ten went 7-1, and it'll point to that as evidence that the conference was unfairly left out of the College Football Playoff field.
2. …but Alabama was right to be in the playoff and was never an underdog
On the other hand, it's hard to say Alabama has no place in the playoff, and it's even harder to say it after watching Bama systematically dismantle the No. 1 team in the country. The Crimson Tide defense was ruthless, holding Dabo Swinney's men without a touchdown in their CFP semifinal. Even when the offense made mistakes, such as the turnover to start the second half, the defense buckled down and minimized the damage. Preventing Clemson from scoring a game-tying touchdown off that turnover was a key point in the game. Make no mistake, Alabama was never the underdog here.
3. Lane Kiffin is doing fine work at Florida Atlantic
The Boca Raton Bowl was supposed to be lopsided. Florida Atlantic was heavily favored and won by even more than expected in a 50-3 drubbing. For all the mockery Lane Kiffin has been subjected to, it was a truly impressive showing, and he even saw fit to run up the score in his win. He deserves a lot of credit for what he's done at Florida Atlantic — an 11-3 record and a group of players who really seem to buy in to what he's selling. This may not be the last time we hear about this program.
4. The SEC isn't as good as it has been in the past, but the top is as good as it's ever been
The depth of the SEC was tested this bowl season, and it didn't exactly come away successful. Auburn losing to UCF was a particular disappointment, and the conference would have liked to see a better showing from LSU against Notre Dame as well. In the end, the conference went 4-5, with South Carolina and Mississippi State picking up wins. Say what you will about the remainder of the conference, but Georgia and Alabama proved in the College Football Playoff that the top of the league is as healthy as ever and ensured that the SEC will be the home of the national champions for the ninth time in 12 years.
5. It was a bad year for the Pac-12
There are years the Pac-12 is somewhat disrespected by virtue of its placement on the West Coast. This year was not one of them. Utah was the lone Pac-12 team to win its bowl game, with the conference's leading lights — USC, Washington and Washington State — all losing to Big Ten teams. Stanford's late collapse against TCU will also sting. The Pac-12 had some talented teams, and the conference will be able to boast two of the top quarterbacks in the NFL Draft, assuming Sam Darnold and Josh Rosen both go pro. They just couldn't reach the heights of some of their rivals.
6. Potential draftees sitting out bowl games is the new normal
To be clear, there were plenty of players who easily could've sat out their bowl games but elected not to — Louisville's Lamar Jackson, Penn State's Saquon Barkley, LSU's Derrius Guice and Stanford's Bryce Love come to mind. The practice that really caught on last year, though, in which likely top picks sat out their bowl games to prevent injury ahead of the NFL Draft, has carried over to 2017. On the whole, it caused less controversy in 2017, as the likes of Florida State's Derwin James and Oregon's Royce Freeman decided not to take any risks. That doesn't include guys like UCLA's Josh Rosen who were iffy with injuries and ended up taking the safe route. This will keep happening — and it seems to be becoming less taboo the more it does.
7. It was a good year to be a former Nick Saban assistant
Six head coaches who once served as Nick Saban assistants coached bowl games this season, and it was a pretty successful group. Four of them — Georgia's Kirby Smart, Michigan State's Mark Dantonio, South Carolina's Will Muschamp and Florida Atlantic's Lane Kiffin — won their games. That doesn't include Saban himself or Jimbo Fisher, who built but did not coach the Florida State team that won the Independence Bowl. Only Major Applewhite at Houston and Mario Cristobal at Oregon fell short. In what is a real victory for the Saban coaching tree, the teacher will face understudy Smart in the title game, too.
8. The military schools meant business
Both Army and Navy made bowl games in 2017, and both of them won in rather impressive fashion. Army won it late, beating San Diego State in the Armed Forces Bowl thanks to a late touchdown and a gutsy two-point conversion with the aim of avoiding overtime. Army won having thrown only one pass all day as well. Navy left no doubt as to who was superior in its Military Bowl matchup with Virginia, trouncing UVA 49-7. Both Army and Navy can look back with pride after their bowl performances — both were successful and memorable in their own ways.
9. UCF was for real
The knock on UCF all year — the same one that is an issue for all Group of Five teams — was its lack of power conference opposition. Sure, the Knights were unbeaten, but who had they played? They came through every challenge and then outcoached and outplayed an Auburn team that had beaten both Georgia and Alabama, the two teams that will contest the National Championship Game. It's too late for them to stake their claim for a playoff berth, but they can point to an unbeaten season as all the evidence they need to show they were one of 2017's elite teams.
10. The playoff is still too small
Something isn't right if a team can go 13-0 — the only unbeaten team in the country — and not even be given a chance to play for a chance at the title. That's what happened to UCF in 2017, and it's not the only gripe with a four-team playoff. A Big Ten conference that boasted at least three elite teams went 7-1 in bowl season and was excluded from the playoff. It's hard to argue that it was a bad decision; the reality of the situation just demanded it. Moving to eight teams wouldn't be easy, and nobody really wants another week added to the season, meaning a lot of thought would have to go into it. In 2017, though, there were more championship-caliber teams than there were playoff spots. It's better than the BCS, but there's more work to do — though the powers that be don't seem to agree right now.
College Football News

Delivered to your inbox

You'll also receive Yardbarker's daily Top 10, featuring the best sports stories from around the web. Customize your newsletter to get articles on your favorite sports and teams. And the best part? It's free!
MORE FROM YARDBARKER:
QUIZ: Name every NCAA football national champion since 1950
Since 1950, there have been 83 consensus college football national champions. How many can you name? Only college/university names are accepted as answers, not team names (i.e. 'Lions').
MORE FROM YARDBARKER
College Football News

Delivered to your inbox

You'll also receive Yardbarker's daily Top 10, featuring the best sports stories from around the web. Customize your newsletter to get articles on your favorite sports and teams. And the best part? It's free!