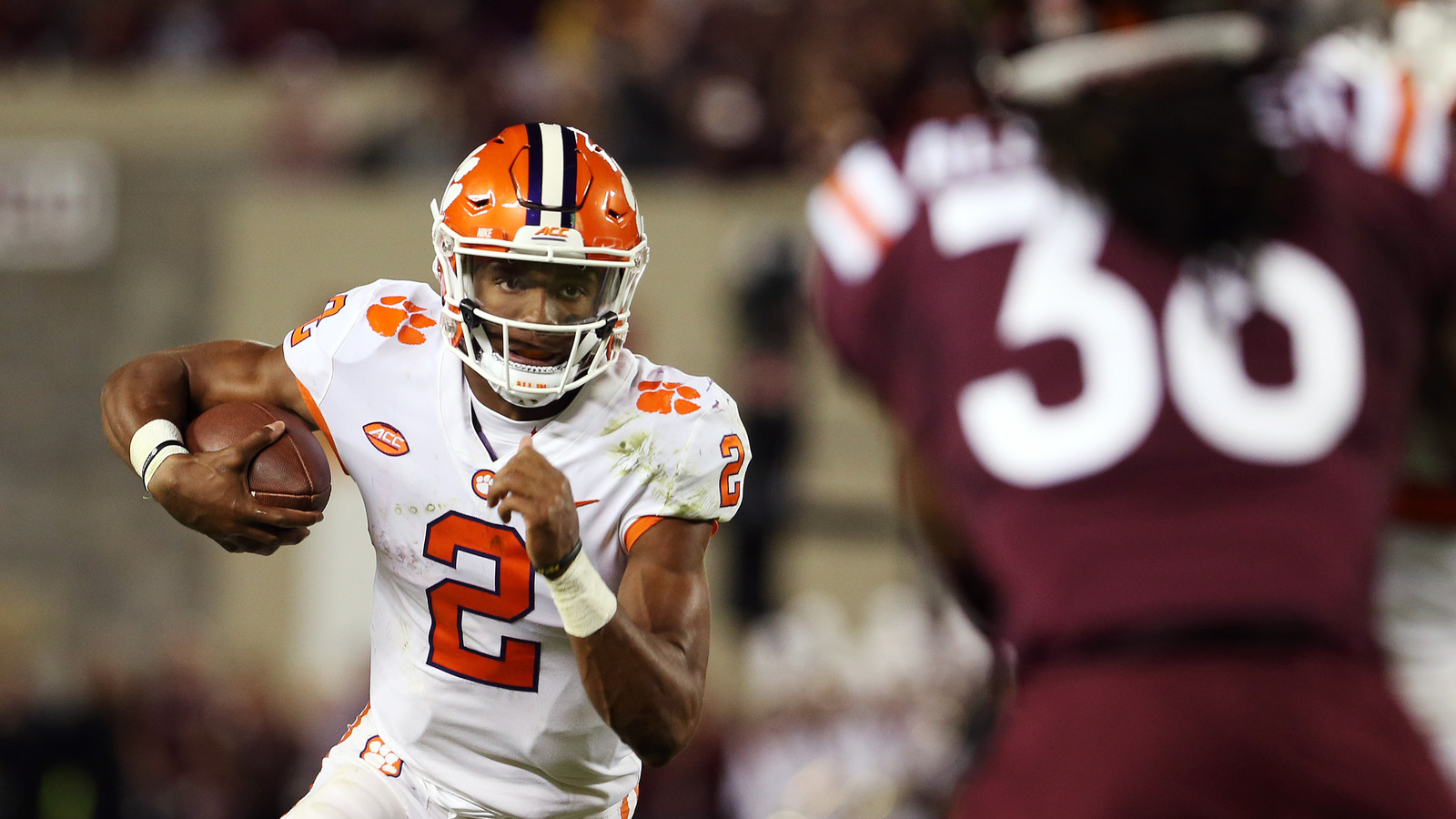 Kelly Bryant and the defending champion Clemson Tigers will have a heck of a test coming up soon.
Peter Casey-USA TODAY Sports
Every college football team circles a few dates on their calendar. They're the big games, be it a longstanding rivalry or a matchup with a foe that could make or break your conference title or playoff hopes.
As the conference season ramps up, we're taking a look at the toughest remaining game on the schedule for each Top 25 team. Note that there are less than 25 games here, as some top 25 teams will be facing each other in one is mutually the toughest game of each of their seasons. The AP Top 25 was used to determine the teams.
(Note: an asterisk indicates the game is the toughest remaining for each team involved)
*No. 1 Alabama at No. 12 Auburn, Nov. 25
The Iron Bowl is the biggest game left on the schedule for both of these teams, and not just because of the significance of the rivalry. For the Crimson Tide, Auburn is the only ranked team remaining on the schedule. Barring a major upset, Alabama will be playing for an unbeaten record heading into the SEC championship game.
As for the Tigers? They host Georgia before this, but between the rivalry and the fact that Alabama is the best team the Tigers will face all year, this is a big one. The SEC championship could even be on the line for them as well — and since it's a home game, Jordan-Hare Stadium will be rocking.
*No. 2 Clemson at No. 24 NC State, Nov. 4
Clemson has already navigated the toughest part of their schedule. A trip to NC State is the only game they have left against a ranked opponent until the ACC title game, should they get there. It should be an exciting occasion for the Wolfpack, who still have to travel to Notre Dame and host Louisville. Neither of these teams are going to pose as much of a challenge as Clemson will.
The Tigers look like the favorite to return to the national championship at the moment.
*No. 3 Oklahoma at No. 15 Oklahoma State, Nov. 4
Bedlam looks like it will be Oklahoma State's last chance to get themselves in the playoff conversation. Provided the Cowboys get past West Virginia the week before, they'll be favored in every other game, in all likelihood.
For the Sooners, this is a tough away game — there's a rivalry against a talented offense led by quarterback Mason Rudolph and wide receiver James Washington. Yes, the Sooners still have to host Texas Tech the week before and TCU after, but at least they'll be at home for those ones. They also will close their regular season slate with a tough game against West Virginia.
No. 4 Penn State — at No. 10 Ohio State, Oct. 28
The Nittany Lions have yet to deal with Michigan, but they get to do that at Happy Valley, where they will at least have the home crowd behind them. No such luck when it comes to Ohio State, who will be waiting at the Horseshoe to get revenge on a Penn State team that scored 17 unanswered fourth quarter points to beat the Buckeyes a year ago. Ohio State's playoff hopes will hinge on winning this game. The Buckeyes can't afford a second loss after being downed by Oklahoma, which means they will be playing with more focus and desperation. The timing of this game is especially tough for Penn State considering they have to face the Wolverines the game before.
No. 5 Georgia — at No. 12 Auburn, Nov. 11
This is Georgia's most likely loss ahead of a potential SEC championship game. Jordan-Hare will be a difficult place for the Bulldogs to travel, especially with the Tigers possibly still nursing an unbeaten conference record by this point. The Bulldogs have impressed this season. They handled a trip to South Bend admirably and left with a win over Notre Dame. This, however, should prove a tougher test for a team that could still be harboring playoff aspirations of their own. The Bulldogs also may find their final regular season game at Georgia Tech to be a challenge as well.
*No. 11 Washington State at No. 6 Washington, Nov. 25
Another one that applies for both teams, as the Apple Cup will have some extra meaning this season. Washington State looks like the real deal, having knocked off USC at home last week. Much like their Husky rivals, the Cougars have yet to lose this season. Both teams have to play Utah, while the Cougars have to take trips to Oregon and California. But there is a legitimate chance that both teams enter this game unbeaten — which would make it something akin to a playoff game itself.
No. 7 Michigan — at No. 4 Penn State, Oct. 21
This game was already going to be hard enough for the Wolverines, but there is a real chance now that quarterback Wilton Speight will be absent, meaning backup John O'Korn may have to find a way to win this game. Penn State looks like the real deal — a legitimate playoff contender led by a Heisman candidate in Saquon Barkley. Michigan's defense is elite, but they'll be put to the test here in what promises to be a very hostile environment. And if they're able to pass the road test at Penn State, they conclude the regular season against Wisconsin and Ohio State in consecutive weeks. Simply put: Michigan has its work cut out for them.
No. 8 TCU — at No. 3 Oklahoma, Nov. 11
The Horned Frogs went to Stillwater and knocked off Oklahoma State, but the Sooners promise to be a different animal. This is a team that blasted Ohio State on the road, and quarterback Baker Mayfield is going to provide Gary Patterson's defense with a very stern test. TCU can legitimately be thinking playoff at this point, but the presence of Oklahoma is a huge roadblock. If they want to get to the promised land, they're probably going to have to win this game. They could very well be unbeaten entering this contest.
No. 9 Wisconsin — vs. No. 7 Michigan, Nov. 18
The joy of being in the Big Ten West is that you avoid having to face the entire tough trio of Michigan, Ohio State and Penn State. This year, the Badgers will have to deal with Michigan, though it will be at home. The Wolverines are supremely talented, if a bit young, and are certainly capable of walking into Madison and winning this game. Either way, there is a chance that it could simply be a preview of a Big Ten title tilt in December.
No. 10 Ohio State — at No. 7 Michigan, Nov. 25
Ohio State may have something of an advantage against Penn State thanks to the home field and the motivation to right a wrong from last season. They'll be facing that exact situation here on the other side of the coin. Michigan will be at the Big House, in their biggest rivalry game of the season, and they'll have the memory of last year's game fresh in minds. Recall that a controversial finish in last year's game may have cost Michigan a playoff berth. It's going to take something special for the Buckeyes to come away with a win here.
*No. 16 Virginia Tech at No. 13 Miami, Nov. 4
The toughest yet for both teams. Virginia Tech lost to Clemson, but they have not lost to anyone else, and look like a formidable foe for anyone but the very best teams. Miami, meanwhile, could be unbeaten at this point, especially if they get past Florida State on Saturday. The Hurricanes have wanted to make their mark on the ACC for years now, and this looks like their best chance to do so. They will come in motivated to make an impression here.
No. 14 USC — at No. 21 Notre Dame, Oct. 21
Another very difficult rivalry game, this time for the Trojans. They've already lost to Washington State away from the Coliseum, and South Bend is unlikely to be any more forgiving. Notre Dame may not have the same talent level as the Cougars did — they don't quite have a Luke Falk in their ranks — but they almost took down a superior Georgia team earlier in the season. USC has looked shaky at times and will have a tough three-game stretch against Utah, Notre Dame and at Arizona State. The Fighting Irish will punish them if they don't bring their best.
No. 17 Louisville — at Florida State, Oct. 21
Louisville's already gone through a tough part of their schedule. Purdue turned out to be a tougher non-conference game than expected, and of course their loss to Clemson stands out. They also had to visit NC State on Thursday night. By the time they take on Florida State, the Seminoles may be more comfortable under freshman QB James Blackman and could be playing closer to the type of team many expected them to be. The Seminoles won't be as big of a challenge without Deondre Francois, but don't brush them aside.
*No. 18 South Florida at No. 25 Central Florida, Nov. 24
The battle of directional Florida schools looks likely to have serious Group of Five repercussions. This is another game where both teams could very well end up unbeaten entering the game. It's the last game of the regular season for each squad, and the stakes look likely to be high. A New Year's Six bowl could be on the line.
South Florida looks like they may be the favorite — Quinton Flowers is a dynamic player — but there will be a lot of pressure on both teams. By the time this game rolls around, UCF QB McKenzie Milton may prove to be just as potent as Flowers.
No. 19 San Diego State — at UNLV, Oct. 7
The Aztecs might have the best chance of going unbeaten of any school in the country, sitting at 5-0 with their hardest game against Stanford already in the rearview mirror. With that in mind, they don't have a tough route the rest of the way; the Mountain West is weak, and four of SDSU's last seven games are at home. UNLV will be a road trip, and while not an exceptionally difficult opponent, it likely poses the toughest test for San Diego State the rest of the way. The Rebels have scored 40 or more points three times this season.
No. 20 Utah — at No. 6 Washington, Nov. 18
Utah has a bumpy ride the rest of the way. They also have to travel to USC and Oregon, and they host high-flying Washington State. Even with all those tough games ahead, the road trip to Seattle is still the toughest game remaining on their schedule. The Huskies were a playoff team last year and may well be again. Washington hasn't lost a game at Husky Stadium since USC beat them there last November. If Utah runs the gauntlet and manages to stay unbeaten to this point, it will be an even bigger contest.
No. 21 Florida — vs. No. 5 Georgia, Oct. 28
Hosting Georgia will be the highlight of Florida's remaining schedule. The Gators haven't put in many impressive performances this season, so facing a top-five team will be tough. Florida's schedule is favorable otherwise. Their most difficult opponents — LSU, Texas A&M, and FSU — are all at home. They get weaker SEC opponents in Missouri and South Carolina on the road. Aside from the rivalry game against the Bulldogs in Jacksonville, Florida has a fairly good schedule the rest of the way.
No. 21 Notre Dame — at No. 13 Miami, Nov. 11
Notre Dame could have a fair amount of success this season, especially if they can take down USC and NC State at home at the end of October. If that happens, we could be looking at a one-loss Notre Dame team traveling to Miami to face a resurgent Hurricanes squad gunning for an ACC title. The road game would be a tough one for a fairly young Fighting Irish team, but they've played good teams tough all year — Georgia only barely beat them. It would be quite the encounter.
No. 23 West Virginia — at No. 3 Oklahoma, Nov. 25
The Mountaineers have a difficult set of games, as they have to make a trip to another top ten team in TCU, as well as host the high-powered Oklahoma State offense. Oklahoma will prove the toughest of them all, though, especially on the road. West Virginia may not be prepared to deal with quarterback Baker Mayfield and a really good Sooner team. West Virginia has TCU, Texas Tech, Oklahoma State and Texas before getting to the Sooners, so they could very easily drop another game or two before this one. But it won't get much tougher for them than closing the regular season at Norman.
QUIZ: Name every NCAA football national champion since 1950
Since 1950, there have been 83 consensus college football national champions. How many can you name? Only college/university names are accepted as answers, not team names (i.e. 'Lions').
College Football News

Delivered to your inbox

You'll also receive Yardbarker's daily Top 10, featuring the best sports stories from around the web. Customize your newsletter to get articles on your favorite sports and teams. And the best part? It's free!
MORE FROM YARDBARKER
College Football News

Delivered to your inbox

You'll also receive Yardbarker's daily Top 10, featuring the best sports stories from around the web. Customize your newsletter to get articles on your favorite sports and teams. And the best part? It's free!