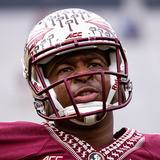 By Jessica Kleinschmidt The 2015 NFL Draft has Florida State quarterback Jameis Winston's face plastered all over it. This we know for certain, so naturally every other story about the NFL Draft will contain Winston's name. Winston's off-the-field antics have been talked about more than what he can do in the pocket—most famously (at least in a joking manner) the crab leg incident...
By Vincent Frank The entire idea that the NFL does not want the likely top pick in the upcoming draft not to attend the draft itself is ridiculous. Despite this, rumors had persisted that this is one of the primary reasons Jameis Winston is considering passing up on the annual event in Chicago next month. Attempting to put an end to these mindless rumors, the former Florida State...
Let another round of "Jameis Winston is fat" talk commence, as images surfacing from his pro day at Florida State on Tuesday gives the impression that the quarterback still looks a bit "flabby," per the observation of Pro Football Talk's Michael David Smith. This latest display of the perceptible absence of a chiseled physique mark...Read More The post Jameis Winston reportedly...
By Eddie Maisonet When I watched Florida State and Oregon do battle in the 2015 Rose Bowl, I was still unsure who was a better quarterback between Jameis Winston and Marcus Mariota. In my mind, I felt Jameis was the better QB, but watching Heisman Mariota's stat-stuffing campaign this year was tough to overlook. Was Mariota really that good? Was Winston's knucklehead tendencies...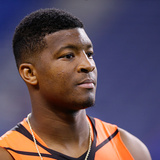 By Steve DelVecchio Jameis Winston has made his fair share of boneheaded decisions off the football field, but that apparently takes nothing away from his knowledge of the game. According to Mike Freeman of Bleacher Report, at least one unnamed team official was blown away by Winston's football IQ at the NFL Scouting Combine on Saturday. "I think he's probably the smartest player...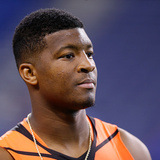 By Steve DelVecchio The woman who accused Jameis Winston of rape more than two years ago revealed her identity in a new documentary called "The Hunting Ground," which dives into the issue of sexual assault on college campuses. In addition to maintaining that she was raped, Erica Kinsman also suspects she was drugged. According to Marissa Payne of The Washington Post, Kinsman said...
By Matt Birch Porn star Mia Khalifa is a diehard Florida State Seminoles fan, so she clearly knows former FSU QB Jameis Winston as well as anyone. And when Winston ran the 40-yard dash at the NFL Scouting Combine on Saturday, Khalifa must have thought he could have turned in a better time than the one he was clocked at. Many thought Winston would be a bit closer to the 4.6 seconds...
By Steve DelVecchio Marcus Mariota ran one of the most impressive 40-yard dashes you will ever see from a quarterback at the NFL Scouting Combine on Saturday, posting an unofficial time of 4.52. Jameis Winston? Not so much. Winston, who is not really known for his speed, ran a 4.97. To give you some perspective, Peyton Manning ran a 4.80 when he was in college. Tom Brady was...
MORE STORIES >>
College Football News

Delivered to your inbox

You'll also receive Yardbarker's daily Top 10, featuring the best sports stories from around the web. Customize your newsletter to get articles on your favorite sports and teams. And the best part? It's free!
THE COLLEGE FOOTBALL HOT 10