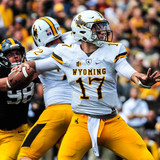 College football's second week was about measuring stick games. We realized Oklahoma is a real playoff contender. We realized Georgia should be the SEC East's favorite, by a good margin. We realized Stanford isn't as close to USC as we might have thought. We realized Michigan isn't as close to playoff contention as we might have thought.For most teams, however, we still don't really...
John Lovett and head coach Bob Surace speak at the annual Bushnell Cup presentation, where Lovett became the 10th Princeton football player to earn Ivy League Player of the Year honors.
John Lovett rewrote the Princeton football record book while leading the Tigers to their 11th Ivy League championship, and he was rewarded Monday by being named the 2016 Bushnell Cup winner as the Ivy League Offensive Player of the Year.
PRINCETON, N.J. (AP) John Lovett rushed for two touchdowns, threw for one, and Princeton used 31 straight second-half points to clinch a share of the Ivy League title with a 38-21 win over Dartmouth on Saturday. Princeton (8-2, 6-1) trailed 14-7 earlier in the second quarter after Jack Heneghan's 8-yard TD pass to Cameron Skaff gave Dartmouth the lead for the second time. Tavish...
NEW HAVEN, Conn. (AP) John Lovett scored three rushing touchdowns, the defense had 10 tackles for losses - including five sacks - and Princeton beat Yale 31-3 on Saturday to move into a three-way tie atop the Ivy League. Rohan Hylton had eight tackles, including 2 1/2 for losses and a sack, for Princeton (7-2, 5-1), which limited Yale to 36 yards rushing and has given up 10 combined...
Senior tri-captain Joe Rhattigan rushed for a career-high 137 yards and three touchdowns, while junior quarterback John Lovett added a pair of rushing touchdowns of his own, to lead the Princeton football team to a 35-31 home victory over Lafayette Saturday night in front of 13,420 fans at Princeton Stadium on Community & Staff Night. Most stayed for the postgame fireworks show...
Chad Kanoff and John Lovett could both stand alone at the quarterback position for Princeton Football in 2016, and head coach Bob Surace would feel good about his team's chances. But Surace, Kanoff and Lovett all know that the duo has a chance to make this season something truly special because they bring in such a varied set of skills.
PRINCETON, N.J. (AP) John Lovett had four rushing touchdowns and Princeton beat Colgate 44-20 on Saturday. Lovett gained 49 yard on 14 carries. Chad Kanoff was 25 of 41 for 277 yards and Isaiah Barnes had eight catches for 92 yards. Princeton (4-0) led 16-14 at intermission, and then dominated the second half with four long touchdown drives. Lovett scored on a 1-yard plunge in the...
PRINCETON, N.J. (AP) John Lovett threw a first-quarter touchdown pass to Trevor Osborne, the Princeton defense intercepted three passes and recovered a fumble, and the Tigers beat Columbia 10-5 on a rainy Friday night for the Lions' 24th straight loss. Princeton is 3-0 for the first time since 2006. Lovett was just 4-of-6 passing for 31 yards for Princeton (3-0, 1-0 Ivy League)...
Cal Golden Bears head coach Sonny Dykes needed to fill out his coaching staff before the start of the season, and he went into defensive mode in doing so. According to John Taylor of NBC Sports' College Football Talk, Dykes has hired longtime defensive coach John Lovett as the team's cornerbacks coach. Lovett, 64, was recently the defensive backs coach for the NFL's Philadelphia...
MORE STORIES >>
College Football News

Delivered to your inbox

You'll also receive Yardbarker's daily Top 10, featuring the best sports stories from around the web. Customize your newsletter to get articles on your favorite sports and teams. And the best part? It's free!
THE COLLEGE FOOTBALL HOT 10