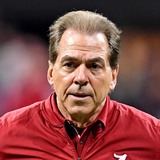 Nick Saban is 66 years old this year, and some people seem to think it won't be much longer until the legendary college football coach calls it quits. After all, he's got nothing left to prove, having won six national titles, and five since joining Alabama 11 seasons ago.But before thinking he's going to ride off into the sunset any time soon, those folks might want to hear what...
The rest of college football may be talking up the idea of Nick Saban retiring soon, but Steve Spurrier isn't buying it. In true "Head Ball Coach" style, Spurrier addresses the speculation of Saban being on the back nine of his career during a recent interview with ESPN's Chris Low. "Nick ain't thinking about retiring, not even close," Spurrier told Low. "He can go into his 70s easy...
Nick Saban is 66 years old and a good bit older than some of his top competitors, such as Dabo Swinney(48), Kirby Smart(42) and Lincoln Riley(34). But that doesn't mean that the legendary Alabama coach is any closer to retiring. Saban, who is coming off his fifth national championship in nine seasons at Alabama,  emphatically put down any idea of him stepping away anytime soon. ...
Spurrier is among those thinking Saban can coach well into his 70s
It's official: Alabama is the place to be for viral videos in the SEC. On Saturday, the Crimson Tide's mascot, Big Al, tickled Twitter by doing something — we're still not quite sure what — during Alabama's blowout loss to Villanova in an NCAA Tournament game in Pittsburgh. That followed Nick Saban's cool Cupid Shuffle display from January, which earned rave reviews from people who...
How much longer will Nick Saban keep coaching? He can't say for sure, but he's showing no signs of slowing down as the Crimson Tide get ready for another title defense.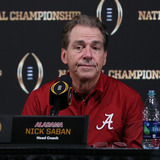 It's safe to say Nick Saban is a much better football coach than a pitcher. The Alabama Crimson Tide head football coach was on hand Wednesday night to throw out the opening pitch ahead of 'Bama's baseball game against (No. 15) Southern Miss.Here's a video of Saban, who has pretty decent form but not quite enough arm to get the ball all the way to the plate. Saban must have been...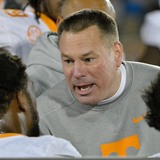 It sounds like the Butch Jones/Alabama report may turn out to be more than just rumor.AL.com reported last week that Jones had met with Nick Saban to discuss a position with the Crimson Tide as an offensive analyst. The job is an off-field position.The interview and talks must have gone well, because The Spun is now reporting that Jones is expected to be hired by Alabama, with the...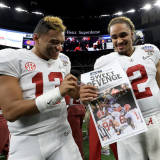 Nick Saban may have an ideal "problem" on his hands entering the college football season.Saban has two excellent quarterbacks on the roster. First, there's Jalen Hurts, under whom the team has lost just two games in two seasons. He threw for 17 touchdowns and just one interception while rushing for eight scores last season. Then there's Tua Tagovailoa, a dangerous dual-threat quarterback...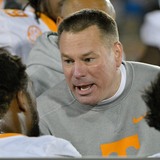 Butch Jones may be joining Nick Saban's staff in role that would have him working away from the football field.Jones had been on the hot seat for some time at Tennessee prior to being fired last November. Now, he could wind up at SEC power and perennial national championship contender Alabama.According to AL.com, Jones has spoken with Saban regarding an offensive analyst position...
MORE STORIES >>
College Football News

Delivered to your inbox

You'll also receive Yardbarker's daily Top 10, featuring the best sports stories from around the web. Customize your newsletter to get articles on your favorite sports and teams. And the best part? It's free!
THE COLLEGE FOOTBALL HOT 10