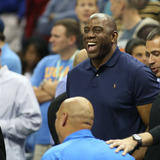 Magic Johnson thinks LaVar Ball is a lot like Kris Jenner, and he means that in a good way.In an appearance on ESPN Radio in L.A.'s "Afternoons with Marcellus and Kelvin" show Thursday, Johnson said he has no issue with the outlandish remarks Ball has made about his son Lonzo. The best comparison Magic could think of for LaVar is Kris Jenner."The Kardashians, we didn't say that the...
Back in 2009, running back Reggie Bush played for the New Orleans Saints, dated Kim Kardashian and was not exactly impressed by the city of Buffalo, New York. Man Buffalo is deserted! Lol! Looks like ghost town here! Where are all the people? — Reggie Bush (@ReggieBush) September 26, 2009 Fast forward seven years and Bush is about to become a new resident of the town he described...
Every year, at least one athlete or celebrity mocks his or herself in a Super Bowl commercial. Kim Kardashian will be doing the honors for Super Bowl XLIX. Kim K. has teamed up with T-Mobile for an ad spot that promotes the wireless provider's new "Data Stash" program. As you can see, Kardashian encourages people...Read More
Mike Golic lost a bet with his longtime colleague Mike Greenberg last weekend when Northwestern beat Notre Dame. Golic went to Notre Dame and Greenberg graduated from Northwestern. As a result of losing the bet, Golic had to recreate the infamous Kim Kardashian naked butt photo. We don't blame you if you want to stop...Read More
Notre Dame's shocking 43-40 home overtime loss to Notre Dame on Saturday will have far-reaching repercussions, including some serious consequences for Mike Golic. Golic, who played football at Notre Dame, made a bet with his on-air co-host Mike Greenberg, who is a Northwestern alum. If Notre Dame lost to the Wildcats, Golic would have to...Read More
MORE STORIES >>
Entertainment News

Delivered to your inbox

You'll also receive Yardbarker's daily Top 10, featuring the best sports stories from around the web. Customize your newsletter to get articles on your favorite sports and teams. And the best part? It's free!