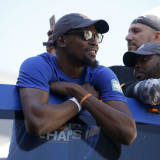 Golden State Warriors superstar Kevin Durant way back in 2011 tweeted out an interesting comment that proved beyond a doubt he harbored a major crush on actress Scarlett Johansson. Although perhaps "interesting" isn't the best way to characterize Durant's social media musing, as the then-Oklahoma City Thunder superstar argued he'd… drink Johansson's bath water. Alrighty then.Now...
Ultron (voiced by James Spader) is ready to wreak terror on The Avengers The first teaser trailer for Avengers: Age of Ultron was scheduled to premiere during an episode of ABC's Agents of S.H.I.E.L.D. this coming Tuesday. Instead, someone would upload a poor quality version of the trailer and it would spread like wildfire all over the interwebs. This would force Marvel to counter...
MORE STORIES >>
Entertainment News

Delivered to your inbox

You'll also receive Yardbarker's daily Top 10, featuring the best sports stories from around the web. Customize your newsletter to get articles on your favorite sports and teams. And the best part? It's free!