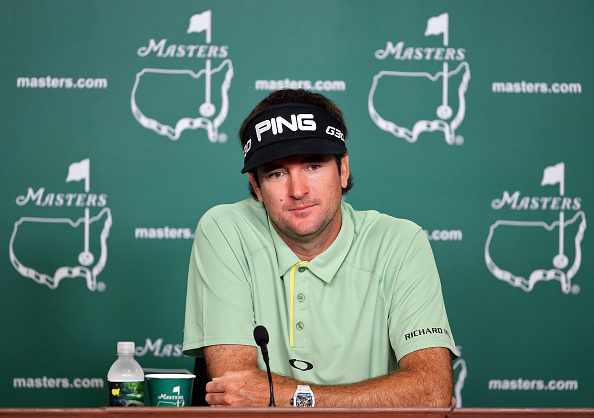 Bubba Watson talks to the press prior to the start of the 2015 Masters Tournament at Augusta National Golf Club.
David Cannon/Getty Images
By Jason Rowan
Bubba Watson publicly is taking in stride the results of an unflattering poll that indicated he might not be the most-liked player on the PGA Tour.
Results of a player poll conducted by ESPN were released on Monday, and it wasn't complimentary to Watson.
The odd scenario posed in the question notwithstanding — "_______ is in a fight in the parking lot. You're not helping him" — Watson outpaced his colleagues by a wide margin, garnering 23 percent of the vote (22 1/2 votes out of 103 players polled), with Patrick Reed coming in second at 11 percent.
Despite the unfavorable outcome of the poll, Watson is looking at it as a motivating factor through which he can improve as a human being.
"Here is the way I take it: I take it as I need to improve as a man," Watson said during a presser at Augusta National ahead of the Masters, via ESPN's Bob Harig. "I take it with pride. I need to get better. And I think over my career, since my rookie season to now, I've gotten better.
"But obviously there's more room for me to improve as a man. And so hopefully next year or the year after, it improves. It's a challenge. It's great. I'm glad that it came out and it's going to help me improve.
"So if it's a bad thing and people don't like me, then I've got to improve and prove them wrong."
Watson admitted that he participated in his survey and named himself, explaining the reason for doing so because "there's nobody I dislike on tour."
Watson's Southern-fried, free-wheeling personality causes him to be viewed by fans as an affable, fun-loving kind of guy with a quirky sense of humor, but that apparently doesn't translate to his fellow golfers on Tour. He has experienced some bouts with boorish conduct that portray him in a negative light, something that apparently has caused his colleagues to perceive him unfavorably, but Watson topping the list was nevertheless surprising.
Watson acknowledged the personal shortcomings revealed by those mistakes when asked if he is irritated about the story regrading the poll breaking during Masters Week.
"I've had some mess-ups on tour, and I think I've improved in those areas and I'm trying to get better," he said.
MORE FROM YARDBARKER
Golf News

Delivered to your inbox

You'll also receive Yardbarker's daily Top 10, featuring the best sports stories from around the web. Customize your newsletter to get articles on your favorite sports and teams. And the best part? It's free!