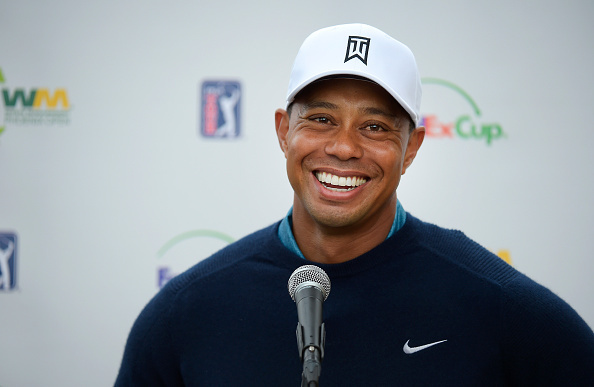 Tiger Woods is all smiles before the Waste Management Phoenix Open after losing a tooth earlier this month.
Stan Badz/PGA TOUR via Getty Images
By Steve DelVecchio
Tiger Woods supposedly had one of his front teeth knocked out while he was watching Lindsey Vonn win a race in Italy earlier this month. Tiger was photographed wearing a mask that was covering his mouth, and most of us assumed it was to hide the fact that he needed dental work. Woods insists that was not the case.
While he did say a clumsy cameraman knocked the tooth out, Tiger said he was wearing the mask so he could go unnoticed. He was afraid of his cover being blown since there aren't that many "brown dudes" at ski races.
"Lindsey had finished," Woods told reporters on Tuesday, via Christine Brennan of USA Today Sports. "I had walked up to the top. I still had my mask on so no one knew who I was, trying to blend in, because there's not a lot of brown dudes at ski races, okay? So that was the whole idea of why I wore the mask."
You can file that one under "Top 10 best Tiger Woods quotes of all time."
Woods went on to explain in detail how the tooth was knocked out, though some are accusing him of lying. It doesn't help that race officials say there was no record of the incident.
While we don't know if Tiger is being truthful about the way he lost the tooth, we are fairly certain something was going on with that particular tooth before the incident. You can see photo proof of how discolored the tooth used to be here.
Those are some pearly whites pictured above, eh? There have long been rumors that Tiger's ex-wife Elin Nordegren beat him up pretty badly after she discovered that he was cheating. We have no idea if that alleged incident has anything to do with why his tooth used to be discolored, but something doesn't smell right to me.
MORE FROM YARDBARKER
Golf News

Delivered to your inbox

You'll also receive Yardbarker's daily Top 10, featuring the best sports stories from around the web. Customize your newsletter to get articles on your favorite sports and teams. And the best part? It's free!