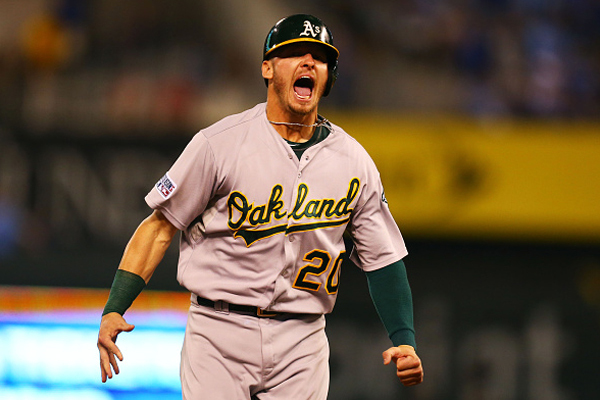 Josh Donaldson would still be in Oakland if Billy Beane had a choice.
Dilip Vishwanat/Getty Images
Remember all the speculation about Billy Beane possibly trading Josh Donaldson because of a conflict of personalities? It looks like we have confirmation that that was not the case.
Sportsnet's Shi Davidi published a piece on Tuesday about how the Donaldson trade between the A's and Blue Jays unfolded.
The trade, which was announced on Nov. 28 — four days after talks began — was initiated by Toronto GM Alex Anthopoulos. As Davidi explains it, Anthopoulos was pursuing Donaldson and was met with resistance by Beane, who was aiming to remain competitive with his playoff team.
"Look, I can't," Anthopoulos recalls Beane replying via Sportsnet. "I'm not going to move him. We're still going to try to win next year, it would just create a huge hole in my lineup and I can't afford it — I don't have anyone to replace him."
Beane became more amenable to the idea of trading Donaldson after Anthopoulos offered Toronto third baseman Brett Lawrie. Oakland eventually agreed to deal Donaldson in exchange for Lawrie, plus Kendall Graveman, Sean Nolin and Franklin Barreto.
What's noteworthy is that this is even more indicative of Beane changing his mind about his plans to contend in 2015. When the A's signed Billy Butler in November, it seemed like they were still going for it next year. A team on a tight budget like Oakland does not drop $10 million per year on a player like Butler unless they are convinced he is a piece that will help give them an extra postseason push. But after the Donaldson trade, Beane proceeded to deal Brandon Moss, Derek Norris and Jeff Samardzija, who were all All-Stars in 2014. Though they loaded up on prospects and young big leaguers, it is obvious that Beane changed his plan for 2015, and the Donaldson trade was the catalyst.
MORE FROM YARDBARKER
MLB News

Delivered to your inbox

You'll also receive Yardbarker's daily Top 10, featuring the best sports stories from around the web. Customize your newsletter to get articles on your favorite sports and teams. And the best part? It's free!